February 10, 2022 by General Administrator
The Guardian calls this a dip, and doubtless it would be nice with something dipped in it, but I thought it worked very well as a thing-in-itself. If you are worried that would be too much coconut, it isn't.
South Indian Beetroot and Coconut 'Dip'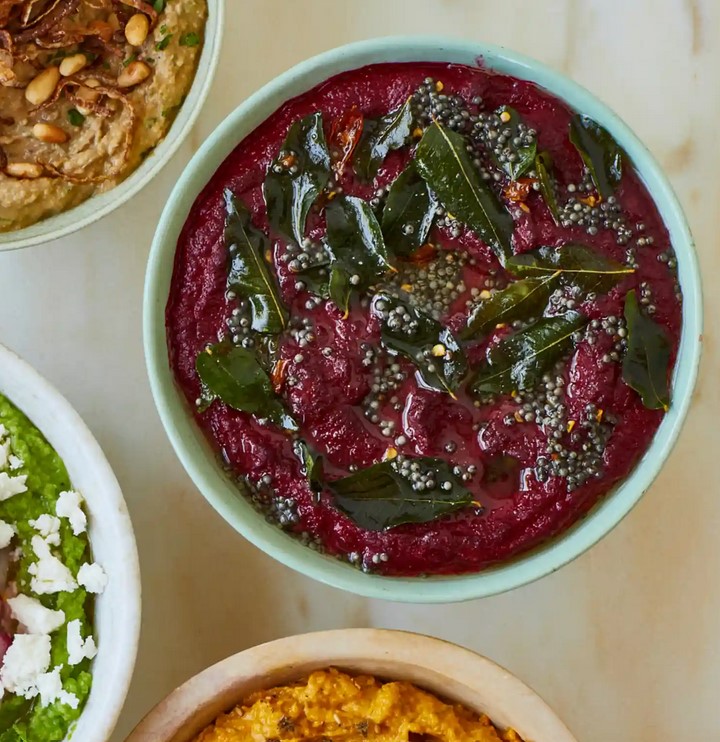 Serves 4 as part of a larger spread.
Ingredients
For the Beetroot
1 drizzle rapeseed oil
4 medium beetroot, peeled and grated
200g plain yoghurt
salt
1 teaspoon sugar
juice of 1 lime
For the Coconut Paste
½ teaspoon brown mustard seeds
1 teaspoon sesame seeds
½ teaspoon cumin seeds
8 cashews, toasted in a dry pan
100g fresh or frozen coconut, grated
1 tablespoon grated ginger
1 green chile, de-seeded if you desire
For the Topping
2 tablespoons coconut or rapeseed oil
2 teaspoons brown mustard seed
1 pinch asafoetida
15 curry leaves
1 dried chile
Preparation
Begin with the beetroot: In a large pan heat the rapeseed oil. When it is hot sauté the grated beetroot until is beginning to get tender, about 8-10 minutes.
Meanwhile, make the coconut paste: combine the mustard, sesame and cumin seeds in a blender and whizz them up. Add the cashews, coconut, ginger, chile and a little water. Whizz again until it is a smooth paste. Add more water if you need to.
Stir this coconut paste into the beetroot and cook over low-medium heat for another 5 to 8 minutes. Remove from the heat and leave to cool.
Once it is cool, blitz it up in the blender until it is smooth. Add the yoghurt and salt to taste. Add the sugar and lime juice, blend, and tip into a serving bowl.
When you are ready to eat prepare the topping: heat the coconut or rapeseed oil in a small frying pan. Once it is hot add the mustard seeds. As soon as they start to pop add the asafoetida, curry leaves and chile. Toss for another 30 seconds and then pour this over the beetroot and serve.
Recipe adapted from The Guardian, 12 June 2021.