Still got that salsify from a week or so ago hanging about in your fridge? These strange, shaggy parsnip-lookalikes have a mild, delicate flavour that is sometimes compared to oysters. Here is a simple way to prepare them. Serve them as a side in place of potatoes; they're much lighter but very satisfying.
Salsify with Butter and Herbs
Ingredients
Salsify
Lemon juice
Butter
Fresh herbs, such as parsley, chives or dill, chopped
Salt and pepper
Preparation
Fill a bowl with cold water and add a tablespoon or so of lemon juice. This 'acidulated water' will stop the salsify from turning brown once it's peeled. Bring a pot of water to the boil.
Peel the salsify and trim off the ends. As you proceed, drop the peeled parsnips into the acidulated water.
Drop the peeled salsify into the boiling water, turn down the heat a little, and simmer for 7-12 minutes, or until tender when pierced with a fork.
Drain and cut into 1-inch chunks. Dress with butter and herbs. Season to taste with salt and pepper and serve.
Salsify… I had no idea, but after a bit of googling and an interesting independent article / waitrose advert ( https://www.independent.co.uk/life-style/food-and-drink/salsify-root-vegetable-taste-recipe-what-is-it-waitrose-albert-bartlett-a8631251.html ) I've picked out a gratin recipe after realising that I've yet to make one this winter despite it being a weekly staple last year (that would be because I worked out how to make good oven chips instead!). I think this could be turned into a full meal rather than a side dish if you add sliced boiled potatoes and increase the quantities for the sauce and breadcrumbs.
Leek and Salsify Gratin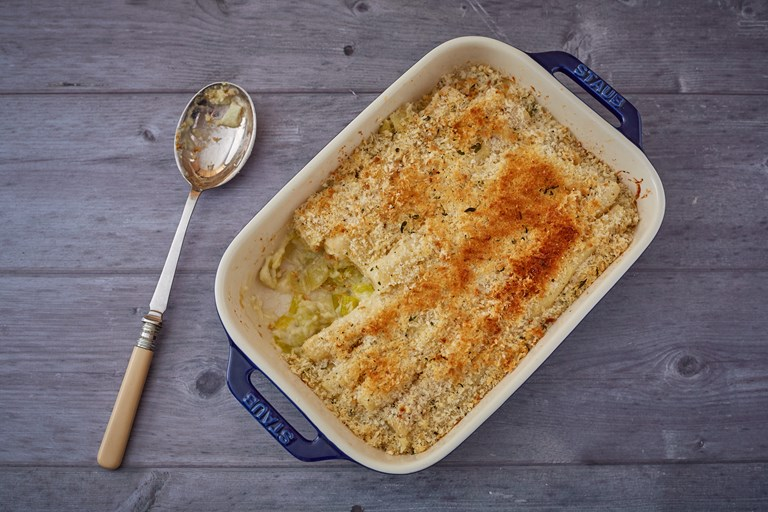 Ingredients
SALSIFY
400g of salsify root
Lemon juice & water in a bowl
300ml of milk
1 bay leaf
LEEKS
330g of leek, washed and sliced into 1cm rings
20g of butter
olive oil
2 garlic cloves, sliced
SAUCE
40g of butter
40g of flour
1/2 tsp Worcestershire sauce, (optional – omit to make vegetarian)
1 tsp Dijon mustard
Tabasco, to taste
100g of mature cheddar, grated
salt
freshly ground black pepper
CRUMB TOPPING
20g of Parmesan, (swap for vegetarian hard cheese if preferred)
20g of Panko breadcrumbs
freshly ground black pepper
Method
Wash the salsify, scrubbing off any soil, then peel and trim the ends of each baton. Immediately place the peeled salsify into the bowl of lemon water to stop it from going brown
Bring the milk to the boil in a pan with a bay leaf and add the salsify batons. Simmer for 6–8 minutes until cooked al dente, then drain and set aside (reserve the milk for later)
Heat a splash of olive oil in a pan with the butter and sauté the leeks and sliced garlic until soft but not coloured
In a separate pan, make the cheese sauce. Melt the butter then stir in the flour. Cook until golden and slightly foaming, then slowly whisk in the warm milk reserved from poaching the salsify, continuously whisking to prevent lumps
Stir in the grated cheddar. Once melted and smooth, season with the mustard, Worcestershire sauce (if using), Tabasco, salt and pepper
Preheat the oven to 180°C/gas mark 4
Trim the salsify to the size of the ovenproof dish you'll be using. Roughly slice any trimmings and add to the pan with the leeks
Pour ¾ of the sauce into the leeks and stir to combine, then transfer to an ovenproof dish
Place the trimmed salsify into the remaining sauce and stir to coat. Neatly arrange the salsify on top of the leeks
Mix together the ingredients for the crumb and sprinkle evenly over the salsify. Bake for 25–30 minutes until golden and serve
Taken from: https://www.greatbritishchefs.com/recipes/leek-and-salsify-gratin-recipe