September 3, 2020 by General Administrator
In case you are wondering what to do with the mysterious 'huauzontle', here is the answer! Huauzontle, also known in Mexico as 'quelites', is a flavoursome green a bit like sprouting broccoli. In this recipe it is mixed with juicy tomatoes and cubed potatoes to make a superlative filling for a tortilla or other flatbread. Serve topped with thick yoghurt.
Quelites a la Mexicana
Serves 2
Ingredients
250g potatoes
250g huauzontle
200g onions
150g tomatoes
½ to 1 Canalside chile, deseeded if desired
1 tablespoon vegetable oil
1 teaspoon ground cumin
Yoghurt and flatbreads, to serve
Preparation
Put the potatoes in a saucepan and cover with cold water. Add a pinch of salt. Bring to the boil and cook until tender. Depending on the size of the potatoes, this can take between 20 and 40 minutes. Drain and let cool
Put the huauzontle in a saucepan and cover with cold water. Add a pinch of salt. Bring to the boil and cook until it's tender, about 8 minutes.
Peel the onions and chop coarsely. Chop the tomatoes into chunks roughly the same size as the onions. Slice the chile.
By now the potatoes should be cool. Cut them into cubes, about 2cm or thereabouts.
Heat the oil in a frying pan or casserole pan. Add the onions, tomatoes and chile, and sauté for a few minutes. Add the cooked huauzontle, cubed potatoes and cumin, and sauté for a few more minutes to heat through.
Serve topped with yoghurt in flatbreads (tortillas would be traditional).
Recipe freely adapted from this fantastic video by Mexican internet sensation Doña Ángela. Many thanks to Ricardo Aguilar for his advice about cooking quelites and for telling me about Doña Ángela.
August 6, 2020 by General Administrator
This week we're getting an unusual vegetable, Huauzontle. After a fair bit of digging it seems it's impossible to talk about Huauzontle without mentioning the dish "Tortas de Huauzontle", which are small battered and deep fried fritters of Huauzontle and cheese, so that has to be my recipe for this week. If this doesn't take your fancy though it seems the best alternative is to treat it like broccoli, maybe by sauteing with onion/garlic/cumin/vinegar.
Tortas de Huauzontle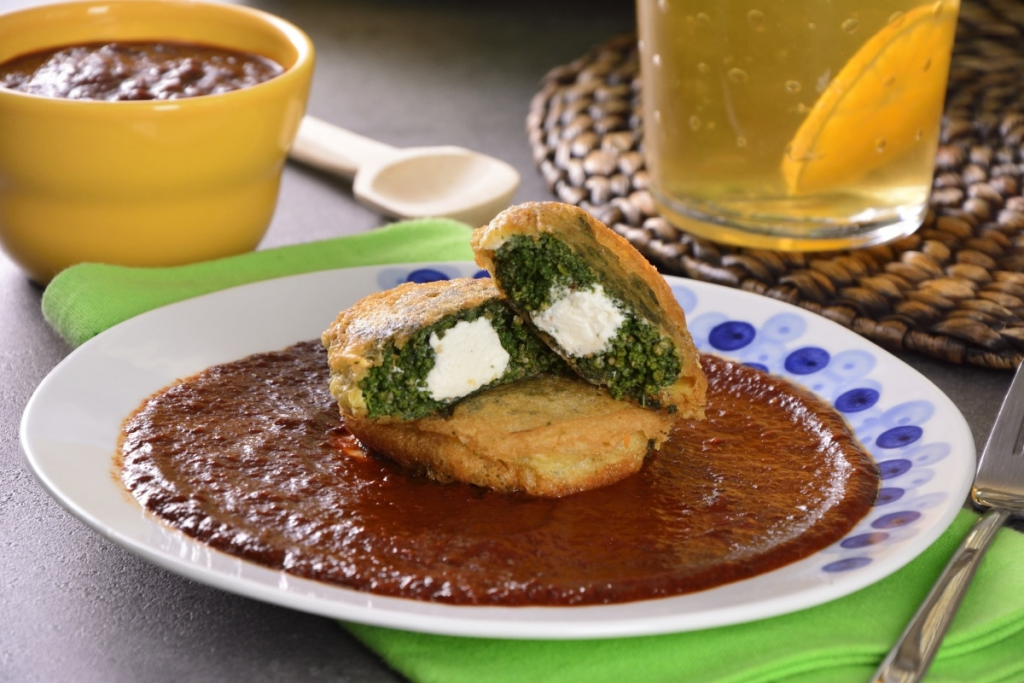 Ingredients (will need scaling according to your share):
Tortas:
1 1/2 liters Water
1 teaspoon salt
4 cups huauzontle, clean, without branches
190 grams cream cheese (or alternative)
1/2 cups flour
4 egg whites (For batter. For vegan alternative try a gram flour batter)
4 egg yolks
enough oil, to fry
Sauce:
3 pasilla chili peppers (deveined and soaked – try canalside dried chilis but beware they're much hotter)
2 tomatoes
1/4 onions
2 cloves garlic
1/2 cups Water
2 tablespoons oil
salt
Method:
Cook huauzontles in salted water for 5-10 minutes (cook time varies wildly from recipe to recipe, cook for longer if you're only shallow frying I think)
Place the huauzontles in a bowl of water with ice.
Remove the huauzontles and dry on a tea towel to remove moisture.
Strip everything from the bitter stalk and discard this.
Form a burger like patty in your hands by squeezing the huauzontle around a chunk of cream cheese, flouring the outside.
In a blender beat the egg whites with a pinch of salt, until peaks form
Add the yolks and beat for 1 minute more to integrate.
Dip the huauzontle pancakes in the batter.
Heat the oil over medium heat and fry 2 minutes on each side. (Make the sauce first)
For the sauce, blend the chilies, tomato, onion, garlic and water for 3 minutes.
Heat the oil over medium heat, pour the sauce, season with salt and let it cook for 15 minutes.
Serve the huauzontle pancakes bathed in pasilla sauce.
Recipe adapted from:
https://us.kiwilimon.com/recipe/main-dishes/huauzontle-pancakes-with-sauce-from-chile-pasilla
https://www.atastefortravel.ca/3408-huauzontle-puerto-escondido-mexico/#wprm-recipe-container-12833
July 3, 2020 by General Administrator
This is an ideal recipe when you have 4 or 5 cucumbers looking at you from the bottom of your veg drawer. Smashing the cucumbers, which is apparently a classic Chinese recipe technique, changes the texture by making them more absorbent so they really soak up the dressing. It's refreshing, easy, and makes an excellent accompaniment to an Asian-style noodle dish, such as this one for sesame noodles with smashed courgettes by Meera Sodha. (By the way, I served the noodle dish warm, which worked just fine.)
Chinese Smashed Cucumbers with Sesame Oil and Garlic
Serves 4 as a side dish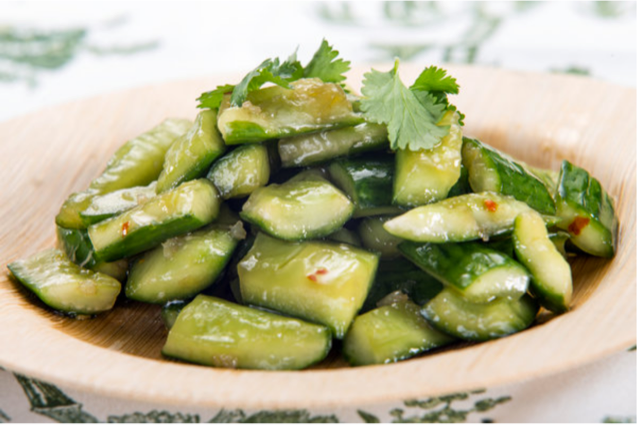 Ingredients
4 cucumbers
Salt
Sugar
1½ tablespoons rice vinegar
2 teaspoons sesame oil
2 teaspoons soya sauce
2 garlic cloves, grated
½ -1 Canalside chile, minced (to taste)
Small handful fresh coriander, chopped, for garnish
1 tablespoon toasted sesame seeds, for garnish
Preparation
Top and tail the cucumbers, and cut lengthwise into 4 long strips. Cut each strip into bite-sized pieces.
Using a rolling pin or (this is the less messy option) the side of a large knife, crush the cucumber pieces so that the skin begins to crack and the insides break down, releasing some of the seeds.
Place the crushed cucumber pieces in a colander and toss with a big pinch of salt and another of sugar. Fill a plastic bag with ice and place this on top of the cucumbers pieces, to weigh them down and at the same time chill them a bit. Leave for anywhere from 15 minutes to 4 hours.
Meanwhile, make the dressing: mix 1 teaspoon salt, 2 teaspoons sugar, and the rice vinegar. Stir until the salt and sugar have dissolved and then add the sesame oil and soya sauce.
When you are ready to serve, shake the cucumbers to drain off any remaining liquid and transfer to a beautiful flat plate. Toss with about half the dressing, and then add the garlic and as much chile as you like. Toss again, and then add more dressing to taste, until you're pleased with the ensemble. Serve, garnished with fresh coriander and toasted sesame seeds.
Recipe adapted from New York Times Recipes.
May 22, 2020 by General Administrator
I managed to accumulate several Canalside squash in my fridge over the last fortnight. I was going to make them into a cake (and if that's what you'd like I commend to you this recipe for brown butter spice bread.) Instead I ended up making this easy, flavourful roast squash with a spicy, umami-rich chile oil. The chile oil complements the unctuousness of the squash and is absolutely delicious. Serve it with steamed greens for a colourful and satisfying dinner.
Whole Roast Squash with Black Bean and Chile Oil
Serves 2
Ingredients
2 Canalside squash shares (not that the size is super important)
2 tablespoons rapeseed oil
3 cloves garlic, peeled and sliced fine
1 tablespoon salted black beans, rinsed
a fragment of a Canalside chile, or 1-2 teaspoons chile flakes
1 tablespoon soya sauce
1 teaspoon caster sugar
Preparation
Heat your oven to 180C. Remove the seeds from the squash.1 Put the de-seeded squash on a baking sheet and roast it until it is tender and golden, 45-75 minutes. Remove from the oven.
Meanwhile, make the black bean and chile oil. Over a low flame, heat the rapeseed oil in a small saucepan for 1 minute. Add the garlic and fry gently for 1-2 minutes, until the garlic is golden brown and a little sticky. Remove the pan from the heat and add the black beans. Return to the heat and add the chile, soya sauce, sugar and 2 tablespoons of water. Heat for about 20 seconds, stirring constantly. Remove from the heat and let cool.
When the squash is cooked, you can either cut it into slices and serve warm, or let it cool before slicing. In either case drizzle the black bean and chile oil over the top and serve with a side of steamed green vegetables.
Recipe adapted from Meera Sodha, East (2019).
April 24, 2020 by General Administrator
This is another very fast dish of delicious slurpy noodles, spiked with basil, lime juice and sesame oil.
Ginger-Poached Noodles
Serves 2-3
Ingredients
4 cups vegetable broth (I used water with 2 tablespoons of white miso)
2 ounces fresh ginger, peeled and thinly sliced
8 ounces firm tofu or tempeh, cut into small cubes
approximately 2 cups of sprouting broccoli or shredded spring greens
4 ounces dried noodles of your choice (I used soba noodles)
1-2 tablespoons soya sauce
¼ cup fresh basil, shredded
¼ cup fresh mint, shredded
juice of half a lime
crushed red pepper flakes (I used part of a shredded Canalside chile)
toasted sesame oil
Preparation
Place the broth and ginger in a large saucepan and bring to a boil. Lower the heat, and simmer gently for ten minutes or so. Meanwhile, bring some water to the boil to cook the noodles.
Cook the noodles in the boiling water until they are tender, drain them, and set them aside.
After the broth has simmered for ten minutes add the and tofu or tempeh and the greens. Return to a boil, and then turn the heat back down to a simmer and cook for 5-8 minutes, or until the greens are tender.
Add the drained pasta to the broth and heat for a few more minutes, stirring regularly. Stir in the soya sauce, basil, mint, and lime juice. Before serving, if you have the energy you can fish out the slices of ginger, which are perfectly edible but a bit chewy.
Serve in bowls with a few pinches of crushed red pepper flakes, and a drizzle of sesame oil, to taste.
Recipe adapted from 101 Cookbooks.
March 27, 2020 by General Administrator
Thanks to Erica Moody for suggesting this recipe from Meera Sodha's column in last week's Guardian Food.
Meera says: There might seem to be a lot of chillies in this, but it's not a hot dish, because the natural sweetness of the squash and sweetcorn, combined with the rich coconut milk and spiky lime, balance things out. Fresh curry leaves are now sold in most major supermarkets.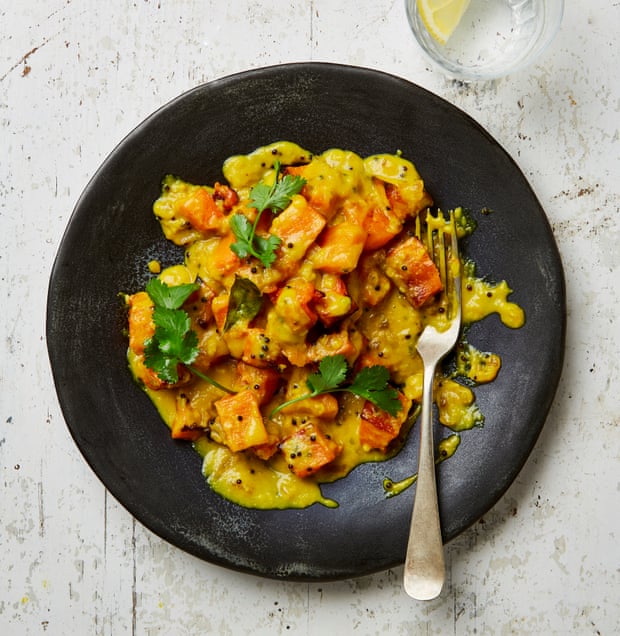 Butternut squash and sweetcorn erriseri
Prep 10 min
Cook 45 min
Serves 4
Ingredients:
1kg squash, washed
Sunflower oil
Fine sea salt
1 x 340g tin sweetcorn, drained
2 tsp black mustard seeds
12 curry leaves
1 large onion, peeled and finely chopped
4 garlic cloves, peeled and minced
3 green finger chillies, finely chopped
2 tsp turmeric
1 x 400ml tin coconut milk
2 tbsp fresh lemon juice (ie, from 1 lemon)
Coriander leaves, to garnish
Method:
Cut the squash in half (no need to peel), scoop out and discard the seeds, then cut it into 2cm cubes. Heat the oven to 200C (180C fan)/gas 6. Tip the squash pieces on to an oven tray, pour over two tablespoons of oil and a good sprinkling of salt, and toss to coat. Bake for 25-30 minutes, until the squash chunks are tender and their edges caramelised.
Add two tablespoons of water to the drained sweetcorn kernels and blend to a smooth paste (I use a stick blender).
In a large frying pan, heat two tablespoons of oil and, when hot, add the mustard seeds and curry leaves, and leave them to crackle and pop for a minute. Now add the onion and cook, stirring occasionally, for about 10 minutes, until translucent and turning golden, then add the garlic and chillies, and cook for two minutes. Stir in the sweetcorn paste, turmeric and a teaspoon and a half of salt, cook for a minute, then add the coconut milk (keep the tin) and whisk so everything is combined and the curry sauce is a vibrant yellow.
Half-fill the coconut milk tin with water and add to the pot to loosen the curry – you may need a little more or less water than this, depending on the thickness of your coconut milk – bring to a boil and simmer for five minutes, until it starts to thicken. Stir in the roast squash and lemon juice, and check the seasoning. Garnish with coriander and serve immediately.
Adapted from Guardian Food, 20th March 2020
October 24, 2019 by General Administrator
Meera Sodha's East is excellent! Here is a gentle coconut-milk curry called an 'istoo', which is apparently derived from the English word 'stew'. She recommends serving with aubergine pickle, and rice or an Indian flatbread. Some fried aubergine slices also go well.
Potato and Green Bean Istoo
Serves 2-3
Ingredients
2 tablespoons rapeseed oil
10 curry leaves
4cm cinnamon stick, broken in 2
1 medium onion (or 2 small onions), sliced
2cm piece of fresh ginger, peeled and grated
4 cloves of garlic, peeled and grated
1 green chile, slit in 2
650g small potatoes, halved
1 teaspoon each salt and pepper
1 400ml tin of coconut milk
250g green beans, topped and tailed
Preparation
In a casserole dish for which you have a lid, heat the oil on medium heat. Once it is hot add the curry leaves, cinnamon stick and onion. Reduce head to low and cook for 10 minutes, until the onion is soft but not brown. Add the ginger, garlic and chile, and cook for another 2-3 minutes.
Add the potatoes, salt and pepper and stir in the coconut milk. Then swill out the tin with about 100ml of water and add that to the pan as well. The potatoes should be just covered, so add more water if need be. Bring to a boil, and then reduce to a simmer and cook for 10-15 minutes, or until the potatoes are tender.
Add the beans, cover, and simmer for another 5 to 6 minutes, or until the beans are tender. Now it's ready!
Recipe adapted from Meera Sodha, East (2019).
October 17, 2019 by General Administrator
I wasn't quite sure what to suggest this week and was resigned to the oven chips recipe I've been holding in reserve, until I spotted this noodle dish. It's quite different to what I would normally cook and I'm excited to give it a try!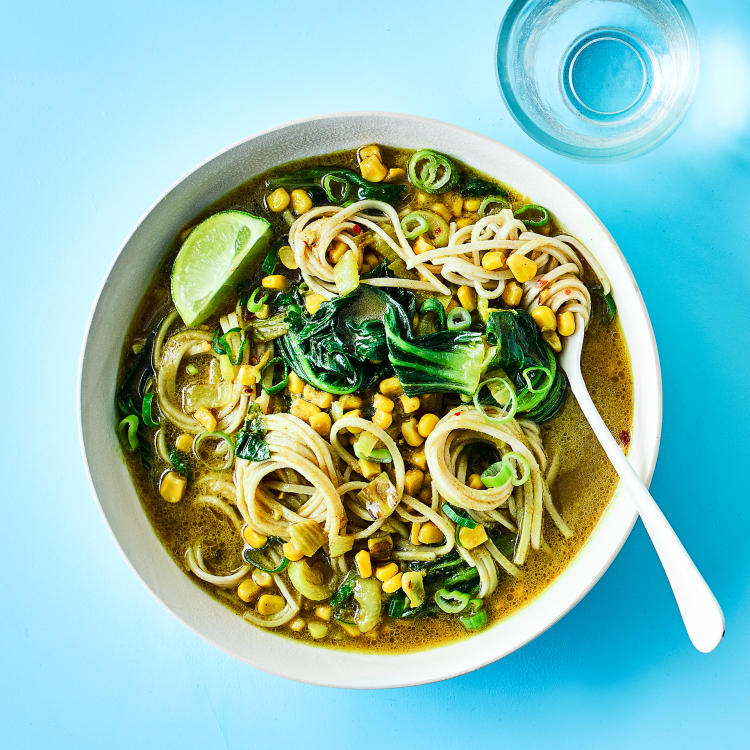 Sunny sweetcorn noodles
Ingredients:
Chilli flakes (I've still got some Canalside dried chillies to get through!)
coconut cream or coconut milk (add less water if not using cream)
2 garlic cloves
2 tbsp thai green curry paste
lime or lime juice
250g pak choi
35ml soy sauce
1 spring onion (optional garnish)
1tsp turmeric
sweetcorn
noodles (2 nests)
1 veg stock cube
Method:
Peel and thinly slice garlic and boil the kettle
Add sweetcorn on the cob to large pan of water and boil for 10 minutes
Cut pak choi in half to separate stems from leaves. Leave leaves whole and cut stems into bitesize pieces
In a large pan (preferably with a lid) heat some oil (high heat) then add turmeric and cook for 30 seconds.
Add sliced garlic and curry paste and cook for 2 minutes
Use this time to put noodles on to boil for about 5 minutes or according to instructions
Add pak choi stems and a large pinch of salt and cook for ~3 minutes with lid on until stems are tender
If using coconut cream, mix this with stock and 350ml of hot water. If coconut milk, add this and stock direct to pan.
Add cream mix / cocunut milk and stock to the pan of veg, along with the chilli flakes and soy sauce
Set to low heat whilst you take out the sweetcorn and use a knife to separate the corn from the cob
Add sweetcorn and pak choi leaves to the pan, add water to achieve your preferred consistency and boil on low heat until leaves have wilted.
Bowl up the noodles and veg soup, adding lime juice and chopped spring onions on top if you've got them
Adapted from https://www.gousto.co.uk/cookbook/vegetarian-recipes/sunny-sweetcorn-noodles
September 26, 2019 by General Administrator
In honour of the recent potato harvest, here is a splendid Nepalese potato salad from the Idaho Potato Commission. The Andean potato probably reached Nepal some time in the 1700s; it is now become a staple. In 2017 the country harvested 2,691,037 tonnes. This salad combines potatoes, fresh coriander, and spiced yoghurt to create a complex and satisfying dish. Eat with shredded carrot salad, and perhaps some flatbread.
The Potato Commission thinks this will serve 4 people, but we ate most of it in one sitting. 'This is scrum' declared Matt.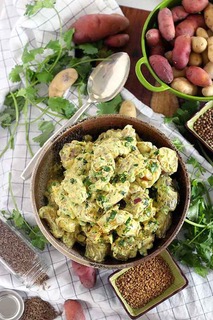 Chukauni: Nepalese Potato Salad
Ingredients
700g potatoes
1 cup frozen peas
½ cup red onion, finely chopped
½ cup fresh coriander, finely chopped
1 cup yoghurt, plus additional yoghurt, to serve
1 teaspoon salt
2 tablespoons rapeseed or vegetable oil
1 tablespoon coriander seeds
1 teaspoon cumin seeds
1 teaspoon fenugreek seeds
½ Canalside chile, finely chopped, seeds removed if desired
½ teaspoon turmeric
Preparation
Place the potatoes in a pot of cold water and bring slowly to the boil. Cook over very low heat until tender. Fish out the potatoes, drain, and set aside, keeping the water in the pan. Turn off the heat and then tip the peas into the hot water. Leave them there for 60 seconds and then drain them as well.
Once the potatoes are cool enough to handle, cut them into 2cm cubes.
Combine the peas, red onion, coriander, yoghurt and salt in a serving bowl. Stir and add the potatoes.
Heat the oil in a frying pan over medium-high heat. Once it is hot add the coriander, cumin and fenugreek seeds. Let sizzle for about 30 seconds, until they turn reddish brown. Remove from the heat and add the chile and turmeric. Toss so that the oil turns a sunny yellow.
Pour the oil–but not the seeds—over the salad. Keep as many seeds as possible back in the pan. Mix the oil into the salad and taste.
Now you have a choice: if the salad strikes you as perfectly delicious as it is, then you're done. Serve and enjoy, with additional yoghurt on the side if you like.
If you think it needs a little more oomph, then scrape the seeds into a mortar and pestle and grind them until they're a coarse powder. Sprinkle some or all of this into the salad, tasting as you go along. Once you're pleased with the result, serve and enjoy.
Recipe adapted from the Idaho Potato Commission.
September 12, 2019 by General Administrator
Meltingly tender circles of fried aubergine make an excellent nibble, and a spicy accompaniment to any meal. The recipe below gives the amount for one small Canalside aubergine, but is easily scaled up. I've never had any left over, but Madhur Jaffrey says they're good warmed up the next day.
Fried Aubergine Slices
Ingredients
1 Canalside aubergine
1 teaspoon salt
½ teaspoon turmeric
¼ teaspoon cayenne pepper, or ½ a Canalside dried chile (seeds removed if you prefer), chopped fine
Freshly-ground black pepper
Vegetable oil, for shallow frying
½ lemon wedge, to serve
Preparation
Cut the aubergine into slices about 1cm thick.
Mix together the salt, turmeric, cayenne or chile and black pepper in bowl.
Toss the aubergine with the mixed spices.
Heat about ½cm oil in a frying pan over medium heat. When it's hot put in as many aubergine slices as will fit comfortably in a single layer. Don't crowd the pan or they won't fry properly. Fry until reddish-brown on the bottom. Flip and fry the other side.
Remove them as they are done, onto some kitchen paper or a cloth, and fry the remainder. Add more oil if necessary.
Serve with a squeeze of lemon.
Recipe adapted from Madhur Jaffrey, Indian Cooking (2002).