December 9, 2021 by General Administrator
This is a flavoursome dish that plays to the potato's strength as a vehicle for strong flavours. Here your Canalside spuds combine with the richness of coconut milk and the sharp, sour tang of tamarind to deliver a punchy, satisfying dose of carbohydrates. Cashews and crispy onions contribute additional crunch. A sprinkling of green coriander over the top looks lovely and adds an additional freshness.
It is particularly good combined with the south Indian beetroot and coconut dip whose recipe I will provide in my next instalment.
Potatoes with Tamarind, Coconut and Cashews
Serves 4-6 as part of a larger spread.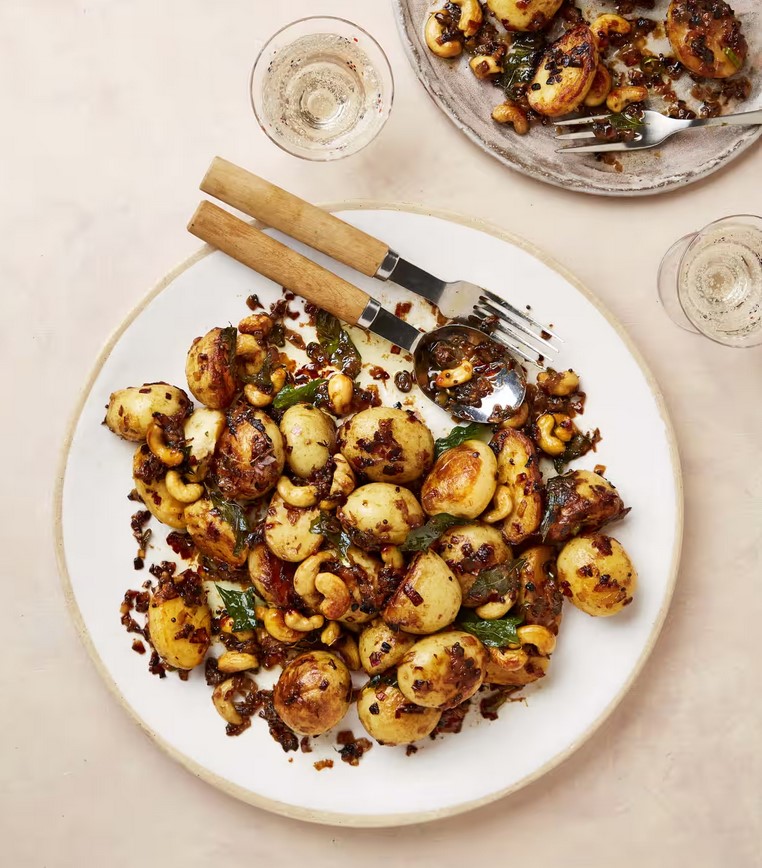 Ingredients
1kg potatoes
3 tablespoons coconut oil
1 teaspoon black mustard seeds
1 teaspoon cumin seeds
10 fresh or frozen curry leaves
300g shallots, peeled and sliced fine—or you can use onion, really
3 garlic cloves, peeled and crushed
2cm piece of fresh ginger, peeled and grated
2 green chiles, finely chopped (take out the seeds if you prefer, and also adjust the quantity to taste)
100g cashew nuts
1 teaspoon salt
2 teaspoons tamarind paste
200ml coconut milk
a handful of coriander leaves, chopped, to garnish (optional)
Preparation
Put the potatoes in a pan and cover with cold water. Bring to a boil over low heat and cook gently until they are tender. How long this takes will depend on the size of the potatoes, so this process can last between 20 and 45 minutes. When the potatoes are tender drain them and set them aside. Once they are cook enough to handle cut them into bite-sized pieces. You can do this well in advance if you wish.
Combine the mustard seeds, cumin seeds and curry leaves in a little dish. Combine the garlic, ginger, chiles and cashews in another dish. You're now all set to add each tranche of ingredients without having to fuss around with lots of separate items.
Put the oil in a large frying pan over medium heat. When it is hot add the mustard, cumin and curry leaves. Once the seeds start to sizzle add the shallots and cook, stirring, for about eight minutes, or until the shallots starts to brown.
Add the garlic, ginger, chiles and cashews to the pan. Cook, stirring regularly, for another two minutes. Now add the drained potatoes in a single layer and sprinkle with salt. Turn the heat to high and fry for about five minutes, stirring once, until the potatoes are turning an appetising brown. Don't stir them constantly, or they won't brown.
Finally, add the tamarind paste and the coconut milk. Leave to cook, stirring regularly, until the coconut milk has mostly evaporated and turned into a sticky glaze. Serve hot, cold or at room temperature. It looks nice garnished with some chopped fresh coriander.
Recipe adapted from Meera Sodha, The Guardian, 12 June 2021.