April 24, 2020 by General Administrator
This is another very fast dish of delicious slurpy noodles, spiked with basil, lime juice and sesame oil.
Ginger-Poached Noodles
Serves 2-3
Ingredients
4 cups vegetable broth (I used water with 2 tablespoons of white miso)
2 ounces fresh ginger, peeled and thinly sliced
8 ounces firm tofu or tempeh, cut into small cubes
approximately 2 cups of sprouting broccoli or shredded spring greens
4 ounces dried noodles of your choice (I used soba noodles)
1-2 tablespoons soya sauce
¼ cup fresh basil, shredded
¼ cup fresh mint, shredded
juice of half a lime
crushed red pepper flakes (I used part of a shredded Canalside chile)
toasted sesame oil
Preparation
Place the broth and ginger in a large saucepan and bring to a boil. Lower the heat, and simmer gently for ten minutes or so. Meanwhile, bring some water to the boil to cook the noodles.
Cook the noodles in the boiling water until they are tender, drain them, and set them aside.
After the broth has simmered for ten minutes add the and tofu or tempeh and the greens. Return to a boil, and then turn the heat back down to a simmer and cook for 5-8 minutes, or until the greens are tender.
Add the drained pasta to the broth and heat for a few more minutes, stirring regularly. Stir in the soya sauce, basil, mint, and lime juice. Before serving, if you have the energy you can fish out the slices of ginger, which are perfectly edible but a bit chewy.
Serve in bowls with a few pinches of crushed red pepper flakes, and a drizzle of sesame oil, to taste.
Recipe adapted from 101 Cookbooks.
February 13, 2020 by General Administrator
Several people have been asking for things to do with kale, pak choi, and other robust greens. Among other things you can make them into excellent salads. In all cases, it's a good idea to manhandle the greens a bit to soften them up. Shred them fine and, using your hands, scrunch them up as hard as you can for a few minutes. Confronted with this vigorous treatment, they will become much softer and more tender. Pak choi does not need as much scrunching as kale or cabbage, but it will benefit from a bit body English.
Once you've scrunched your salad, you need an oomphy dressing to stand up to these greens. I thought I would offer a compilation of some of the salad dressings that I'd recommend to complement these hearty greens. All three are incredibly simple: you just whizz them up in a blender or mix them with a fork. And if you don't mind doing your scrunching after you've dressed the salad, the tenderising effect will be even more noticeable. Once you've done that, you can add anything else you like: leftover boiled potatoes, toasted pumpkin seeds, shredded white or black radish, olives, chick peas….
(I was intending to present a fascinating but somewhat weird recipe for a beetroot-based vegan brownie, using a recipe I tore out of an Air France inflight magazine. Extensive testing on my colleagues at work led me to change my mind. The consensus was that the recipe must be part of a plot to denigrate vegans!)
Miso-Tahini Dressing
Serves 2
Ingredients
1 tablespoon miso paste
1 tablespoon tahini
1 tablespoon soya sauce
1 tablespoon cider vinegar
Preparation
Combine the ingredients and blend well, using a fork. Taste to see if it would benefit from a little more vinegar. The mahogany-dark dressing is now ready to use. This makes enough for half a small cabbage, shredded, together with several grated carrots. It is also good on other greens.
Spring Onion and Tahini Blanket
Enough to dress a large 2-person salad
Ingredients
4 spring onions, including the green bits
2 tablespoons tahini
2 tablespoons rapeseed oil
2 tablespoons lemon juice
2 tablespoons water
Salt and pepper, to taste
Preparation
Roughly chop the spring onions.
Place everything in a blender, Nutribullet, or the container for an immersion blender. Blend everything until smooth. Check to see if it needs more salt, pepper, or lemon juice. If it's too thick for your liking you can add a little more water to thin it out, and then serve either as a salad dressing, or as a dip.
Super Turmeric Sauce
serves 2
Ingredients
2 tablespoons cashew butter
2 teaspoons Dijon mustard
juice of 3 clementines
2 inch piece of fresh turmeric, peeled
5 tbsp olive oil
Preparation
Combine the ingredients in a blender and whizz until smooth.
July 18, 2019 by General Administrator
Warm Japanese noodles and bright green vegetables, tossed with a sharp, gingery dressing make a quick and delicious dinner. The whole thing comes together in under 25 minutes. I think you could add some toasted, chopped peanuts to the top, as well.
The dressing is also very good tossed onto shredded cabbage and kohlrabi, for a punchy slaw.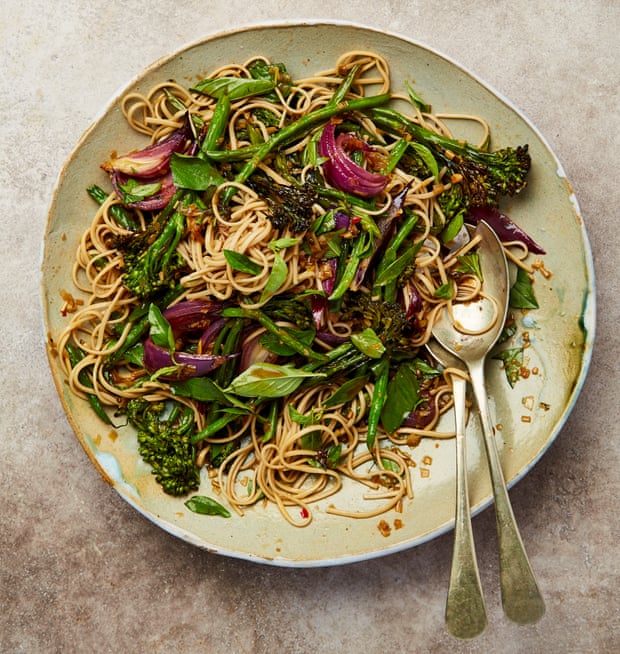 Charred broccoli and bean soba noodle salad
Serves 2
Ingredients
For the salad
450g French beans and/or broccoli (any combination)
2 red onions, peeled and cut into 8 wedges
2 tbsp rapeseed oil
¼ tsp salt
200g soba noodles, or a mixture of soba and udon noodles
¼ cup Thai basil and/or mint leaves, roughly chopped
For the dressing
4 spring onions (use the whole thing), finely chopped
4cm piece fresh ginger, peeled and finely grated
3 tbsp toasted sesame oil
3 tbsp rice wine vinegar (Meera Sodha specifies black Chingkiang vinegar)
4 tbsp light soy sauce
1 tbsp brown rice (or maple) syrup
1 dried red chilli, finely chopped, or de-seeded and then left whole if you'd like the option of removing it later
Preparation
Pre-heat the oven to 220C.
Trim the broccoli into long, slender strips. You can include the green leaves if you like, as well. Top and tail the beans.
Place the broccoli and/or beans and onion wedges on a baking tray. Drizzle over the oil and sprinkle with salt. Mix with your hands, and roast for 10-20 minutes, until they are a bit charred and the leaves have become crispy.
Bring a large pan of water to a boil, then cook the noodles according to packet instructions. Drain and rinse under cold water, then leave to one side to drain.
For the dressing, put all the ingredients in a small saucepan, bring to a boil, then take off the heat and put to one side.
When the vegetables have cooked, tip them into a serving bowl, add the drained noodles and dressing, and toss. Toss in the herbs, and serve while the vegetables are still a little warm.
Recipe adapted from Meera Sodha, The Guardian, 22 June 2019.
April 25, 2019 by General Administrator
Rebecca's having a break this week and hopes to be back with another recipe next week.
With the cauliflower crop getting going, the moment may have arrived to do the first preserving of the year (that is, if you haven't already made marmalade, perhaps using some delicious La Jimena seville oranges).
Piccalilli is as versatile as any savoury preserve in that you can flex the recipe according to what is available. Most piccalilli recipes call for courgettes, green beans, tomatoes, and other summer veg. However, if all you have is roots and PSB (purple sprouting broccoli) that combination will also make a perfectly good version of this tangy preserve. Luckily my book of preserves from the Women's Institute can oblige with a suitably flexible recipe for any time of year! I've been know to make a version with cauliflower, onions (admittedly these are perhaps the two essential vegetables), carrot and swede!
Many piccalilli recipes call for the vegetables to be brined overnight, but this one breaks that rule, which simplifies the recipe and results in a delicious accompaniment for a ploughman's lunch. And unlike chutneys which rely on evaporation of the liquid to thicken the preserve (which can sometimes take hours), as this one is thickened with flour it has a much shorter cooking time.
Accommodating Piccalilli from the W.I.
Makes about 2.7kg (6lb) = 6 average sized jam jars
Preparation time: 45 minutes
Cooking time: 30 minutes
Ingredients
1 large cauliflower, broken into florets
450g (1lb) pickling onions – if you've still got any little Canalside onions left, they'd be perfect!
1.4L (2 1/2 pints) white malt vinegar (apple cider vinegar also works well)
900g (2lb) mixed vegetables, diced or cut into 2.5cm (1 inch) lengths
2 fat cloves of garlic
450g (1lb) caster sugar
50g (2oz) dry mustard (i.e. mustard powder)
115g (4oz) plain white flour, sieved
25g (1oz) ground turmeric
1 tsp ground coriander
2 tsp salt
Preparation
In a large preserving pan, summer the cauliflower and onions in 1.1litres (2 pints) of the vinegar for 10 minutes.
Add the other vegetables, garlic and sugar and cook for a further 10 minutes.
Mix the mustard, flour. spices and salt with the remaining vinegar and add to the cooked vegetables, stirring all the time to prevent lumps from forming.
Stir well and simmer for a further 10 minutes.
Spoon into cooled and sterilised jars and cover with vinegar proof tops. Label and store for at least 2 weeks before using. It will keep for months (I think I've even kept it for more than a year) with the flavour improving and mellowing as it ages.
From 'Best Kept Secrets of the Women's Institute: Jams, Pickles and Preserves' by Midge Thomas
March 17, 2017 by General Administrator
This recipe can be made with either cauliflower or sprouting broccoli. Do you have any coriander left over from last week? Use it here!
Frying tofu transforms it from soft (and bland) to crispy and very, very tasty. 'Keep your hands off that tofu!' I had to tell my sons whenever I made this, or else there wouldn't be any left to add to the finished dish.
Coriander Noodle Bowl
Serves 4.
one Canalside cauliflower or 120g sprouting broccoli
1 bunch of fresh coriander
zest of one lemon
juice of half a lemon
2 large cloves of garlic
1/4 teaspoon cayenne
1/2 teaspoon salt
150ml olive oil (for the dressing)
250g soba noodles
2 tablespoons olive or vegetable oil (for frying the tofu)
280g firm tofu (this is the weight of a standard packet of tofu, but you don't need to be precise about getting exactly this amount)
Cut the cauliflower into nice, bite-sized florets. If you're using sprouting broccoli split any very thick pieces into thinner sprigs.
Bring a big pot of salted water to the boil.
Meanwhile, make a dressing: blend the coriander, lemon zest, lemon juice, garlic, cayenne, salt and olive oil together using a food processor or hand blender, or, if you're so inclined, you can chop them together by hand. Taste it to see if it needs any more salt, or perhaps some more lemon juice. If it's too thick you can add more olive oil. Once you're happy with the taste set it aside while you cook the noodles and vegetables.
Cook the soba noodles in the boiling water. They should take about six-eight minutes to cook but check the packet.
WHEN THEY ARE NEARLY TENDER (about a minute or so before they are done) ADD THE CAULIFLOWER OR BROCCOLI and cook for the noodles and vegetables together for a final minute or so. You don't want to really cook the vegetables much. (Unless you hate very al-dente vegetables—in that case add them sooner and cook them longer.)
Drain the noodles and vegetables and toss with the dressing. Set aside while you prepare the tofu.
Slice up the tofu as if you were making chips. You can make thin or thick sticks, as you prefer.
Heat the 2 tablespoons of oil in a frying pan over medium-high heat until it's hot, and fry the tofu, a little at a time. Turn it carefully so that all sizes get nicely crispy and golden. Remove the crispy bits as they cook and add them to your noodle mixture.
When all the tofu has been fried toss everything together and serve.
(adapted from 101 Cookbooks.)