May 4, 2023 by General Administrator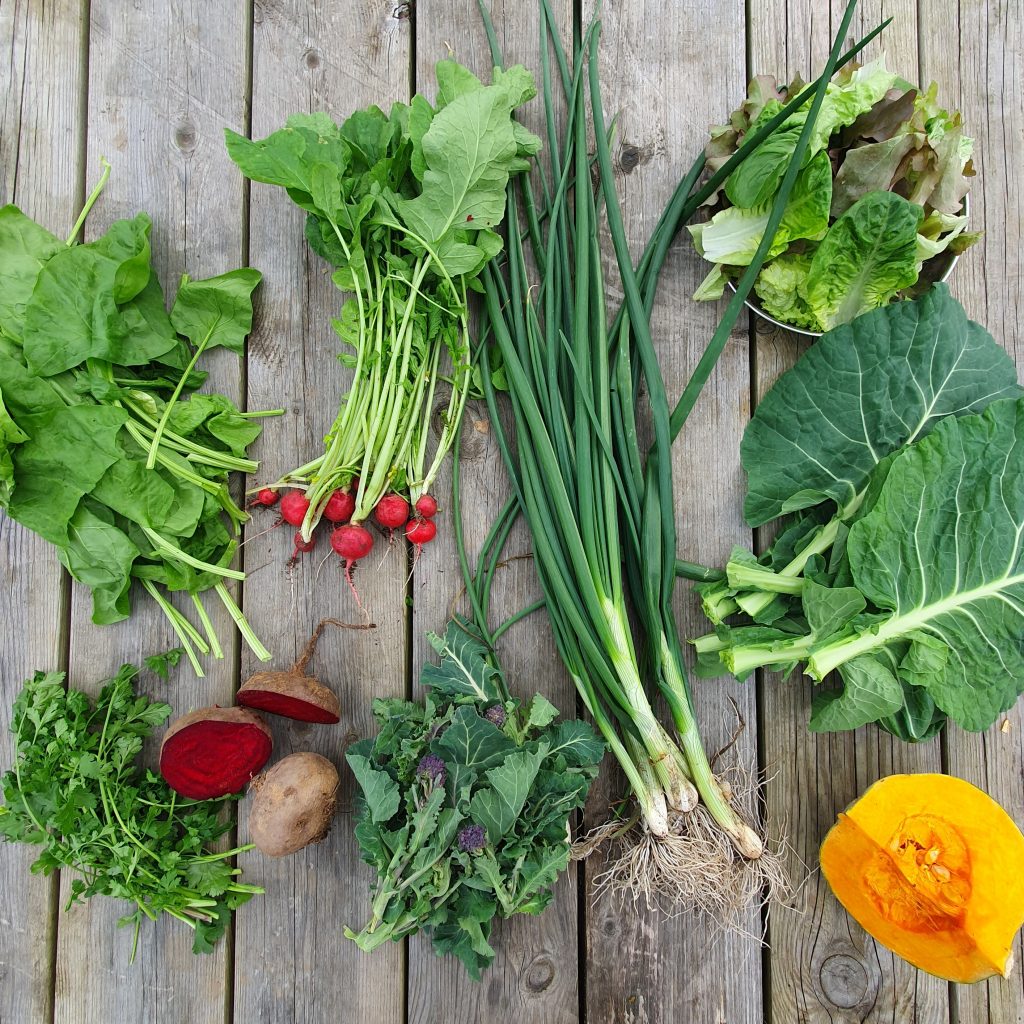 We're coming into the time of year for the earliest crops and, especially where they are roots, the young tender leaves can be as much an ingredient as the root veg. This is why we include them in the weight of the share – you will take the roots with any attached leaves in the weight for your size of share and get 2 share items in one!

Here are some insights about what might be coming in the share and ideas for how to make the most of all the edible parts. As a general rule, they all work well added to/as a basis for pesto, and in hummus, as well as like other greens in soups, stir fries and smoothies.

Radish tops:
As appeared in the share this week
The slightly rough/prickly texture on the surface of the leaves is lost with cooking
Try:
Chopped and used in stir fries, soups etc, as for any other green
One of the 5 ways suggested here

Carrot tops:
Will be in the share on the first baby carrots
Try:
Carrot top pesto
Roasted baby carrot and grain salad with carrot top dressing
More ideas and recipes here

Beet tops:
Similar to chard
Come with the first baby / early season beetroots
Try:
Braised beet tops with lemon juice
A number of ideas from Oddbox

Fennel tops/fronds:
Basically dill, and always plentiful on our fennel bulbs!
Try:
One of the 10 ways suggested here including in a pesto and salads, as a herby flavouring, in juices and curries

Celery tops:
Full of flavour and a great ingredient for a variety of uses
Try:
One of the 5 ways suggested here including in soups, to flavour salt and in a pesto
Ideas from Ali

February 3, 2022 by General Administrator
Miso and harissa on their own pack a punch. Combined they are even better. The spicy-salty flavour goes superbly with the sweetness of roast squash, while the potatoes add a calming back-note. Stir in some shredded kale and top with toasted nuts, and you have a complete meal. You could fancy it up with some yoghurt, or serve it alongside a bit of grilled meat or fish, if you liked.
Miso Harissa Roast Squash
Serves 2-4
Ingredients
225g small potatoes
350g squash
60ml olive oil
60ml white miso
1 tablespoon harissa
3 tablespoons lemon juice
50g kale, de-stemmed and finely chopped
4 radishes, sliced thin (optional)
40g toasted almonds or pumpkin seeks
Method
Preheat the oven to 200C.
Cut the potatoes into slices the size of your thumb. Peel the squash if you don't like the skin, and scoop out the seeds. (You can make these into a tasty nibble by soaking them overnight in salty water, draining, and then baking for about 10 minutes at 180C.) Cut the squash into 1cm wedges. Put the potatoes and squash in a large bowl.
In a small bowl whisk together the olive oil, miso and harissa. Toss with the potatoes and squash with half the olive oil-miso-harissa mix, and put onto a baking sheet. Bake for 25-30 minutes, or until the vegetables are tender and starting to brown a bit. Toss them once or twice along the way. Watch them to make sure they don't burn.
Meanwhile, whisk the lemon juice into the remaining olive oil-miso-harissa mixture. Taste it to see if you would like to add more olive oil, etc. Stir in the kale.
When the squash and potatoes are tender, put them in a serving bowl and toss with the kale mixture. Serve topped with the radishes (if you wish) and toasted nuts/seeds.
Recipe adapted from Heidi Swanson, 101 Cookbooks
May 29, 2020 by General Administrator
Potato salad is something that drops off my radar too frequently, but this week we got a large haul of radishes and new potatoes with more expected next week. With that it mind it seems a good idea to make something fresh and easy for lunch in the sun, enjoy!
Potato and radish salad
Serves 4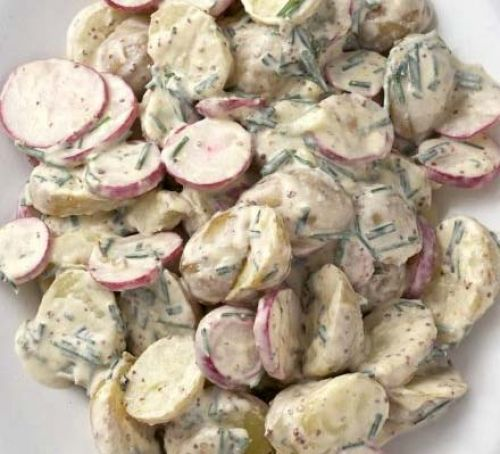 Ingredients
500g new potato, sliced
3 tbsp crème fraîche (I think Oatly and Alpro both do alternatives)
1 tbsp grainy mustard
1 bunch chive, snipped
200g radishes, sliced
Method
Cook the potatoes in a large pan of boiling, salted water for 8-10 mins or until tender. Drain and allow to cool for 10 mins.
Mix the crème fraîche, grainy mustard and chives with some seasoning, then toss through the radishes and potatoes before serving.
Adapted from: https://www.bbcgoodfood.com/recipes/potato-radish-salad
May 17, 2019 by General Administrator
'Peppery, earthy, salty: a good way to whet the appetite', writes Diana Henry. These little nibbles make a splendid start to a dinner. The radish butter keeps in the freezer for ages. You could certainly use it under other smoked fish, or on its own as a sandwich butter.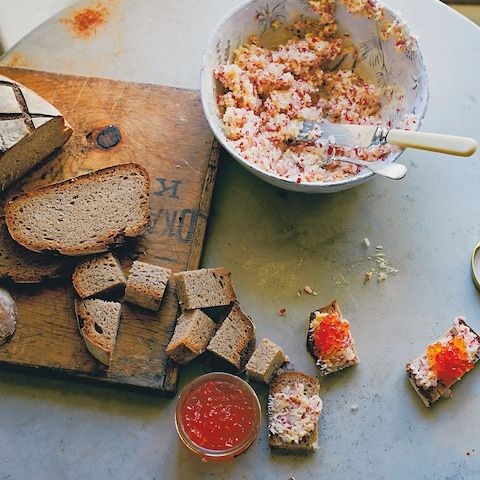 Rye Bread with Radish Butter and Salmon Caviar
Serves 4
Ingredients
125g radishes
60g unsalted butter, softened
¼ sea salt
Freshly-ground black pepper, to taste
½ loaf of dense rye bread
50g red lumpfish or salmon caviar
2 tablespoons fresh chives, minced
Preparation
Put the radishes in the bowl of a food processor and pulse 4-5 times until chopped into very fine dice. Transfer to a piece of muslin and wring out as much of the excess liquid as you can with your hands.
Tip into a bowl and add the butter, salt and pepper. Blend together with a rubber spatula until the mixture is well-combined.
Slice the bread into thin slices. Spread with radish butter and top with a spoonful of the lumpfish. Top with a sprinkling of fresh chives and a further grind of pepper.
Recipe adapted from Diana Henry, How to Eat a Peach (2018).
May 24, 2018 by General Administrator
Pasta Primavera was (supposedly) invented at a fashionable New York City restaurant in the 1970s. The idea is to combine the freshest early spring vegetables with pasta, in a light, creamy sauce. This recipe is more of a guide than a strict set of instructions; you can vary the vegetables according to what's in season (the original included mushrooms, tomatoes, broccoli and courgettes). You can garnish it with pine nuts. You can add red pepper flakes, or even a spoonful of pesto. Just don't overcook the vegetables.
Pasta Primavera
Serves 4
Ingredients
¼ pound sugar snap peas, stems trimmed
½ pound asparagus, ends snapped
2 tablespoons unsalted butter
¾ cup fresh peas (or use frozen)
¼ cup thinly sliced spring onion, white part only (or use shallots)
2 garlic cloves, finely chopped
salt and pepper, to taste
12 ounces fettuccine or tagliatelle, preferably fresh
⅔ cup grated Parmesan, at room temperature
½ cup crème fraîche or whole milk Greek yogurt, at room temperature
3 tablespoons finely chopped parsley
1 tablespoon finely chopped tarragon or basil
2 radishes, thinly sliced
Preparation
Bring a large pot of heavily salted water to a boil over medium-high heat.
While the water is coming to a boil, slice snap peas and asparagus stems into ¼-inch-thick pieces; leave asparagus tips whole.
Melt butter in a large skillet over medium-high heat. Add snap peas, asparagus, fresh peas and onion. (If you are using frozen peas don't add them until later). Cook until vegetables are barely tender but not at all soft or mushy, 3 to 4 minutes. Stir in garlic and cook 1 minute more. If you are using frozen peas, add them now. Season with salt and pepper; set aside.
Drop pasta into boiling water and cook until al dente (1 to 3 minutes for fresh pasta, more for dried). Drain, making sure to save a cup of the cooking water, and transfer pasta to a large bowl. Immediately toss pasta with vegetables, cheese, crème fraîche (or yoghurt) and herbs. If it looks a bit dry, add some of the preserved cooking water to thin it out a bit. Season generously with salt and pepper, if needed. Garnish with the sliced radishes and serve.
Recipe adapted from Melissa Clark