June 15, 2023 by General Administrator
With a significant amount of lettuce in the share as growth ramps up with the arrival of warm weather, it's timely to share some inspiration for this summer share staple. The growers 'cut and come again' with our salad leaves as it allows us to keep cropping* the same plants until they bolt** ready to set seed*** later in the summer. We're currently harvesting the first batch of outdoor lettuce. Later successions of sowings will mean we can keep harvesting lettuce right through until the end of the summer and into early autumn. This means that we can offer a mixed salad each week (currently including 'Red', 'Paris de Blonde', 'Lollo Biondi' and 'Maravilla de Verano') and we get the maximum produce from each plant for the least work.
*harvesting from
**send up a flower head
***make seeds for the next generation of plants
I remember really struggling to use all my salad in my first summer or two of Canalside produce, so until you're ready to eat it by the handful straight from the bag (if that day ever comes for you!), hopefully some of these ideas will help you make the most of our summer leaves.
If you have a copy of the Boxing Clever Cookbook – the one cookbook I do go on about because it's so useful for ideas and inspiration for using highly abundant seasonal veg – you'll be able to find no less than 9 lettuce recipes! Eight of them can use loose leaves in the way we offer them, including 5 types of soup, lettuce and coconut chutney and lettuce risotto.
It also has a recipe for lettuce and walnut loaf – a sweet cake-like one with cinnamon and sugar. If you're intrigued enough to try it, this seems to be the same recipe and here's one using ginger and mace instead of cinnamon – a vintage 1968 recipe from the Kansas Wheat Commission.
Otherwise the following recipes can all be used with loose leaves, either whole or chopped:
Lettuce risotto with goat's cheese from Delicious magazine – double tick as it would also use spring onions from this week's share
Quick braised lettuce and peas from BBC Good Food
Garden salad, with a dressing recipe that also incorporates spring onion from this week's share
If you eat animal protein, this dish might interest you:
Cod with bacon, lettuce and peas from BBC Good Food
There's also an array of salad dressing recipes online of course – if you'd like to browse recipes for dressings that Rebecca has tried and shared, you'll find them on the blog on our website here.

For recipes from Rebecca that would specifically use basil from the plants you collected recently, look here.
December 8, 2022 by General Administrator
According to Kay Chun, this is inspired by chirashi, Japanese rice and raw fish bowls. Her
version features lightly cooked (rather than raw) fish, but if that is not your thing you can
cook the fish for as long as you like. The dish is built around the vinegary sweet-salty tang of
sushi rice, but instead of first cooking the rice and then mixing it with the sweetened vinegar,
here the rice is simply cooked in vinegar-seasoned water, which is much simpler. The result is
a sticky, delicious sushi rice that makes an excellent base for the richness of the mackerel.
The dish is topped with a gingery, sesame-flavoured coleslaw, sliced avocado, and toasted
nori, the black seaweed that typically surrounds a sushi roll. Think of it as a simple,
deconstructed form of sushi: very tasty, plus you use only one pot.
Chun's recipe used salmon fillets (and a larger quantity), cut into cubes, so feel free to play
around with the fish. I'd stick to an oily variety, though: you want that richness to contrast
with the sharpness of the sushi rice. Nice with a wheat beer.
Mackerel Sushi Bowls
Serves 4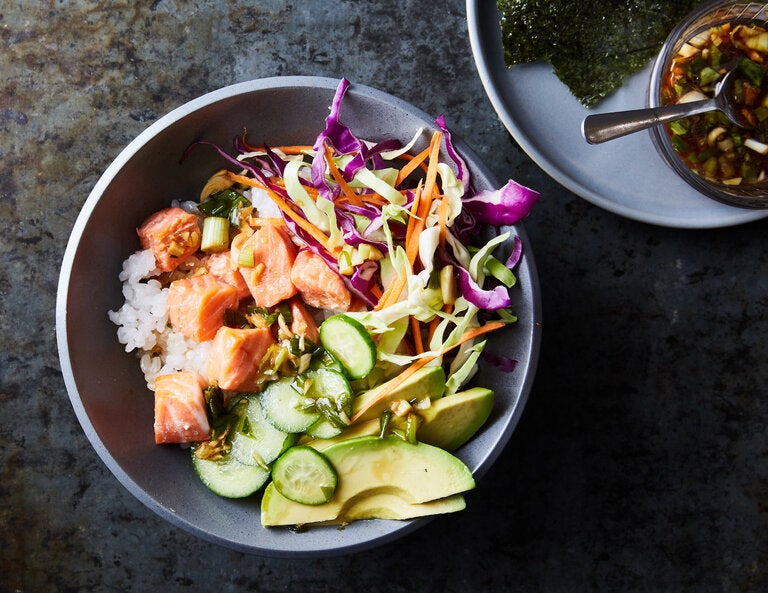 Ingredients
4 tablespoons + 3 tablespoons rice vinegar
3 tablespoons sugar
1 teaspoon salt
340ml sushi rice (measured in a jug), rinsed in a sieve under running water until the water
runs clear
500g (or up to 680g if you're really hungry) skinless mackerel fillets, cut into 2cm-wide
strips
1 teaspoon toasted sesame oil, divided into two portions of ½ teaspoon each.
800g green and/or red cabbage and carrots (combined weight)
6 tablespoons soya sauce
3 tablespoons neutral vegetable oil
3 tablespoons coarsely chopped spring onions (white and light green parts)
3 tablespoons minced fresh ginger
Big handful of fresh coriander, coarsely chopped
1 cucumber, thinly sliced
1 avocado, halved, pitted and thinly sliced
Several toasted nori sheets, torn into bits, for garnish
Method
In a large saucepan, combine 4 tablespoons rice vinegar, sugar and salt; stir to dissolve the
sugar. Add the rice and 400ml water, and mix well. Bring to a boil over high heat, then cover and reduce heat to low. Cook until rice is tender and most of the liquid is absorbed, about 20 minutes.
While the rice is cooking, toss the fish with ¼ teaspoon sesame oil in a small bowl, and set
aside. Shred the cabbage. Peel the carrot and grate coarsely.
Combine the soya sauce, remaining 3 tablespoons of vinegar, oil, spring onions, ginger and
the remaining ¼ teaspoon of sesame oil in a large bowl. Mix well and then add the shredded
cabbage. Using your hands, scrunch up the cabbage as hard as you can, so that it softens a bit
and begins to absorb the dressing. Toss in the carrots and coriander and set aside.
Once rice is tender (after about 20 minutes), arrange the mackerel on top of the rice in an
even layer. Cover and cook over low heat until fish is just barely cooked, about 5 minutes
longer.
Now serve: scoop the rice and fish into individual bowls. Decorate each with some of the
cabbage-carrot-coriander salad, some sliced cucumber, and some sliced avocado. Top with
the toasted nori and enjoy.
Recipe adapted from Kay Chun, New York Times Cooking
August 4, 2022 by General Administrator
Vicki Behm is an outstanding cook, and this is a very good salad. As the name implies, it keeps well, in addition to being tasty. Consider packing some in a box to take to work for lunch. I think you could use other types of green olive if you don't have any Castelvetrano olives to hand.
Make-Ahead Lentil Salad, 4 servings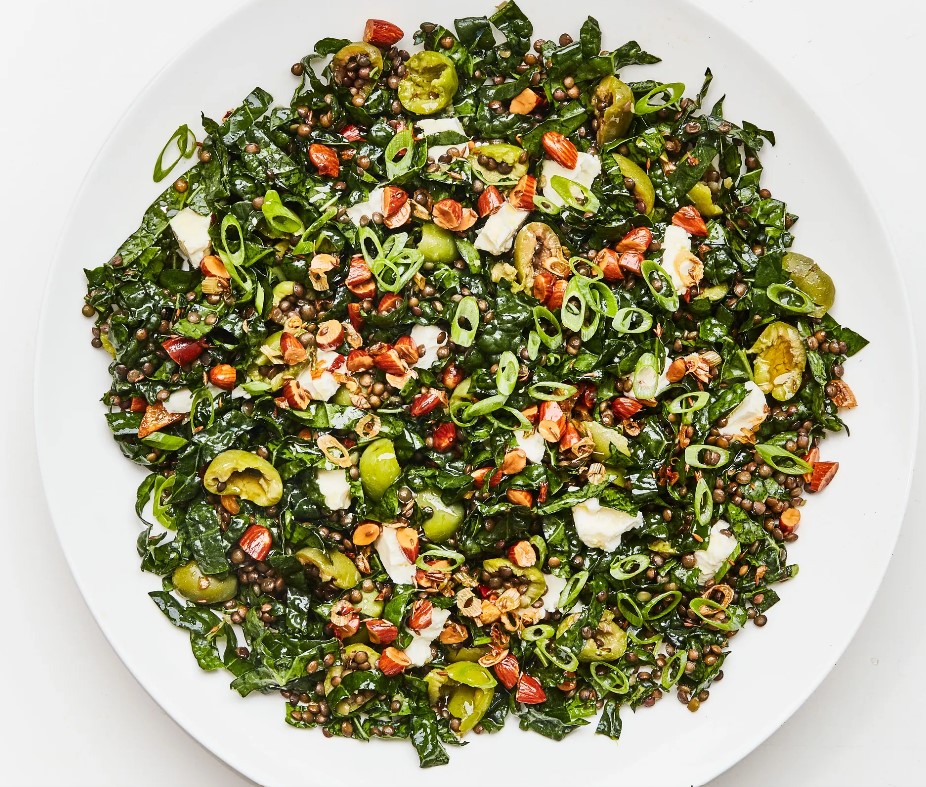 Ingredients
1 large bunch kale
12 ounces (measured in a measuring jug) of puy lentils
3 spring onions
4 garlic cloves
1 lemon
4 tablespoons olive oil
4 tablespoons raw almonds, coarsely chopped
1 tablespoon cumin seeds
½ teaspoon crushed red pepper flakes
140g feta
150g Castelvetrano olives, crushed with the side of a knife, and pits removed
salt
Method
Strip the kale leaves off the stems; discard stems or save for later. Stack the leaves on top of each other, then roll into fat cigars. Slice crosswise into ½ cm strips to form long, thin ribbons. Unfurl the ribbons. If any are really, long cut these into shorter ribbons that will be easier to get into your mouth. Transfer the ribbons to a large bowl, season with salt, and then use your hands to massage the kale: scrunch the kale up in your hands for 1 to 2 minutes, until it is silkier, softer, and darker in colour. This makes it more tender and nicer to eat raw. Place the kale ribbons in a large serving bowl.
Bring a large pot of heavily salted water to a boil over high heat. Add the lentils, reduce heat to medium, and simmer, uncovered, until the lentils are tender but still al dente, about 20–25 minutes. Try not to overcook them or they'll be mushy.
While the lentils are cooking, prepare the spiced oil. Trim the spring onions and separate white and green parts. Thinly slice the white parts and transfer to a small skillet. (Keep the green parts—they will be used later in the recipe.) Peel the garlic and crush it with a knife. Add those to same skillet. Using a vegetable peeler or paring knife, remove three 8cm strips of lemon peel (avoiding white pith); reserve the rest of the lemon for your salad dressing. Add peels to skillet as well. Now pour the olive oil into skillet and stir so that all of the elements are coated in oil.
Heat the skillet over medium heat. Cook, stirring occasionally, until the garlic starts to brown and the lemon peel starts to curl, about 3 minutes. Add the almonds and cook, stirring frequently, until almonds are browned, about 3 more minutes. Remove from heat and stir in the cumin seeds and red pepper flakes—the residual heat from the oil will warm those spices and bring out their flavours.
Strain the oil mixture through a fine-mesh sieve into a small bowl, shaking to help the oil drain. Don't throw away the stuff in the sieve! The oil will form the base of your salad dressing and the stuff in the sieve will add crunch to the salad. Spread the contents of the sieve on a paper towel-lined plate, season with salt, and let cool. The nuts will get crunchier as they sit.
Crumble the feta into the bowl with the kale. Tear the olives into large pieces and add them to the bowl as well. Thinly slice the reserved spring onion greens and add most of them to the bowl, reserving just a few for a garnish. Juice the lemon and add it, along with ½ teaspoon salt, to the serving bowl.
Once the lentils are cooked, drain them well, shaking to get rid of excess moisture, and add to bowl; season with salt. Add the infused oil and half of almond-spice mix, and toss to combine. Garnish with the remaining nuts and spices, and spring onion greens, and serve.
Recipe adapted from Bon Apétit, 2020
July 7, 2022 by General Administrator
Griddled cabbage roasted with a buttery miso sauce and served with sesame-tahini noodles creates a complex set of flavours perfectly highlighted by a garnish of chile oil and spring onions. Thomasina Miers, whose recipe this is, gives a good description: 'Toss the miso hispi in noodles and drizzle with chilli oil, and you have a deeply satisfying, midweek dish that is rich in grains and vegetables, and as healthy as it is delicious'. Hispi cabbage are those torpedo-shaped hispi cabbages we're getting from Canalside, which in the shops these are sometimes rather coyly called 'sweetheart' cabbages.
The original recipe calls for egg noodles, but it works well with wholewheat linguine or brown rice noodles. I think you can use any noodle you favour.
If you want a particularly delicious menu, finish off with some fresh mango for pudding.
Miso and Butter Roast Hispi with Sesame Noodles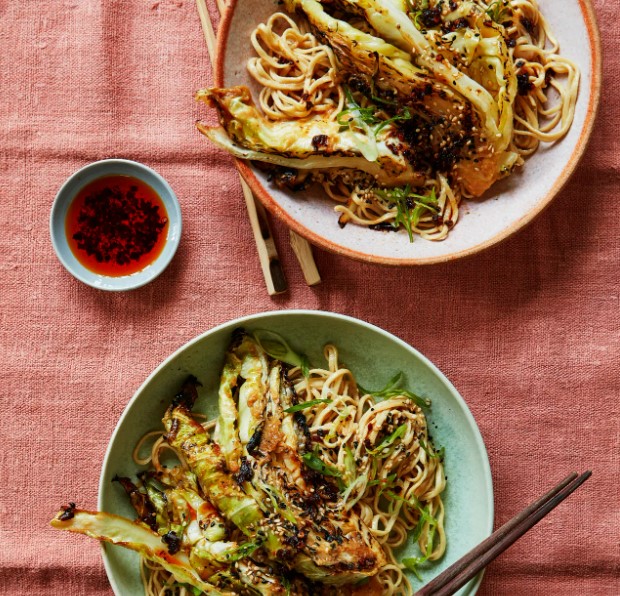 Serves 4
Ingredients
For the Cabbage
40g butter, softened
70g white miso
2 teaspoons honey
1½ tablespoons soya sauce
4 spring onions, roughly sliced, white and green parts separated
2 large hispi (aka sweetheart) cabbages, each cut into 8 wedges through the stem
For the Noodles
500g whole-wheat linguine (or another noodle of your preference)
5 tablespoons tahini
2 tablespoons sesame oil
2 tablespoons rice-wine vinegar
2 teaspoons honey
2 teaspoons toasted sesame seeds, to garnish
Chile oil, to serve
Method
Heat the oven to 240C (220C fan). Heat a griddle pan or, if you don't have one, the grill.
Prepare the cabbage:
In a small bowl, mix the butter, miso, honey, soya sauce and the whites of the spring onions.
Griddle or grill the cabbage wedges for 10-12 minutes, turning them when lovely griddle marks appear on each side. Transfer to an ovenproof pan with a lid and spoon over the miso butter. Cover and roast, turning the cabbage once, for 15 minutes, until tender.
Prepare the noodles:
While the cabbage is roasting, bring a pan of salted water to a boil and cook the noodles according to the packet instructions. As they cook, whisk the tahini, sesame oil, vinegar and honey to create a thick paste. Taste, then adjust the seasoning with more honey and/or vinegar. Once the noodles are cooked, drain, reserving about 200ml of the cooking liquid. Slowly mix the cooking liquid into the tahini to create a creamy sauce. Pour some (or all) of it onto the noodles, so that they are dressed to your liking.
Pile the noodles onto a serving platter or bowl and lay the cabbage wedges on top. Spoon over any cabbage cooking juices, scatter on the green parts of the spring onions and sesame seeds, and serve with chile oil to drizzle over the top, to taste.
Recipe adapted from Thomasina Miers, Guardian (2021).
May 13, 2022 by General Administrator
I recently listened to a fascinating episode of BBC Radio 4's The Food Programme about 'How Spain Does Beans'. The programme explained, among other things, why beans in a jar taste so good. Inspired by the programme I bought a jar of butter beans from Aubrey Allen. They cost more than beans from a tin, but they were really good. We've now eaten our way through several more jars, and I recommend them enormously for this or any recipe calling for butter beans. On the other hand, it's also very, very good with ordinary tinned beans.
We ate this for diner with griddled asparagus and some roasted carrot and garlic mash.
Now, sorrel. If you can lay your hands on any of this fibrous, red-veined leaf, use it in place of some or all of the spinach. Since sorrel has its own sour, lemony flavour, you can reduce the lemon juice if you're using sorrel.
Fried Butter beans with Feta, Sumac and Spinach or Sorrel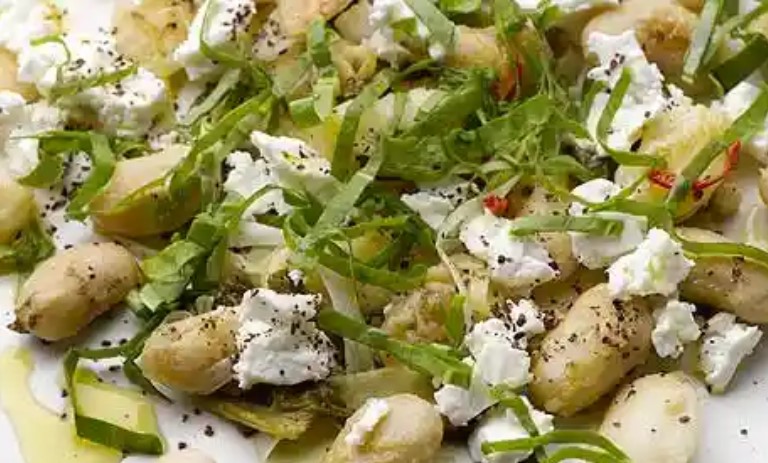 Serves 4.
Ingredients
60g butter
900g tinned or jarred butter beans, drained and rinsed
8 spring onions, halved lengthwise
1 garlic clove, peeled and mashed to a paste with ½ teaspoon salt
1-2 fresh red chiles, sliced thin (optional)
200g shredded spinach or, if you can get it, sorrel—or a mixture of both
3 tablespoons lemon juice (if you can get sorrel reduce this to about 1½ tablespoons)
150g feta, broken into pieces
2 teaspoons sumac
handful of chopped dill
olive oil, to drizzle over the top
Method
First fry the butter beans: heat a bit of the butter in a frying pan over medium-high heat. Add enough beans to cover the bottom of the pan in a single layer and fry for 1-2 minutes on each side, until the skin is golden brown and blistered. Remove to a large bowl and cook the remainder of the beans in the same fashion, adding more butter to the pan as necessary.
When the final batch of beans is almost done, add the spring onions, garlic, and chiles (if using), along with almost all of the spinach or sorrel. Keep back a little of the spinach or sorrel for a garnish.
Sauté everything together for another minute or two, and then return the other beans to the hot pan and mix everything together.
Remove from the heat and add the lemon juice. Scatter the feta over the top, sprinkle on the sumac, and top with the reserved spinach or sorrel, as well as the dill. Finish with a drizzle of olive oil and serve.
Recipe adapted from Yotam Ottolenghi, Plenty (2010).
June 17, 2021 by General Administrator
Mark Bittman, whose recipe this is, writes 'occasionally, I stumble over a culinary combination so obvious that I don't know whether to marvel over the bad luck that has kept it from me until now or the good luck that finally brought it my way'. As recipes go, this is incredibly easy—ginger mixed with chopped spring onions, oil and salt—but it is extremely versatile. Use it as a dipping sauce for steamed chicken breast: drizzle the cooked chicken with soya sauce and sesame oil and serve with rice and this sauce. You can also stir it into plain rice or noodles, or you can eat it with steamed fish or fried tofu.
Spring onion dipping sauce
serves 4
Ingredients
4 tablespoons sunflower oil or other light vegetable oil
4 tablespoons chopped spring onions (green and white parts combined)
1 tablespoon peeled and grated ginger
½ teaspoon salt, or more, to taste
Preparation
Combine the ingredients in a bowl. Taste it, and add more salt, ginger or spring onions if you like. Spoon over steamed chicken breast or in any of the other ways described above.
Recipe adapted from Mark Bittman, The Minimalist Cooks Dinner (2001).
April 1, 2021 by General Administrator
Since spring greens and spring onions are in the share next week I've been trying to find light and fresh recipes to celebrate the light evenings and good weather. This one looks like it could take some effort with all the rolling and re-rolling but hopefully you'll be rewarded with some nice crisp layers!
Scallion pancakes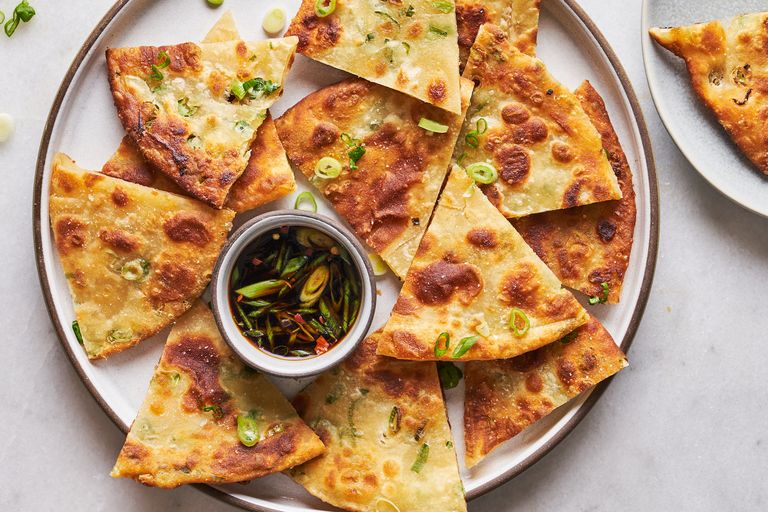 Ingredients:
FOR PANCAKES:
250 g plain flour
240 ml boiling water
60 ml plus 2 tbsp. vegetable oil
2 tbsp. sesame oil
100 g thinly sliced spring onions, from about 4 whole spring onions
FOR DIPPING SAUCE:
2 tbsp. rice wine vinegar
2 tbsp. soy sauce
1 spring onion, thinly sliced
Pinch crushed chilli flakes (optional)
Method:
Combine flour and boiling water in a large bowl and stir to combine until a mass of dough forms. Transfer dough to a lightly floured surface and knead until smooth, slightly tacky ball forms, 3 to 4 minutes.
Transfer dough ball to a medium bowl and cover with a kitchen towel or cling film. Let rest 30 minutes at room temperature, or up to overnight in the fridge.
Meanwhile, mix 2 tablespoons vegetable oil and sesame oil in a small bowl.
Make dipping sauce: in a small bowl, stir together vinegar, soy sauce, spring onions, and chilli flakes.
Separate dough into four equally-sized balls. Return 3 to bowl and recover with kitchen towel or cling film. Roll remaining ball into an 8" disk, and brush with a thin layer of the oil mixture. Roll tightly, then twist into a tight spiral, tucking the outer end underneath the roll. Using the palm of your hand, flatten the spiral, then roll out again into an 8" disk. Brush the top with another thin layer of oil, and scatter with 1/4 sliced spring onions. Roll up disk again, then re-roll into spiral. Re-roll into an 8" disk, then repeat with remaining dough balls.
Add ¼ vegetable oil to an 8" pan over medium-high heat until shimmering and gently add first pancake. Cook, undisturbed, until golden on one side. Flip and cook until golden on underside, about 2 to 3 minutes per side. Remove to paper-towel lined plate and season immediately with salt. Repeat with the remaining pancakes, adding more oil if necessary.
Cut pancakes into triangles and serve with dipping sauce.
From delish.com
November 26, 2020 by General Administrator
Here is a simple salad with pumpkin and soba noodles. Thomasina Miers recommends this as a weekday lunch, and observes that it is equally good warm or cold. She also points out that the dressing is tasty on grilled chicken or fish, or sprouting broccoli.
Miso-roast Pumpkin with Noodles
Serves 4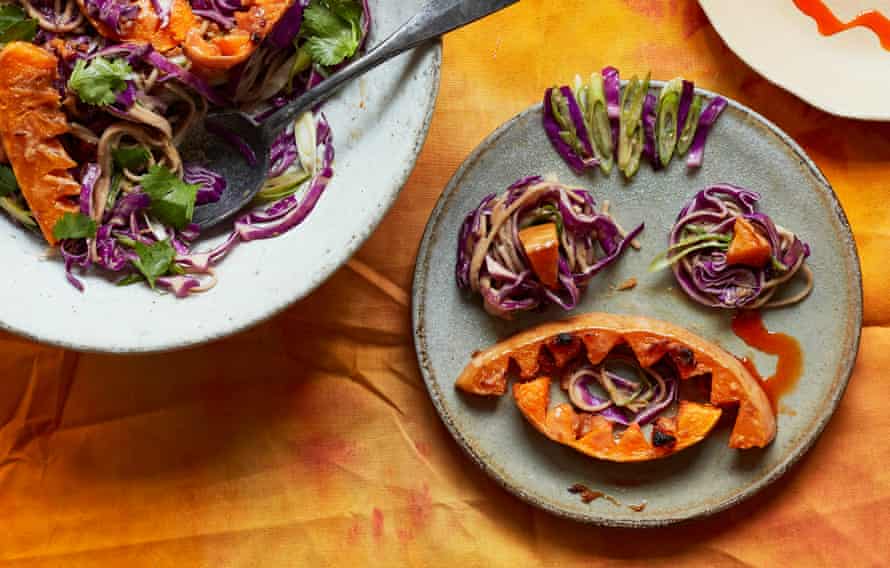 Ingredients
750g pumpkin
3 tablespoons white miso
2 tablespoons olive oil
125g soba noodles
500g red cabbage, shredded
1 large handful coriander, coarsely chopped
2 spring onions, finely sliced
Chile oil, to serve
For the dressing
2 tablespoons sesame oil
2 tablespoons light soya sauce
2 tablespoons lime juice
2 tablespoons tahini or other sesame paste
1 tablespoons honey
1 clove garlic, peeled and grated
1 inch ginger root, peeled and grated
A splash of water
Preparation
Heat the oven to 220C. Wash the pumpkin (peel if you prefer) and cut into wedges. Whisk the miso and olive oil and toss onto the pumpkin. Tip onto a baking sheet and roast for 30-35 minutes, or until tender and golden at the edges. Leave to cool.
Meanwhile bring a pan of water to the boil and cook the noodles according to the instructions on the packet, until al dente. Drain and rinse in cold water.
Mix the noodles, cabbage, most of the coriander, and spring onions in a bowl.
Make the dressing: whisk all the ingredients together.
Tip the dressing onto the ingredients in the bowl and blend.
Array the dressed vegetables on a serving platter and top with the roasted squash. Decorate with the remaining coriander and serve with chile oil on the side, for those who want this a bit spicy.
Recipe adapted from Thomasina Miers, Guardian, 31 Oct. 2020.
October 1, 2020 by General Administrator
Peas cooked with onions and butter make an excellent dish to eat on their own. Add some pan-seared salmon fillets and you have an easy and very delicious meal.
(To pan-sear, dry the salmon carefully and then season liberally with salt. Heat a little neutral oil in a skillet, and when it is hot add the salmon, skin-side down. Press it into the pan with a fish so that it makes good contact with the heat. Cook, without moving the fish, for about 3 minutes, and then flip it over to cook the other side. Cook for an additional 1-4 minutes, depending on how cooked you like your fish.)
Peas with Parsley, Thyme, Butter and Onions
Serves 4 as part of a larger meal.
Ingredients
2 tablespoons neutral oil (rapeseed, sunflower seed etc.)
1 giant Canalside spring onion, thinly sliced (use the whole thing including the dark green leaves)
½ teaspoon salt
1/2 cup white wine
1 cup chicken stock
4 cups frozen (or fresh) peas
4 tablespoons butter
¾ cup fresh parsley, roughly chopped
5 springs of fresh thyme, roughly chopped
Preparation
Heat the oil in a large frying pan over medium heat. Add the sliced onion and the salt. Reduce the heat to low and cook until the onion is translucent and soft, but not brown. Add the wine and allow to reduce until almost completely dry.
Add the stock and bring to a boil. Add the peas and butter and cook until the stock has reduced, and the sauce is thick and silky with butter. Then add the parsley and thyme check for salt and pepper, and serve.
Recipe adapted from Abra Berens, Ruffage: A Practical Guide to Vegetables (2019).
July 30, 2020 by General Administrator
When I was growing up, tabouli formed part of my father's very limited cooking repertoire, alongside steak tartare and chicken marsala. The recipe he used called it 'non-lettuce salad', and that's a good description of this blend of parsley, mint, tomatoes, cucumbers and a little bulgar wheat. I dedicate this recipe to him!
The secret to this tabouli is the Lebanese 7-spice blend. For an absolute feast, serve it with Lebanese 7-spice chicken. It's pretty good on its own, too.
Lebanese Tabouli
Serves 4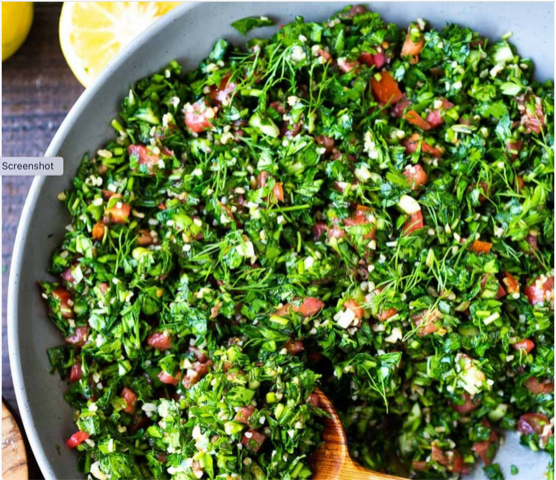 Ingredients
7 Spice Blend Ingredients
1 teaspoon ground coriander
1 teaspoon cumin
1 teaspoon cinnamon
1 teaspoon ground allspice
1/2 teaspoon grated nutmeg
1/2 teaspoon ground cloves
1/2 teaspoon ground cardamom
Tabouli ingredients
250ml dry medium grain bulgar wheat
4 spring onions
1 large bunch flat-leaf parsley
1 cup mint leaves
1 small bunch dill
3 medium tomatoes
1 cucumber
1 tablespoon lemon zest
70ml lemon juice, or to taste
125ml cup olive oil
1 teaspoon salt
1 teaspoon 7-Spice mix
Preparation
First prepare the 7-spice blend. This will make more than you need for the tabouli, but that shouldn't be a problem since it's so delicious. You can add it to lots of other things, including this splendid Lebanese 7-spice chicken. To make the blend combine all the ingredients together. If you want really to go to town with it, you can roast whole coriander and cumin seeds and then grind them, before combining with the other ingredients. This gives an added warm depth to the spice blend.
To make the salad, first prepare the bulgar wheat. Put it in a small bowl and pour 250ml boiling water over it. Cover with a plate, and set aside for at least 30 minutes while you prepare the rest of the salad. This allows the grains to soften.
Slice the spring onion and place in a large serving bowl.
Chop the parsley as fine as you can. It's ok to include the thinner stems. Add to the bowl. Chop the mint and dill and add them as well.
Dice the tomatoes and cucumbers into small cubes and add them to the bowl, along with all their juices.
Add the lemon zest, lemon juice, olive oil, salt and 1 teaspoon of the 7-spice mix. Give it all a good stir.
By now 30 minutes have probably passed, so the bulgar wheat should be al dente. Once it is, add it to the salad as well and mix again.
If you have time, let the salad sit for a few hours to allow the flavours to meld. The parsley will soften and the bulgar will soak up the flavourful juices. It will in any event be very good the next day if there is any left over.
Before serving, give a stir and taste for salt, lemon and 7-spice. Adjust to your liking. Slyvie Fountaine, whose recipe this is, says 'You want just the faintest whiff of the spices, like a whisper'.
Recipe adapted from Sylvia Fountaine, 'Feasting at Home'. https://www.feastingathome.com/lemony-tabouli-aka-tabbouleh/