I picked up this recipe whilst living in Gothenburg and it has great connotations for me with sunny breakfasts on the pier… Hopefully I don't just see it with rose tinted glasses!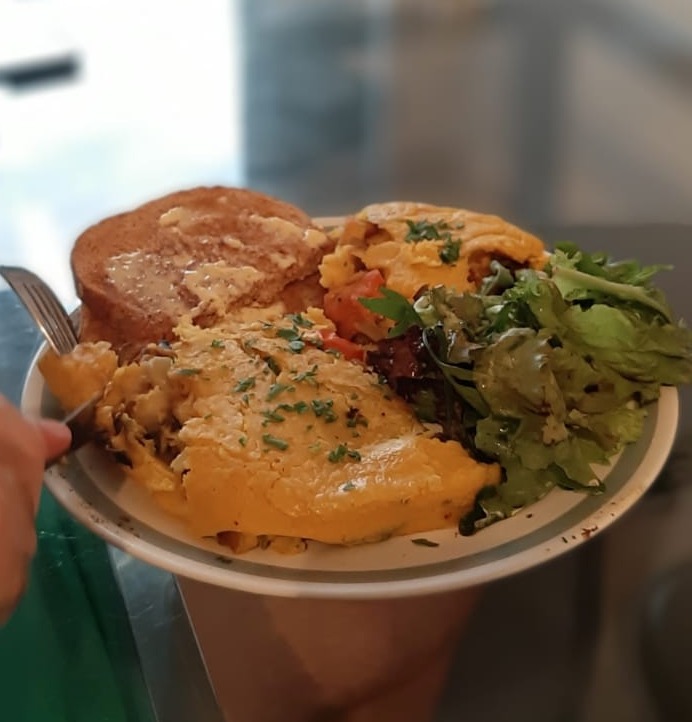 Vegan chickpea flour (kikärtsmjöl) omelette
Ingredients
1 cup (120 g) chickpea flour
1 Tablespoon flaxseed meal or chia seed meal (optional)
1/2 tsp (0.5 tsp) salt
1/4 tsp (0.25 tsp) each of turmeric garlic powder, baking soda, cumin powder
1ish cup of water
Fillings!
Fried tomato, onion, mushrooms, lots coming in our shares that could suit!
Method is simple, mix the all the dry ingredients then add the water slowly and mix with a whisk until they take on the same consistency as whisked eggs. Fry up the fillings, then poor on the omelette mix and reduce pan to a medium to low heat. Make sure you cook it slower and longer than an egg omelette – it tends to burn before solidifying enough to flip if you rush it.
It seems a pity to discard the flavoursome green leaves from a Canalside spring onion. This punchy blend of spring onion and tahini puts them to good use. It makes a great dressing for a spinach salad, coating the leaves in a savoury, creamy blanket. You could also use it as a dip.
Spring Onion and Tahini Blanket
Enough to dress a large 2-person salad
Ingredients
4 spring onions, including the green bits
2 tablespoons tahini
2 tablespoons rapeseed oil
2 tablespoons lemon juice
2 tablespoons water
Salt and pepper, to taste
Preparation
Roughly chop the spring onions.
Place everything in a blender, Nutribullet, or the container for an immersion blender. Blend everything until smooth. Check to see if it needs more salt, pepper, or lemon juice. If it's too thick for your liking you can add a little more water to thin it out, and then serve either as a salad dressing, or as a dip.
We've been getting spring onions in the share for a few weeks now, so I thought I would try something different to the usual stir fries and salads… The recipe this week is for spring onion dip! This should go well with courgette sticks, chips (oven baked from the new potatoes) and even fennel. Enjoy best served straight from the fridge, preferably after having a couple of days for the flavours to intensify.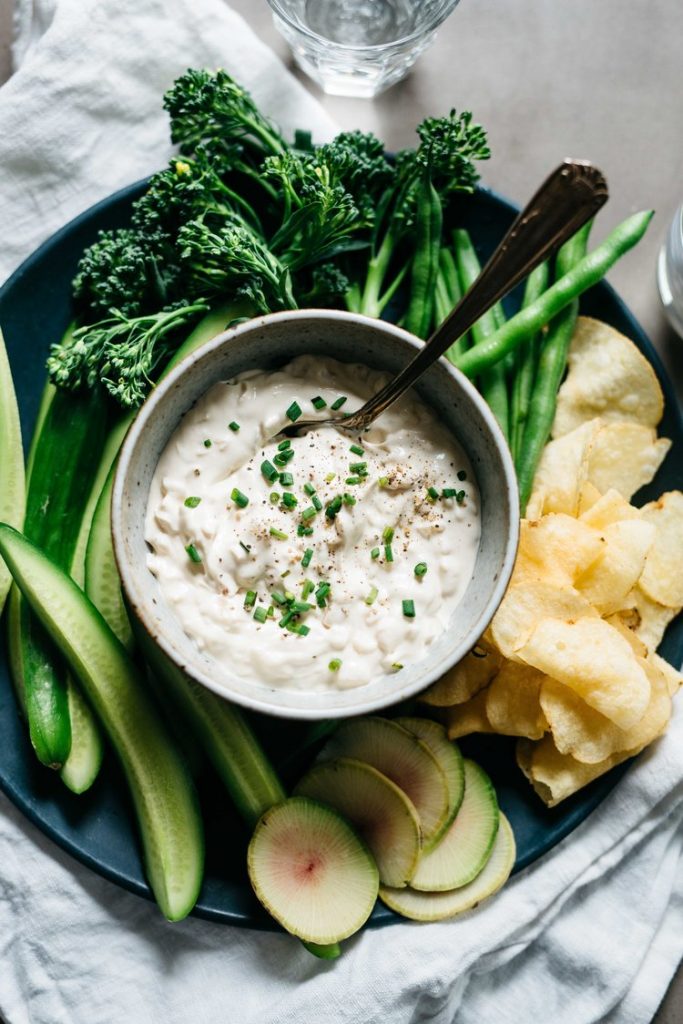 Spring onion dip
Ingredients:
3 tablespoons extra virgin olive oil
1 1/2 cups chopped spring onions
1 1/2 cups raw cashews, soaked overnight or at least 2 hours
fine sea salt
1/2 cup cream cheese (Tesco and Sainsburys both do good vegan alternatives)
1 tablespoon lemon juice
1 1/2 teaspoons apple cider vinegar
1 teaspoon tamari
1/4 teaspoon garlic powder
1/3 cup water, plus more if necessary
chives, for garnish
Method:
Heat a large pan over medium heat. Add 2 tablespoons of olive oil, the onion and a few pinches of salt then stir. Caramelise the onions over 10-12 minutes (stirring occasionally) then transfer to a plate and let cool
Meanwhile, add the cashews, cream cheese, lemon juice, vinegar, tamari, garlic powder, water and 1/2 teaspoon salt to the container of an upright blender (preferably high-speed). Blend on high, scraping down the sides until the dip is smooth and creamy
Taste and adjust the salt and/or lemon juice, as needed
Pour the dip into a bowl, and fold in the onions
Transfer to an airtight container and refrigerate for at least 3 hours, or overnight to really develop the onion flavor.
Peas cooked with onions and butter make an excellent dish to eat on their own. The peas in the share are sugar snaps, so you can eat the whole thing including the pod. Why not try cutting these up to add to this recipe? Add some pan-seared salmon fillets and you have an easy and very delicious meal.
(To pan-sear, dry the salmon carefully and then season liberally with salt. Heat a little neutral oil in a skillet, and when it is hot add the salmon, skin-side down. Press it into the pan with a fish so that it makes good contact with the heat. Cook, without moving the fish, for about 3 minutes, and then flip it over to cook the other side. Cook for an additional 1-4 minutes, depending on how cooked you like your fish.)
Peas with Parsley, Thyme, Butter and Onions
Serves 4 as part of a larger meal.
Ingredients
2 tablespoons neutral oil (rapeseed, sunflower seed etc.)
1 giant Canalside spring onion, thinly sliced (use the whole thing including the dark green leaves)
½ teaspoon salt
1/2 cup white wine
1 cup chicken stock
4 cups frozen (or fresh) peas (or pieces of sugar snap peas including the pods)
4 tablespoons butter
¾ cup fresh parsley, roughly chopped
5 springs of fresh thyme, roughly chopped
Preparation
Heat the oil in a large frying pan over medium heat. Add the sliced onion and the salt. Reduce the heat to low and cook until the onion is translucent and soft, but not brown. Add the wine and allow to reduce until almost completely dry.
Add the stock and bring to a boil. Add the peas and butter and cook until the stock has reduced, and the sauce is thick and silky with butter. Then add the parsley and thyme check for salt and pepper, and serve.
Recipe adapted from Abra Berens, Ruffage: A Practical Guide to Vegetables (2019).
Carrots simmered in warm spices with dried fruit, topped with pistachio nuts and salty yoghurt. You will enjoy this. I served it with a surprisingly complex beetroot salad dressed with balsamic vinegar and maple syrup, mixed with shredded daikon radish, a root-vegetable hat trick, but that's for another day.
The recipe calls for 1 tablespoon of barberries, which, amazingly, I happened to have. I think you can leave it out. You could also serve this over pasta, or in a pita with a shredded hard-cooked egg.
Uzbeki Carrots
Serves 2-3.
Ingredients
3 tablespoons olive oil
1 onion, thinly sliced
2 tomatoes, cut into thin wedges (or several tinned tomatoes)
4 garlic cloves, finely chopped
½ Canalside chile, seeded and shredded (or to taste)
¼ teaspoon ground cinnamon
½ teaspoon ground cumin
salt and black pepper
500g carrots, peeled and cut into batons
75g currants
1 tablespoon dried barberries (entirely optional)
¼ teaspoon saffron
350ml water (or use some of the tomato juice from the tin if you've used tinned tomatoes)
1 tablespoon tomato paste
2 teaspoons honey, or to taste
To serve:
2-3 tablespoons shelled unsalted pistachios, coarsely chopped
Salted yoghurt
Fresh coriander, chopped
4 spring onions, sliced
Preparation
Heat the oil in a large saucepan and sauté the onion over medium heat until golden brown, then add the tomatoes and cook until they begin to soften. Add the garlic and chile and cook for another minute, then the cinnamon and cumin and cook for another minute. Add a couple pinches of salt and pepper, and then add everything else, except garnishes. Bring to a gentle boil.
Reduce the heat and simmer the carrots until completely tender, 20-25 minutes. The mixture should remain moist but not be swimming in juice. If it gets too dry, add a little more water. If it is too sloppy, turn up the heat and boil off some of the liquid. Taste for seasoning and balance; the mixture should be sweet and savoury.
Serve topped with a generous dollop of yogurt, pistachios, coriander, and spring onion.
Recipe adapted from Diana Henry, A Change of Appetite: Where Healthy Meets Delicious (2014).
Cooked slowly at a very low temperature, salmon becomes meltingly tender and immensely flavourful. It's the complete opposite of the dry, overcooked fish one so often encounters. The fish is rubbed with a mixture of North-African spices and baked for nearly an hour. A coriander-packed herb salsa provides the perfect foil. Serve this with plain, boiled potatoes and a green salad for a spectacular meal.
The recipe is extremely easy—just make sure to allow an hour or two for the salmon to absorb the flavours of the spice rub before you cook it. This is a very good way of serving fish at a dinner party, since it doesn't require any last-minute cooking.
Slow-roasted Spiced Salmon with Herb Salsa
Serves 6
Ingredients
For the salmon
2 teaspoons cumin seeds
2 tsp coriander seeds
2 tsp fennel seeds
3 cloves
½ tsp cayenne pepper
1 tablespoon turmeric
1 generous pinch salt
900g salmon fillet, skinned. Ask the fishmonger to pin-bone it.
Salt
1 tablespoon olive oil
For the salsa
2 medium shallots, finely diced
6 tablespoon lime juice
20g coriander leaves and tender stems, very finely chopped
2 tablespoon minced chile pepper. Remove the seeds if you don't want this to be too hot
4 tablespoon spring onions, very finely chopped (green and white parts)
110ml neutral oil
Salt
Preparation
Toast the seeds and cloves in a dry frying pan over a medium-high heat and then grind finely with a pestle and mortar or a spice grinder. Transfer to a small bowl. Add the cayenne pepper, turmeric and salt.
Rub the spice mixture on both sides of the salmon, and refrigerate, covered, for one to two hours.
Heat the oven to 110C. Bring the salmon to room temperature while the oven is heating.
Drizzle the olive oil over the salmon and rub it in evenly with your hands. Roast in a baking dish for 40 to 50 minutes, until it begins to flake in the thickest part of the fillet when you poke it with a knife or your finger. Samin Nosrat notes that 'because this method is so gentle on its proteins, the fish will appear translucent even when it's cooked'.
While the fish is cooking make the salsa: In a small bowl, combine the shallot and lime juice and set aside for 15 minutes to macerate. In a separate small bowl, combine the coriander, jalapeño, spring onions, oil, and a generous pinch of salt. Add the shallots and lime juice, and more salt to taste.
Once the salmon is cooked, transfer it to a serving platter, spoon the herb salsa on top in generous amounts and serve.
Recipe adapted from Samin Nosrat, Salt, Fat, Acid, Heat (2017).
Our resident Recipe Meister, Rebecca Earle, is having a break during July, and so newly joined member Pip Smith has stepped forward to tantalise our tastebuds in Rebecca's absence. Thanks Pip for standing in. Here's this week's recipe, the final one from Pip in this guest slot – Rebecca will be back next time:
This is an adapted recipe from a soup in Anna Jones 'a modern way to cook' – it's adapted only because I don't have the recipe book anymore, otherwise I would have followed it! With all this hot weather there's probably nothing more important than keeping well hydrated. We take in a lot of our daily water from our food, in particular from fruits and vegetables. When I looked at the cucumbers in my fridge I immediately fancied a cool and hydrating soup, here's the recipe I used.
Avocado and cucumber soup
Ingredients:
1 1/2 cucumbers chopped
The flesh of 1 avocado
The juice of 1 lemon
1 handful of basil
2 spring onions
2 handfuls of toasted seeds
Extra virgin olive oil
Salt and pepper to taste
Method:
Pop the cucumber, avocado, basil, spring onion and lemon juice into a blender or use a stick blender and deep bowl.
Season with salt and pepper.
Dish into bowls, sprinkle with toasted seeds and a dash of extra virgin olive oil.
Optional – you might like to chill before serving. I mean the soup.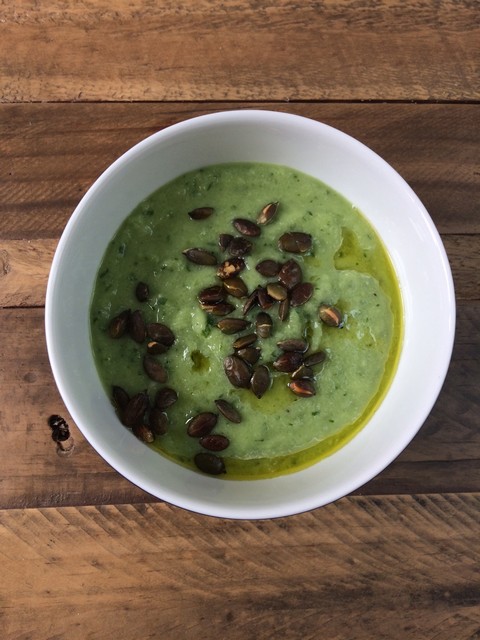 Our resident Recipe Meister, Rebecca Earle, is having a break during July, and so newly joined member Pip Smith has stepped forward to tantalise our tastebuds in Rebecca's absence. Here's Pip's first recipe for us:
Beetroot, cabbage and spring onion in the veg share this week? It can only mean one thing…….slaw! I've been looking at lots of coleslaw recipes and it seems to me the general theme is either vinaigrette dressing or creamy mayonnaise/Dijon or horseradish. Pretty much anything can go into a slaw as long as there is a nice bite and balance of flavour in the main ingredients.
I've chosen a vinaigrette and will follow the rule of equal oil to vinegar. I've chosen not to massage the vinegar into the cabbage though this could be worth experimenting with to break down the fibres and change the texture.
Ingredients:
1 small cabbage
4 baby beets
2 – 4 spring onions
2 tablespoons extra virgin olive oil
2 tablespoons apple cider vinegar
Optional 1 teaspoon Dijon mustard
1/2 teaspoon salt
1/2 teaspoon black pepper
Method:
Cut the cabbage into quarters and remove core, then slice thinly.
Peel the beetroot then grate.
Trim and slice the spring onion
Put the oil, vinegar, mustard if using, salt and pepper into a lidded glass jar and shake.
Put the the slaw mix into a large bowl and toss with the vinaigrette.
For a tasty addition you could toast some seeds and sprinkle on top.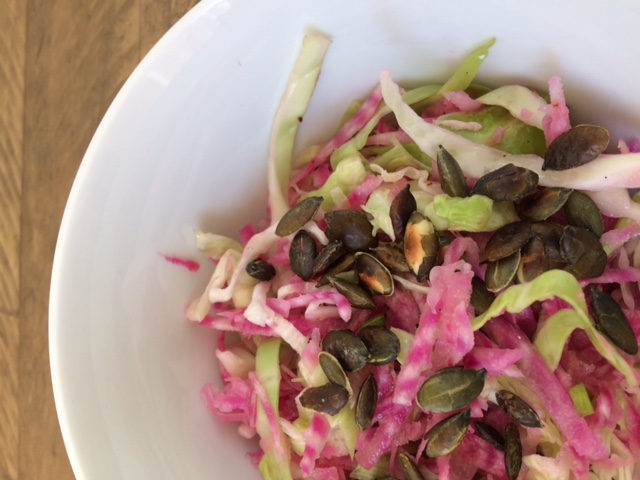 Pasta Primavera was (supposedly) invented at a fashionable New York City restaurant in the 1970s. The idea is to combine the freshest early spring vegetables with pasta, in a light, creamy sauce. This recipe is more of a guide than a strict set of instructions; you can vary the vegetables according to what's in season (the original included mushrooms, tomatoes, broccoli and courgettes). You can garnish it with pine nuts. You can add red pepper flakes, or even a spoonful of pesto. Just don't overcook the vegetables.
Pasta Primavera
Serves 4
Ingredients
¼ pound sugar snap peas, stems trimmed
½ pound asparagus, ends snapped
2 tablespoons unsalted butter
¾ cup fresh peas (or use frozen)
¼ cup thinly sliced spring onion, white part only (or use shallots)
2 garlic cloves, finely chopped
salt and pepper, to taste
12 ounces fettuccine or tagliatelle, preferably fresh
⅔ cup grated Parmesan, at room temperature
½ cup crème fraîche or whole milk Greek yogurt, at room temperature
3 tablespoons finely chopped parsley
1 tablespoon finely chopped tarragon or basil
2 radishes, thinly sliced
Preparation
Bring a large pot of heavily salted water to a boil over medium-high heat.
While the water is coming to a boil, slice snap peas and asparagus stems into ¼-inch-thick pieces; leave asparagus tips whole.
Melt butter in a large skillet over medium-high heat. Add snap peas, asparagus, fresh peas and onion. (If you are using frozen peas don't add them until later). Cook until vegetables are barely tender but not at all soft or mushy, 3 to 4 minutes. Stir in garlic and cook 1 minute more. If you are using frozen peas, add them now. Season with salt and pepper; set aside.
Drop pasta into boiling water and cook until al dente (1 to 3 minutes for fresh pasta, more for dried). Drain, making sure to save a cup of the cooking water, and transfer pasta to a large bowl. Immediately toss pasta with vegetables, cheese, crème fraîche (or yoghurt) and herbs. If it looks a bit dry, add some of the preserved cooking water to thin it out a bit. Season generously with salt and pepper, if needed. Garnish with the sliced radishes and serve.
Recipe adapted from Melissa Clark
Cold Chinese noodles with a spicy sesame sauce make an excellent lunch, plus they're very easy to prepare.
Cold Noodles with Sesame Sauce
Serves 4
Ingredients
250g soba noodles (you can also use Chinese egg noodles or linguine)
2 Canalside cucumbers
50-100g spring onions, white and some green bits thinly sliced
50-100g peanuts, toasted in a dry pan and chopped
The sesame sauce
2 tablespoons sesame oil
1/2 cup tahini (or natural crunchy peanut butter—in which case you'll be making noodles in a peanut sauce)
2 tablespoons sugar
3 tablespoons soya sauce
1 tablespoon fresh ginger, grated
1 tablespoon rice wine vinegar
Tabasco or other hot pepper sauce, to taste
Preparation
Cook the noodles according to the instructions on the packet. Soba noodles should take about 5 minutes. When the noodles are al dente drain them and run them under cold water for several minutes to cool them off and prevent their sticking to themselves. Let them drain, and cool, for a few minutes.
Cut the cucumbers into little matchsticks. I do this by slicing the cucumber in half, and then cutting each half into lengthwise slabs (like lasagne noodles). Stack these slabs into a pile and cut them into little matchsticks. The goal is to have little sticks of cucumber roughly the size of the noodles, only shorter. If you find this too fiddly you can simply grate the cucumber coarsely. In either case, put the cucumber into a bowl.
Add the sliced spring onions and peanuts. Toss together and then add the cooked and drained noodles. Toss everything together.
Prepare the sesame sauce: mix all the sauce ingredients together. The tahini (if you're using it) will resist mixing so you'll need to stir it all together with determination. Once it's all mixed add it to the noodle bowl and toss.
Serve and enjoy.
Mark Bittman notes that you can add cooked chicken, pork, beef, or seafood to the finished dish. You can also fry up litle tofu cubes and add those, as well, if you're so inclined.
(Recipe adapted from Mark Bittman, The Best Recipes in the World (2005).)