June 17, 2021 by General Administrator
Mark Bittman, whose recipe this is, writes 'occasionally, I stumble over a culinary combination so obvious that I don't know whether to marvel over the bad luck that has kept it from me until now or the good luck that finally brought it my way'. As recipes go, this is incredibly easy—ginger mixed with chopped spring onions, oil and salt—but it is extremely versatile. Use it as a dipping sauce for steamed chicken breast: drizzle the cooked chicken with soya sauce and sesame oil and serve with rice and this sauce. You can also stir it into plain rice or noodles, or you can eat it with steamed fish or fried tofu.
Spring onion dipping sauce
serves 4
Ingredients
4 tablespoons sunflower oil or other light vegetable oil
4 tablespoons chopped spring onions (green and white parts combined)
1 tablespoon peeled and grated ginger
½ teaspoon salt, or more, to taste
Preparation
Combine the ingredients in a bowl. Taste it, and add more salt, ginger or spring onions if you like. Spoon over steamed chicken breast or in any of the other ways described above.
Recipe adapted from Mark Bittman, The Minimalist Cooks Dinner (2001).
April 1, 2021 by General Administrator
Since spring greens and spring onions are in the share next week I've been trying to find light and fresh recipes to celebrate the light evenings and good weather. This one looks like it could take some effort with all the rolling and re-rolling but hopefully you'll be rewarded with some nice crisp layers!
Scallion pancakes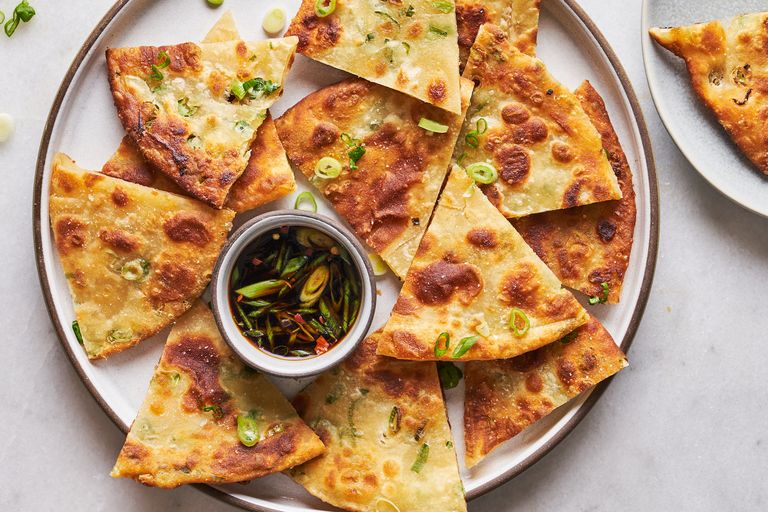 Ingredients:
FOR PANCAKES:
250 g plain flour
240 ml boiling water
60 ml plus 2 tbsp. vegetable oil
2 tbsp. sesame oil
100 g thinly sliced spring onions, from about 4 whole spring onions
FOR DIPPING SAUCE:
2 tbsp. rice wine vinegar
2 tbsp. soy sauce
1 spring onion, thinly sliced
Pinch crushed chilli flakes (optional)
Method:
Combine flour and boiling water in a large bowl and stir to combine until a mass of dough forms. Transfer dough to a lightly floured surface and knead until smooth, slightly tacky ball forms, 3 to 4 minutes.
Transfer dough ball to a medium bowl and cover with a kitchen towel or cling film. Let rest 30 minutes at room temperature, or up to overnight in the fridge.
Meanwhile, mix 2 tablespoons vegetable oil and sesame oil in a small bowl.
Make dipping sauce: in a small bowl, stir together vinegar, soy sauce, spring onions, and chilli flakes.
Separate dough into four equally-sized balls. Return 3 to bowl and recover with kitchen towel or cling film. Roll remaining ball into an 8" disk, and brush with a thin layer of the oil mixture. Roll tightly, then twist into a tight spiral, tucking the outer end underneath the roll. Using the palm of your hand, flatten the spiral, then roll out again into an 8" disk. Brush the top with another thin layer of oil, and scatter with 1/4 sliced spring onions. Roll up disk again, then re-roll into spiral. Re-roll into an 8" disk, then repeat with remaining dough balls.
Add ¼ vegetable oil to an 8" pan over medium-high heat until shimmering and gently add first pancake. Cook, undisturbed, until golden on one side. Flip and cook until golden on underside, about 2 to 3 minutes per side. Remove to paper-towel lined plate and season immediately with salt. Repeat with the remaining pancakes, adding more oil if necessary.
Cut pancakes into triangles and serve with dipping sauce.
From delish.com
November 26, 2020 by General Administrator
Here is a simple salad with pumpkin and soba noodles. Thomasina Miers recommends this as a weekday lunch, and observes that it is equally good warm or cold. She also points out that the dressing is tasty on grilled chicken or fish, or sprouting broccoli.
Miso-roast Pumpkin with Noodles
Serves 4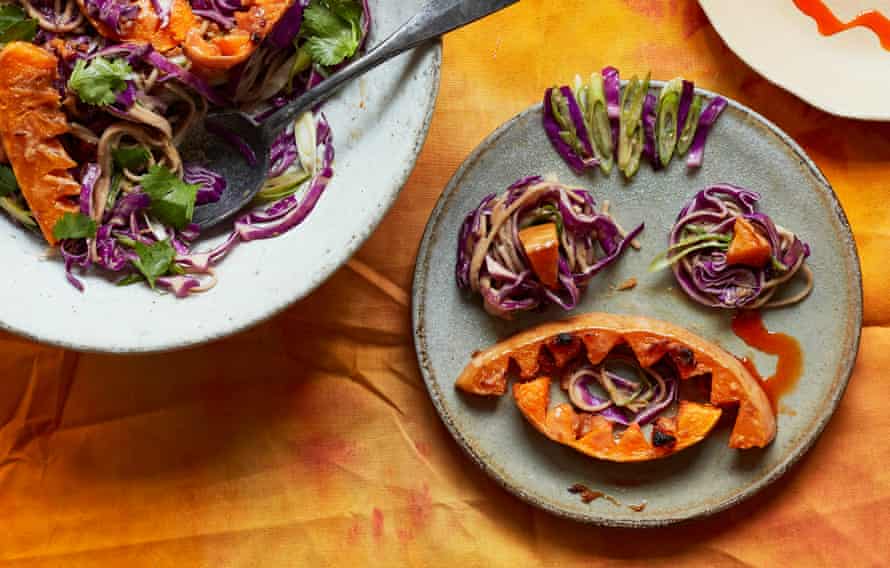 Ingredients
750g pumpkin
3 tablespoons white miso
2 tablespoons olive oil
125g soba noodles
500g red cabbage, shredded
1 large handful coriander, coarsely chopped
2 spring onions, finely sliced
Chile oil, to serve
For the dressing
2 tablespoons sesame oil
2 tablespoons light soya sauce
2 tablespoons lime juice
2 tablespoons tahini or other sesame paste
1 tablespoons honey
1 clove garlic, peeled and grated
1 inch ginger root, peeled and grated
A splash of water
Preparation
Heat the oven to 220C. Wash the pumpkin (peel if you prefer) and cut into wedges. Whisk the miso and olive oil and toss onto the pumpkin. Tip onto a baking sheet and roast for 30-35 minutes, or until tender and golden at the edges. Leave to cool.
Meanwhile bring a pan of water to the boil and cook the noodles according to the instructions on the packet, until al dente. Drain and rinse in cold water.
Mix the noodles, cabbage, most of the coriander, and spring onions in a bowl.
Make the dressing: whisk all the ingredients together.
Tip the dressing onto the ingredients in the bowl and blend.
Array the dressed vegetables on a serving platter and top with the roasted squash. Decorate with the remaining coriander and serve with chile oil on the side, for those who want this a bit spicy.
Recipe adapted from Thomasina Miers, Guardian, 31 Oct. 2020.
October 1, 2020 by General Administrator
Peas cooked with onions and butter make an excellent dish to eat on their own. Add some pan-seared salmon fillets and you have an easy and very delicious meal.
(To pan-sear, dry the salmon carefully and then season liberally with salt. Heat a little neutral oil in a skillet, and when it is hot add the salmon, skin-side down. Press it into the pan with a fish so that it makes good contact with the heat. Cook, without moving the fish, for about 3 minutes, and then flip it over to cook the other side. Cook for an additional 1-4 minutes, depending on how cooked you like your fish.)
Peas with Parsley, Thyme, Butter and Onions
Serves 4 as part of a larger meal.
Ingredients
2 tablespoons neutral oil (rapeseed, sunflower seed etc.)
1 giant Canalside spring onion, thinly sliced (use the whole thing including the dark green leaves)
½ teaspoon salt
1/2 cup white wine
1 cup chicken stock
4 cups frozen (or fresh) peas
4 tablespoons butter
¾ cup fresh parsley, roughly chopped
5 springs of fresh thyme, roughly chopped
Preparation
Heat the oil in a large frying pan over medium heat. Add the sliced onion and the salt. Reduce the heat to low and cook until the onion is translucent and soft, but not brown. Add the wine and allow to reduce until almost completely dry.
Add the stock and bring to a boil. Add the peas and butter and cook until the stock has reduced, and the sauce is thick and silky with butter. Then add the parsley and thyme check for salt and pepper, and serve.
Recipe adapted from Abra Berens, Ruffage: A Practical Guide to Vegetables (2019).
July 30, 2020 by General Administrator
When I was growing up, tabouli formed part of my father's very limited cooking repertoire, alongside steak tartare and chicken marsala. The recipe he used called it 'non-lettuce salad', and that's a good description of this blend of parsley, mint, tomatoes, cucumbers and a little bulgar wheat. I dedicate this recipe to him!
The secret to this tabouli is the Lebanese 7-spice blend. For an absolute feast, serve it with Lebanese 7-spice chicken. It's pretty good on its own, too.
Lebanese Tabouli
Serves 4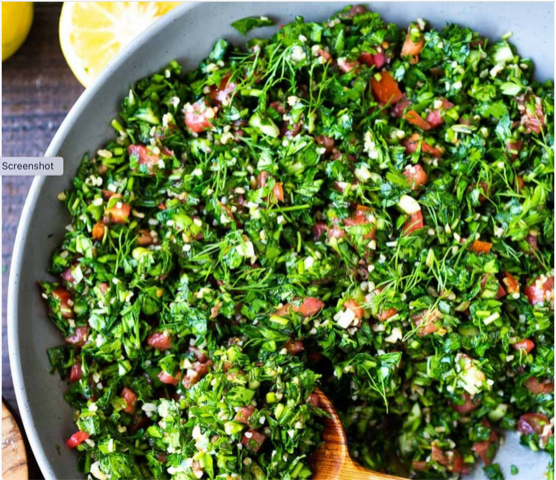 Ingredients
7 Spice Blend Ingredients
1 teaspoon ground coriander
1 teaspoon cumin
1 teaspoon cinnamon
1 teaspoon ground allspice
1/2 teaspoon grated nutmeg
1/2 teaspoon ground cloves
1/2 teaspoon ground cardamom
Tabouli ingredients
250ml dry medium grain bulgar wheat
4 spring onions
1 large bunch flat-leaf parsley
1 cup mint leaves
1 small bunch dill
3 medium tomatoes
1 cucumber
1 tablespoon lemon zest
70ml lemon juice, or to taste
125ml cup olive oil
1 teaspoon salt
1 teaspoon 7-Spice mix
Preparation
First prepare the 7-spice blend. This will make more than you need for the tabouli, but that shouldn't be a problem since it's so delicious. You can add it to lots of other things, including this splendid Lebanese 7-spice chicken. To make the blend combine all the ingredients together. If you want really to go to town with it, you can roast whole coriander and cumin seeds and then grind them, before combining with the other ingredients. This gives an added warm depth to the spice blend.
To make the salad, first prepare the bulgar wheat. Put it in a small bowl and pour 250ml boiling water over it. Cover with a plate, and set aside for at least 30 minutes while you prepare the rest of the salad. This allows the grains to soften.
Slice the spring onion and place in a large serving bowl.
Chop the parsley as fine as you can. It's ok to include the thinner stems. Add to the bowl. Chop the mint and dill and add them as well.
Dice the tomatoes and cucumbers into small cubes and add them to the bowl, along with all their juices.
Add the lemon zest, lemon juice, olive oil, salt and 1 teaspoon of the 7-spice mix. Give it all a good stir.
By now 30 minutes have probably passed, so the bulgar wheat should be al dente. Once it is, add it to the salad as well and mix again.
If you have time, let the salad sit for a few hours to allow the flavours to meld. The parsley will soften and the bulgar will soak up the flavourful juices. It will in any event be very good the next day if there is any left over.
Before serving, give a stir and taste for salt, lemon and 7-spice. Adjust to your liking. Slyvie Fountaine, whose recipe this is, says 'You want just the faintest whiff of the spices, like a whisper'.
Recipe adapted from Sylvia Fountaine, 'Feasting at Home'. https://www.feastingathome.com/lemony-tabouli-aka-tabbouleh/
July 23, 2020 by General Administrator
Text and photo from: https://www.cuisinefiend.com/242/courgette-and-spinach-tian
What's a tian? In spite of sounding rather middle-Eastern or even oriental, it's a Provençal pan made of clay, enamelled in bright colours, which they use to cook vegetable gratins in. Or, indeed, tian, as it's also the name of the dish.
They sell tian pottery at the markets all over Provence and you can hardly pass by the stalls without stopping to admire the vivid colours, the glaze and the various shapes. If pottery wasn't fragile and rather heavy, I'd have a collection brought over from my French voyages… As it is I need to use boring mass-produced vessels to cook my tians et al in.
They come in all sorts, being basically roasted vegetables with cheese. Rice is a common ingredient, sometimes potatoes, and spinach is a veritable tian king. Eggs are frequently added but I skipped them here, aiming for a less quiche-y flavour. And make a note of the courgette treatment – that's how this boring vegetable needs to be handled. Squeeze the living daylights out of it and it might just be vaguely tasty.
Courgette and Spinach Tian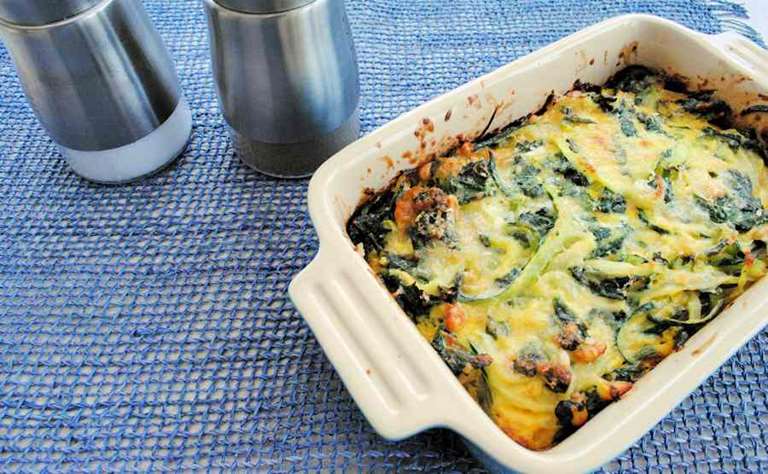 INGREDIENTS
1 large courgette
200g fresh or frozen spinach (thawed)
2 tsp sea salt
2 cloves of garlic, peeled and finely chopped
2 spring onions, chopped
a handful of pine nuts
60ml double cream
1 egg yolk
30g grated hard cheese, Gruyere or Cheddar
20g grated Parmesan
a little olive oil
METHOD
Wash, top and tail the courgette and cut it into ribbons or noodles on a mandolin or in a spiralizer. Sprinkle with salt, stir it around and place in a colander for at least 10 minutes. After that time rinse it with cold water, squeeze out as much moisture as you can without squashing the courgette, and pat dry with paper towels.
Rinse the spinach, if using fresh, and wilt it in a microwave or blanch briefly in boiling water. When cool, squeeze out the liquid and chop finely.
Mix the cream with the egg yolk and add the hard cheese. In a bowl mix the courgette with spinach, pine nuts, garlic and spring onions and most of the Parmesan. Pour over the cream mixture and stir through.
Preheat the oven to 220C/425F/gas 7.
Drizzle a little olive oil in the bottom of a tian or gratin dish, transfer the vegetables into it and sprinkle with the remaining Parmesan. Bake for 20 minutes until brown and bubbling. Best serve very warm, instead of piping hot.
From https://www.cuisinefiend.com/242/courgette-and-spinach-tian
February 13, 2020 by General Administrator
Several people have been asking for things to do with kale, pak choi, and other robust greens. Among other things you can make them into excellent salads. In all cases, it's a good idea to manhandle the greens a bit to soften them up. Shred them fine and, using your hands, scrunch them up as hard as you can for a few minutes. Confronted with this vigorous treatment, they will become much softer and more tender. Pak choi does not need as much scrunching as kale or cabbage, but it will benefit from a bit body English.
Once you've scrunched your salad, you need an oomphy dressing to stand up to these greens. I thought I would offer a compilation of some of the salad dressings that I'd recommend to complement these hearty greens. All three are incredibly simple: you just whizz them up in a blender or mix them with a fork. And if you don't mind doing your scrunching after you've dressed the salad, the tenderising effect will be even more noticeable. Once you've done that, you can add anything else you like: leftover boiled potatoes, toasted pumpkin seeds, shredded white or black radish, olives, chick peas….
(I was intending to present a fascinating but somewhat weird recipe for a beetroot-based vegan brownie, using a recipe I tore out of an Air France inflight magazine. Extensive testing on my colleagues at work led me to change my mind. The consensus was that the recipe must be part of a plot to denigrate vegans!)
Miso-Tahini Dressing
Serves 2
Ingredients
1 tablespoon miso paste
1 tablespoon tahini
1 tablespoon soya sauce
1 tablespoon cider vinegar
Preparation
Combine the ingredients and blend well, using a fork. Taste to see if it would benefit from a little more vinegar. The mahogany-dark dressing is now ready to use. This makes enough for half a small cabbage, shredded, together with several grated carrots. It is also good on other greens.
Spring Onion and Tahini Blanket
Enough to dress a large 2-person salad
Ingredients
4 spring onions, including the green bits
2 tablespoons tahini
2 tablespoons rapeseed oil
2 tablespoons lemon juice
2 tablespoons water
Salt and pepper, to taste
Preparation
Roughly chop the spring onions.
Place everything in a blender, Nutribullet, or the container for an immersion blender. Blend everything until smooth. Check to see if it needs more salt, pepper, or lemon juice. If it's too thick for your liking you can add a little more water to thin it out, and then serve either as a salad dressing, or as a dip.
Super Turmeric Sauce
serves 2
Ingredients
2 tablespoons cashew butter
2 teaspoons Dijon mustard
juice of 3 clementines
2 inch piece of fresh turmeric, peeled
5 tbsp olive oil
Preparation
Combine the ingredients in a blender and whizz until smooth.
December 19, 2019 by General Administrator
This is an absolute flavour bomb. The combination of onion, spice and pumpkin is delicious, fresh and complex, with a savoury depth that you will savour. Serve with rice, and a garnish of fresh coriander, if you like, for a little touch of green.
If you want to make this vegetarian, you can apparently replace the fish sauce with an equal amount of Japanese miso, but I used fish sauce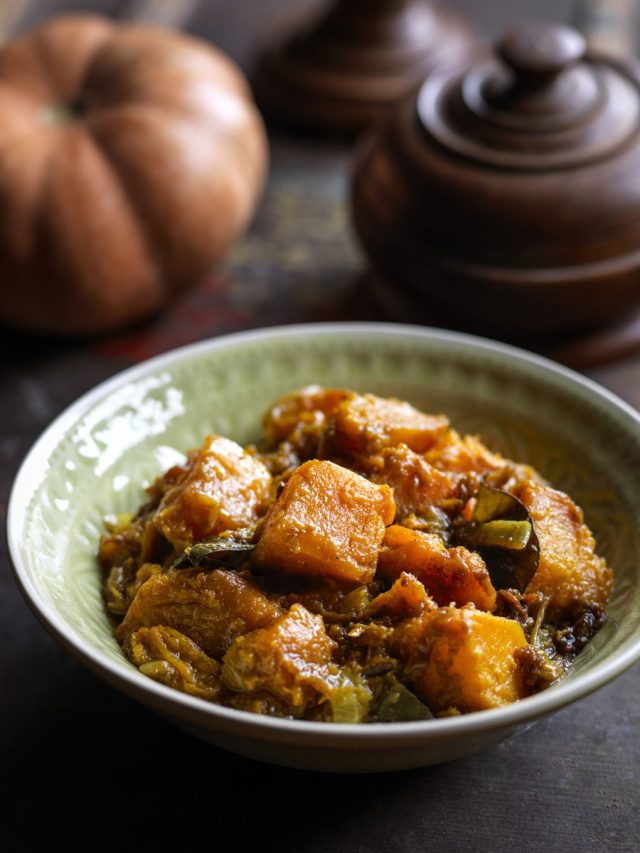 Burmese Golden Pumpkin Curry (Shwe Hpayone-thi Chet)
Servings 2 as a main
Ingredients
100 ml rapeseed oil or other neutral-tasting oil
2 teaspoon ground turmeric
2 teaspoon ground coriander
2 teaspoon ground cumin
2 teaspoon paprika
16 fresh or dried curry leaves
3 medium onions, sliced
3 spring onion, green and white parts, shredded
4-6 garlic cloves, sliced
3 cm piece of ginger, peeled and grated
1 small squash or pumpkin, peeled and cubed
1 tablespoon sugar
4 tablespoons fish sauce
Instructions
Heat the oil in a saucepan over a high heat. Add the turmeric, coriander, cumin, paprika and curry leaves to the oil and allow to sizzle for a few seconds. 
Now turn the heat down to medium and add the onions, spring onion, garlic and ginger and fry for 10 minutes, until fragrant and the onions have wilted and some have crisped up.
Add the squash, sugar, and 300ml of water. Stir well. Cover and cook for 25 minutes, or until the squash is tender. Add the fish sauce, stir again and serve with rice.
Recipe adapted from Mimi Aye, Mandalay: Recipes and Tales from a Burmese Kitchen (2019).
Also available online at https://www.kaveyeats.com/2019/11/mimi-ayes-golden-pumpkin-curry.html
September 5, 2019 by General Administrator
I picked up this recipe whilst living in Gothenburg and it has great connotations for me with sunny breakfasts on the pier… Hopefully I don't just see it with rose tinted glasses!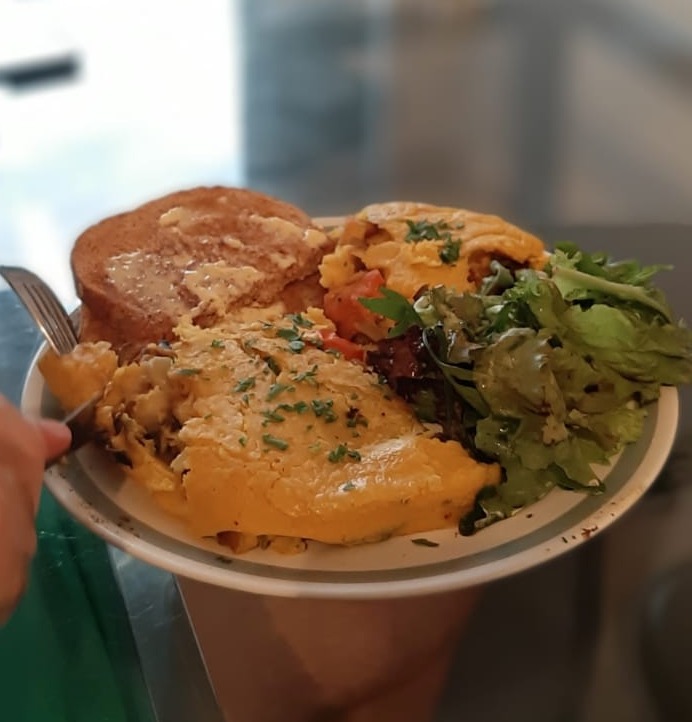 Vegan chickpea flour (kikärtsmjöl) omelette
Ingredients
1 cup (120 g) chickpea flour
1 Tablespoon flaxseed meal or chia seed meal (optional)
1/2 tsp (0.5 tsp) salt
1/4 tsp (0.25 tsp) each of turmeric garlic powder, baking soda, cumin powder
1ish cup of water
Fillings!
Fried tomato, onion, mushrooms, lots coming in our shares that could suit!
Method is simple, mix the all the dry ingredients then add the water slowly and mix with a whisk until they take on the same consistency as whisked eggs. Fry up the fillings, then poor on the omelette mix and reduce pan to a medium to low heat. Make sure you cook it slower and longer than an egg omelette – it tends to burn before solidifying enough to flip if you rush it.
August 2, 2019 by General Administrator
It seems a pity to discard the flavoursome green leaves from a Canalside spring onion. This punchy blend of spring onion and tahini puts them to good use. It makes a great dressing for a spinach salad, coating the leaves in a savoury, creamy blanket. You could also use it as a dip.
Spring Onion and Tahini Blanket
Enough to dress a large 2-person salad
Ingredients
4 spring onions, including the green bits
2 tablespoons tahini
2 tablespoons rapeseed oil
2 tablespoons lemon juice
2 tablespoons water
Salt and pepper, to taste
Preparation
Roughly chop the spring onions.
Place everything in a blender, Nutribullet, or the container for an immersion blender. Blend everything until smooth. Check to see if it needs more salt, pepper, or lemon juice. If it's too thick for your liking you can add a little more water to thin it out, and then serve either as a salad dressing, or as a dip.