July 7, 2022 by General Administrator
Griddled cabbage roasted with a buttery miso sauce and served with sesame-tahini noodles creates a complex set of flavours perfectly highlighted by a garnish of chile oil and spring onions. Thomasina Miers, whose recipe this is, gives a good description: 'Toss the miso hispi in noodles and drizzle with chilli oil, and you have a deeply satisfying, midweek dish that is rich in grains and vegetables, and as healthy as it is delicious'. Hispi cabbage are those torpedo-shaped hispi cabbages we're getting from Canalside, which in the shops these are sometimes rather coyly called 'sweetheart' cabbages.
The original recipe calls for egg noodles, but it works well with wholewheat linguine or brown rice noodles. I think you can use any noodle you favour.
If you want a particularly delicious menu, finish off with some fresh mango for pudding.
Miso and Butter Roast Hispi with Sesame Noodles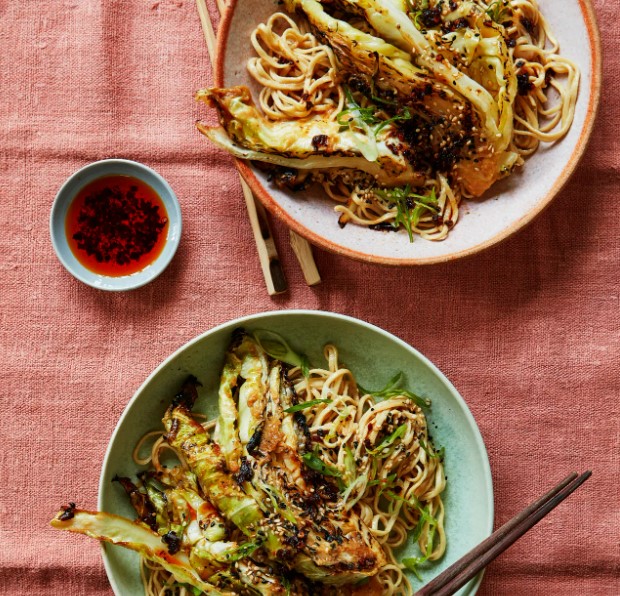 Serves 4
Ingredients
For the Cabbage
40g butter, softened
70g white miso
2 teaspoons honey
1½ tablespoons soya sauce
4 spring onions, roughly sliced, white and green parts separated
2 large hispi (aka sweetheart) cabbages, each cut into 8 wedges through the stem
For the Noodles
500g whole-wheat linguine (or another noodle of your preference)
5 tablespoons tahini
2 tablespoons sesame oil
2 tablespoons rice-wine vinegar
2 teaspoons honey
2 teaspoons toasted sesame seeds, to garnish
Chile oil, to serve
Method
Heat the oven to 240C (220C fan). Heat a griddle pan or, if you don't have one, the grill.
Prepare the cabbage:
In a small bowl, mix the butter, miso, honey, soya sauce and the whites of the spring onions.
Griddle or grill the cabbage wedges for 10-12 minutes, turning them when lovely griddle marks appear on each side. Transfer to an ovenproof pan with a lid and spoon over the miso butter. Cover and roast, turning the cabbage once, for 15 minutes, until tender.
Prepare the noodles:
While the cabbage is roasting, bring a pan of salted water to a boil and cook the noodles according to the packet instructions. As they cook, whisk the tahini, sesame oil, vinegar and honey to create a thick paste. Taste, then adjust the seasoning with more honey and/or vinegar. Once the noodles are cooked, drain, reserving about 200ml of the cooking liquid. Slowly mix the cooking liquid into the tahini to create a creamy sauce. Pour some (or all) of it onto the noodles, so that they are dressed to your liking.
Pile the noodles onto a serving platter or bowl and lay the cabbage wedges on top. Spoon over any cabbage cooking juices, scatter on the green parts of the spring onions and sesame seeds, and serve with chile oil to drizzle over the top, to taste.
Recipe adapted from Thomasina Miers, Guardian (2021).