July 22, 2022 by General Administrator
My grandmother used to make refrigerator pickles, which (as the name implies) need to be stored in the fridge. Here is an easy recipe for converting an abundance of courgettes into crisp, dilly pickles to have alongside your sandwich or in a burger.
Refrigerator Courgette Pickles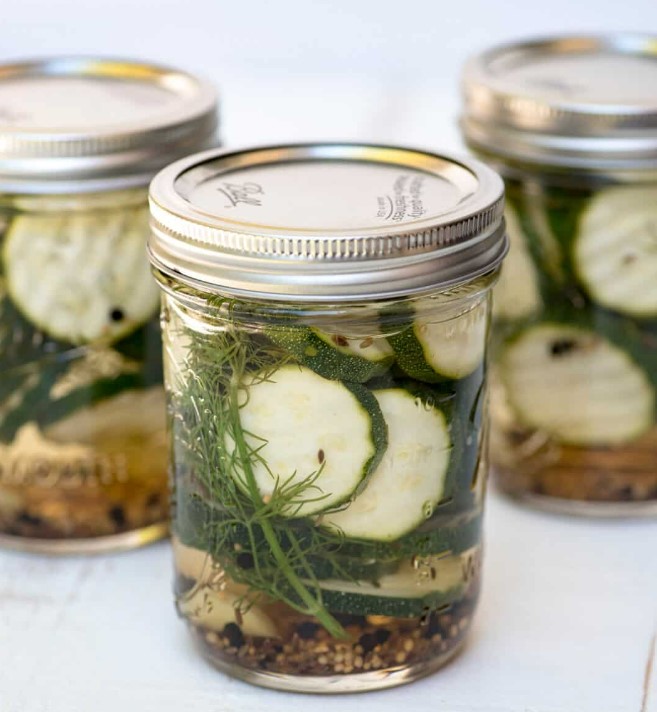 Ingredients
For the Pickles
3 garlic cloves, peeled and halved
1½ teaspoons black peppercorns
1½ teaspoons mustard seed
6 sprigs of fresh dill
700g courgettes
For the Brine
500ml water
250ml white vinegar
4 tablespoons sugar (I used muscovado)
2 tablespoons coarse sea salt
Method
Sterilise the jars in which you intend to store the pickles by pouring boiling water over them; you'll need about 4 normal-sized jam jars or the equivalent. (See note below, as well.)
Divide the garlic, peppercorns, mustard seed and dill between them.
Wash, top and tail the courgettes. Slice into circles or spears, as you prefer, and pack neatly into the jars. Leave a bit of space at the top of each jar, so the courgettes can be covered completely in the brine.
Heat the brine ingredients over medium-high heat in a saucepan and boil until the sugar and salt dissolve.
Carefully pour the brine into your jars, put on the lids, and let cool to room temperature. (See note below, as well.)
Give the jars a good shake to distribute the spices and then store in the fridge for at least 24 hours before eating. They should last for some weeks.
NOTE: If the courgettes float to the surface you might want to weigh them down with something, to ensure they remain submerged in the brine, e.g. a smaller jam jar, ramekin dish etc. Make sure you sterilize these, too, with boiling water.
Recipe adapted from Valerie Brunmeier, Valerie's Kitchen (2017)