October 8, 2021 by General Administrator
This week we'll be getting a good number of apples, so looking for an alternative to apple crumble I've come across an idea for a porridge topping. Add some vanilla essence to the porridge to round it off!
Brown sugar apples for porridge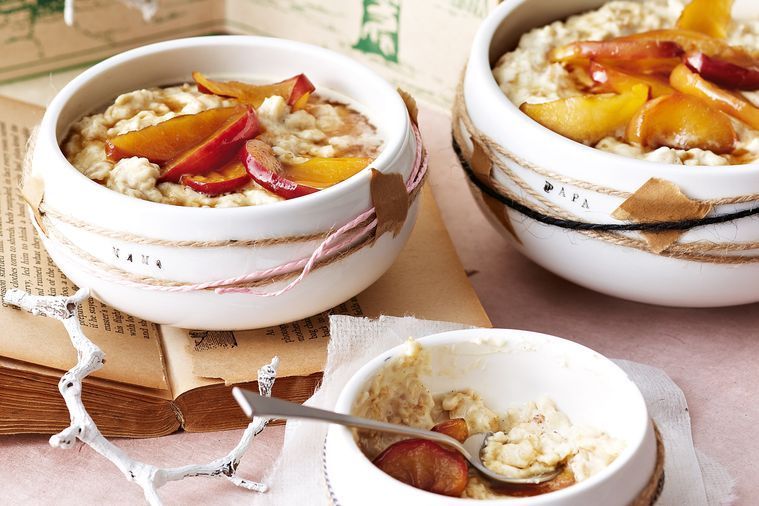 Ingredients
2 apples (preferably red), cored, cut into 1cm-thick wedges
2 tablespoons brown sugar
2 tablespoons honey
Method: For the brown sugar apples, place the apple, sugar and honey in a saucepan over medium heat and cook, stirring occasionally, for 10 minutes or until apple is tender, golden and sticky.
Top porridge with apples and syrup from the pan.
From: https://www.delicious.com.au/recipes
The full bank of recipes provided by Rebecca and Rob (and guest contributors) can be found and searched by categories on our website blog here: https://www.canalsidecommunityfood.org.uk/category/recipes-and-veg-tips/
March 20, 2020 by General Administrator
I haven't used a soup recipe for a while and I've suddenly realised I've been surviving off beans and toast for lunch for a little too long, We have an abundance of leeks at the moment and I could go for the easy option of leek and potato soup, but thought I would try this slightly different idea instead.
Leek, spring green and apple soup
Ingredients:
25g butter
1 tbsp olive oil
1 large onion, finely sliced
600g leeks (about 3-4 large), finely shredded
2 garlic cloves, crushed
2 apples, peeled and diced
250ml cider
1 litre veg stock
100g spring greens, finely shredded
salt and pepper
Method
Heat the butter and oil in a large pan. Add the onion and leeks. Fry on a low heat for 10 minutes. Add the garlic and apple and cook for 2 minutes. Add the cider and simmer for 5 minutes.
Add the stock, bring to the boil, reduce the heat and simmer for 10 minutes.
Add the spring greens and simmer for 5 minutes, or until the greens are tender. Blitz until smooth or leave chunkier, whichever you prefer.
Season, and serve.
Taken from: https://www.riverford.co.uk/recipes/view/recipe/leek-spring-green-apple-soup
October 13, 2019 by General Administrator
Here's a tasty sounding recipe from Polina, one of our produce share members:
As it is apple season, I also thought I share a simple recipe which has been our breakfast staple for a couple of weeks. It is based on traditional Russian sweet called "pastila", made of apples, eggs, and honey. Here is homemade British "twist". The recipe can be safely halved – depending on the blender/foodprocessor.
Ingredients:
2lb of apples
3 tablespoons of honey/50gr of sugar (depending on apples)
9 tablespoons of oats (gluten free or not)
3 eggs whites (can be omitted for vegan version)
Spices to taste: ground cinnamon/cardamom/gloves
Preparation:
Core apples (no need to peel) and bake them in the oven on 185 degrees C for 35 minutes. Let them cool down. Place the baked apples in a food processor/blender (I use Blendtec) and process to a smooth pure. Add spices (if using) and honey and process for 2 minutes to mix them in. Turn the mixture into mixing bowl, fold in oats stirring with spatula, then slowly add egg whites whisked to soft peaks (if using). Fill in individual souffle dishes/ramekins (I use small ceramic bowls from Charlie Bigham pies) and bake in the oven at 100 degrees C for about an hour.
Keeps well in a fridge for a few days. Seems equally delicious cold and hot.
October 12, 2018 by General Administrator
This is an approximation of a salad I've just eaten for lunch. (I'm currently in California, for work, since you wondered.) My salad was served with GREEN chickpeas, something I'd never encountered hitherto.
The corn in the California salad was roasted; if you are able to do this it will add depth to the flavour. See the instructions below.
The Border Grill's Mexican Chopped Salad
Serves 4
Ingredients
Dressing Ingredients
4 tablespoons olive or rapeseed oil
2 tablespoons fresh lemon juice
1 teaspoon ground cumin (ideally, roast your cumin seeds in a dry pan and then grind them)
1 tablespoon fresh oregano, chopped roughly, or 1 teaspoon dried oregano, crumbled
1 tablespoon brown sugar
Salt and pepper, to taste
Salad Ingredients
2 ears of corn (or use 1 cup frozen corn, thawed)
1 medium red onion, peeled and diced
1 large tomato, diced
1 romaine or 2 little gem lettuces, shredded
1 crisp apple, diced
½ cup cooked chickpeas or black beans
½ cup toasted pumpkin seeds
Guacamole, to serve (optional)
Tortilla or plantain chips, to serve (optional)
Preparation
Make the dressing: combine the dressing ingredients in a jar with a lid and shake vigorously. Taste and see if you'd like more lemon, etc. Adjust as necessary.
IF you are able to roast the corn, follow the instructions below. Otherwise, shuck the corn and remove the stringy silk. Cut off the kernels: hold the ear vertically on its end and use a knife to cut the kernels off each cob. (Of course, if you're using frozen corn this is unnecessary.) Place the kernels in a medium bowl with the diced red onion and cover with the dressing. Leave for 10 minutes, or longer.
When you're ready to serve combine the corn and onion mixture with the other ingredients, toss well and serve, garnished, if you wish, with a dollop of guacamole and tortilla or plantain chips.
To Roast the Corn: Carefully peel back the husks from the corn, and remove the corn silks, leaving the husks attached. Wrap the husks back around each ear of corn. Soak the corn in a large bowl or sink of cold water for 10 minutes.
Meanwhile, pre-heat your grill to high.
Drain the corn well and place each husk-enclosed ear on the hot grill. Cook for about 12 minutes, turning frequently. Remove each cob from the grill and set aside to cool slightly. Then follow the instructions above to remove the kernels.
December 7, 2017 by General Administrator
This week's recipe comes from share member, Judit Juhasz, with lovely warming spices as a delicious addition to a winter staple – ideal for anyone who has an abundance of winter roots! Thanks for sharing it Judit!
Roasted beetroot and apple in balsamic vinegar
This recipe is inspired by Jamie Oliver, but I've changed it around a bit to my liking. It is also very versatile because instead of apples you could use other root veg like celeriac or parsnips and carrots. You can also change the amount of the beetroot and apples if you want to make less or more.
Ingredients
400 g beetroot
400 g apples (on the sour side, it complements the sweetness of the beetroot)
1 tsp cinnamon
1 tsp ground ginger
1/2 tsp ground nutmeg
pinch of salt
25 g butter
300 ml balsamic vinegar
Preparation
Preheat the oven to 180ºC/gas 4. I make this in my cast iron pan as it makes it easier to transfer to the oven straight away, but you can sauté the veg in a pan and than transfer it into an oven dish to roast it in the oven.
Peel the beetroot and cut it into wedge sized chunks, roughly the same size as your apple wedges. I use the whole apple, as I like it rustic and the peel also protects it from the heat, but you can peel and core the apples if you'd like. Cut the apples into wedges.
Melt the butter in the pan and sauté the beetroot and the apples for 5 minutes. Add the spices and the salt, mixed it well and sauté for another 5 minutes until apples start to become soft.
Pour over the balsamic vinegar, toss the veg in it and transfer it to the oven or to an oven dish to roast. Roast it in the oven until the vinegar becomes a thick sauce, the apples are mushy and the beetroot is soft. You can test the beetroot with a fork or knife for softness.
It's a perfect side dish to accompany your roast next to some spuds and with the spices it is also quite Christmassy. Enjoy!