August 18, 2023 by General Administrator
Now that the tomatoes have really got their growing vibe on, we're getting a significant share of the harvest each week. This is where preserving comes into its own, to allow you to enjoy a taste of summer into the colder months. You can use any type of tomato, and there's a hack below for reducing the liquid in salad/cherry tomatoes to make them better suited to cooking. However it's worth looking out for the slightly oval shaped 'Quadro' to include as part of your share (we do encourage everyone to take a mix of types/sizes) – it is particularly well suited to sauces and pastes, and is a bit less watery/juicy and more pulpy.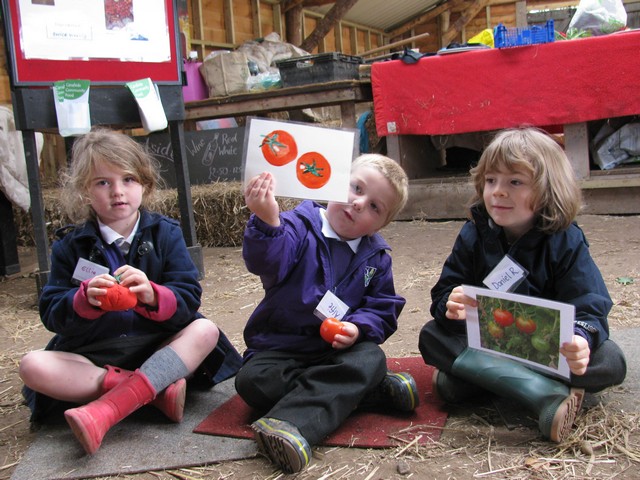 How to freeze (no blanching needed)
This simple method makes it really quick to freeze raw tomatoes, the skins can be removed easily after freezing and if you remove the liquid that comes out when they thaw it makes them better suited for cooking.
Another idea is to slow roast the cherry tomatoes you get and freeze them ready for a batch of risotto, soup or tomato sauce in the winter (no extra ingredients/water means they take up less space in the freezer).

Tomato sauce (can be frozen)
This recipe is an easy one for using plenty of tomatoes!

Tomato confit
This delicious sounding preserve extends the usability of your share of tomatoes as it will keep in the fridge for 2-3 weeks. 
Greek briam
An oven baked version of ratatouille, Greek style.
Thanks to Erica Moody for these two suggestions.

Tomato skin powder
If you're keen on an absolute zero waste approach in the kitchen, why not try making tomato skin powder from the skins you've taken off when making something else, to use as a seasoning. You can dry them in a low oven/put them in the oven after turning it off after each use. use a dehydrator, or even put them on racks on a sunny windowsill or in the sun in your greenhouse/conservatory/car. I found they dried well on a rack in my south-facing living room though haven't yet had the time to convert them to powder for seasoning.

The book that makes a fantastic resource for this glut is How to Store Your Garden Produce: The key to self-sufficiency by Piers Warren. The 2008 edition has instructions for freezing, drying, bottling, juicing and recipes for several different preserves including the unusual 'tomato butter' (contains no butter) – a spiced and sweetened preserve. I did make it once, but decided to save my preserving energies for other things! It's available cheaply, secondhand from online booksellers including World of Books and ABE books.
Drying (adapted from the book): dry in an oven, dehydrator, or if there's very hot weather on a sunny windowsill/in a greenhouse/conservatory/car. Cut in half, tip off excess juice/liquid, lay on a drying rack (they probably need to sit on a plastic mat/mesh/rack as the acidity might not be great on a normal kitchen cooling rack) and sprinkle with a little salt. The drying process can take up to a day. For storing in a jar, remove when they feel firm and dry. For storing in oil, remove when still a little squishy, pack into sterilised jars and cover with oil before sealing. The book reckons you can keep them for up to 6 months stored in this way.
Here's a recipe online for oil stored dried tomatoes. You can find others for drying tomatoes – mostly American though.
Juicing: If you have some kind of a juicer, tomato juice will keep for a day or two in the fridge. For longer enjoyment, put juice into freezer bags/zipbags and pack into empty tetrapaks. This way, once frozen they will stack neatly in the freezer without the carton.

And finally, tomato chutney is a great way to enjoy the flavours of summer months into the future. I find chutney generally keeps well for a year or more (I've eaten a good chutney 2-3 years after making and it's still delicious). If you've never ventured into chutney making before, it's an easy preserve to start with. The key things to be aware of are:
– follow the recipe approximately (ie. don't double the recipe as this makes cooking it enough more of a challenge) – quantities can be flexed according to what you have but it's a good idea to maintain about the right amount of produce for the quantity of sugar/vinegar
– be sure to cook it until a spoon drawn through it leaves a trail that doesn't disappear immediately – getting impatient with this step will either cause it to catch and burn on the bottom of the pan due to too high a heat or have a consistency that hasn't pulped down properly and has too much liquid. This in turn might make it not keep as well due to the ratio of vinegar in particular
– sterilise your jars in the oven at 160 deg C or until thoroughly dry (and lids, though they don't tolerate the oven as well, so boiling may be better or a shorter spell in the oven)

Here's a much used tomato chutney recipe from the book Basic basics, given to me years ago by Canalside founder, Tom Ingall.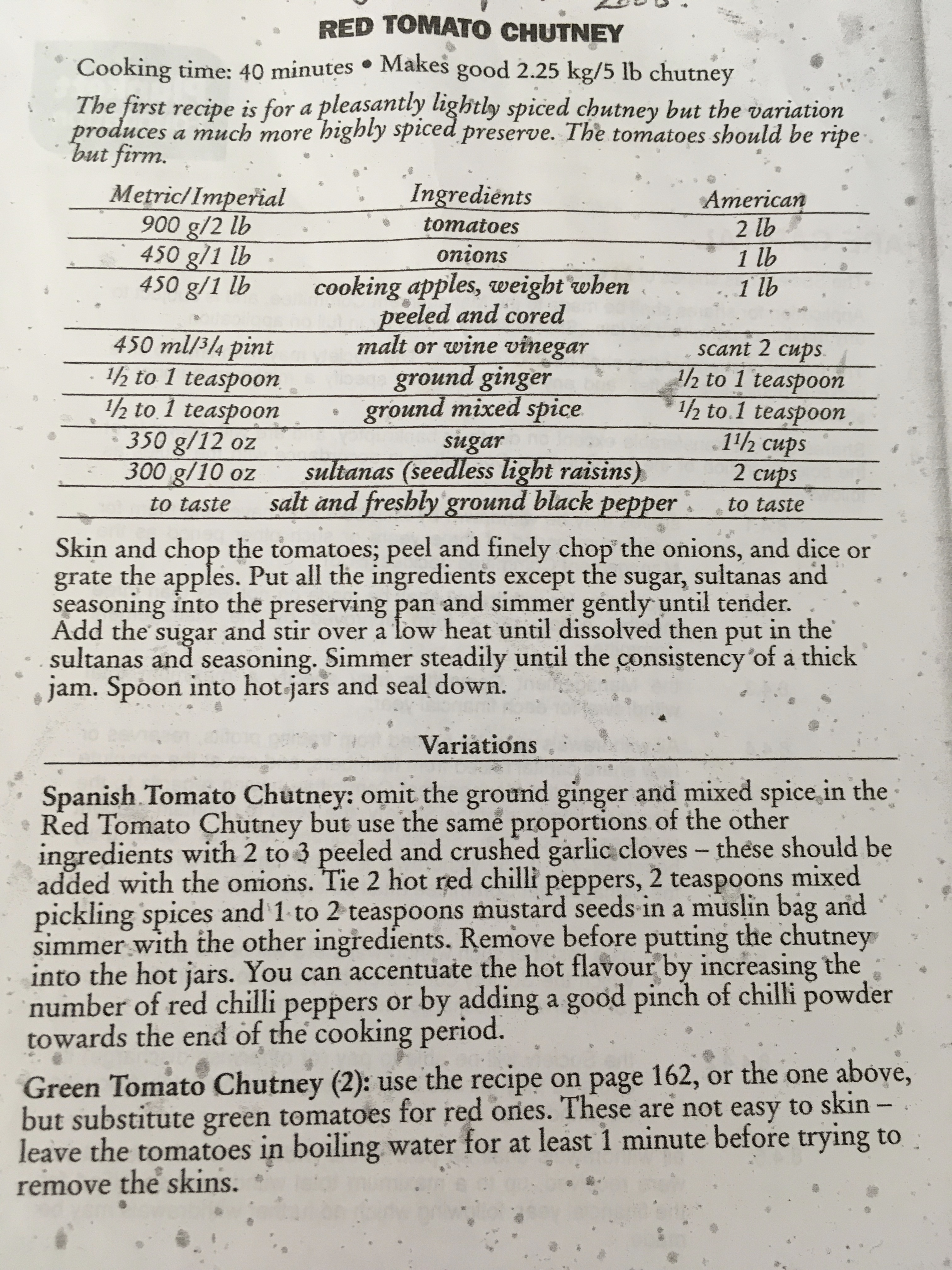 If you try any good recipes that other members might enjoy, why not share them on the Facebook group?
September 18, 2022 by General Administrator
Quail cook in no time; you can order them from Aubrey Allen, in Leamington. Here the little birds are served on a bed of runner beans tossed with a spicy, roasted tomato and red pepper sauce, and topped with Greek yoghurt and a sprinkling of dill. Serve with good bread for a really special dinner.
Thomasina points out that the sauce is also delicious on pasta. Cook some spaghetti, and throw in some spinach a few minutes before it's done. Drain (keeping back a teacup of the cooking water), return to the pan, and stir in the sauce, along with the teacup of water. Mix together over low heat for a minute or two, to allow the flavours to meld, and serve with some grated cheese.
Quail with runner beans and roast red pepper and tomato sauce
Serves four.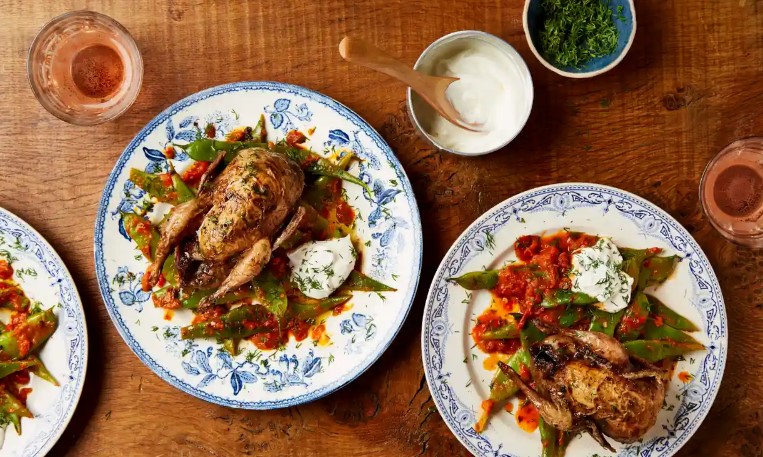 Ingredients
For the Turkish beans
2 red peppers
2 garlic cloves, skin left on
4 medium tomatoes, cut in half
salt and pepper
1 teaspoon thyme leaves, divided into two portions
2 tablespoons olive oil, plus extra to drizzle over the tomatoes and peppers before they roast.
700g runner beans, tough outer edges shaved off, and cut into 4cm lengths
For the quail
1 garlic clove, peeled
¼ teaspoon salt
½ teaspoon ground cinnamon
½ tsp ground allspice
2 tablespoons olive oil
4 quails
2 teaspoons harissa
To serve
Greek yoghurt
Fresh dill, finely chopped
Method
Prepare the Turkish beans: Heat the oven to 220C. Put the peppers and the 2 cloves of unpeeled garlic on one side of an oven tray and the tomatoes (skin side up) on the other. Season everything with salt, pepper, half the thyme, and a drizzle of oil. Roast for 20 minutes, then check on the garlic: if it's soft, remove from the tray and set aside. If not, give it three or four minutes more. Turn over the peppers and return the tray to the oven for five to 10 minutes, until the peppers and tomatoes are slightly blackened. Set aside and leave for 10 minutes.
Once they are cool peel the skin off the peppers, using your fingers or a small knife. Discard the skin, and then cut in half. Remove and discard the seeds and stem. Slip the roast garlic out of its papery skin. Put the garlic, peppers and tomatoes in a food processor, add the remaining thyme, harissa and the two tablespoons of olive oil, and blitz to a coarse sauce. Season to taste and transfer to a medium saucepan.
Bring a pan of salted water to a boil and cook the beans for five minutes, or until al dente. Drain, and then tip the beans into the sauce. Mix together and cook on a low heat for five minutes, so the sauce thickens and reduces, and thoroughly coat the beans. Set aside; when you are ready to serve reheat it over a gentle flame until it is warmed through.
Prepare the Quail: Preheat the oven to 220C. Crush the garlic to a rough paste in a pestle with the salt, then add the cinnamon, allspice and two tablespoons of oil. Put the quail on an oven tray and rub all over with the spiced oil. Roast for 25-30 minutes, until the skin is crisp and the legs come away easily from the sides. Leave to rest for 10 minutes.
To serve, spoon some of the beans on to the centre of each plate and top with a quail. Finish with a dollop of yoghurt and a scattering of chopped dill.
Recipe adapted from The Guardian, 2017
August 19, 2022 by General Administrator
Here is another thing to do with cucumbers when you tire of slicing them into salads. Yotam Ottolenghi remarks that 'grilling cucumbers gives them a nice charred flavor while retaining their bite. . . Torn mozzarella adds richness to the cucumbers doused with a garlicky, spiced tomato dressing'. You could also grill the cucumbers on an outdoor grill, if you run to such things. I used a mixture of cucumbers and slim courgettes, which worked very well. Serve with some good bread to soak up the excellent tomato sauce.
Grilled Cucumbers with Tomato-Cardamom Dressing and Mozzarella
Serves 4 as part of a larger meal or 2 as a main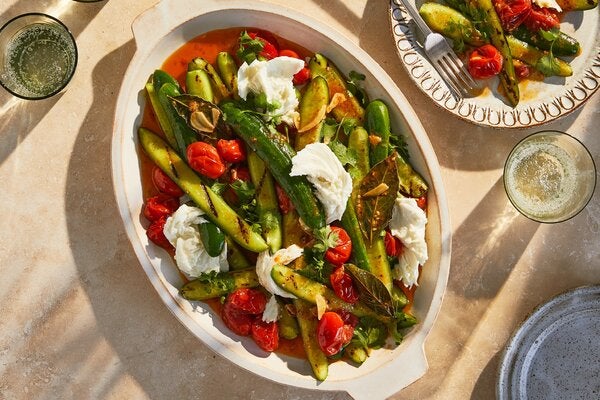 Ingredients
For the Tomato Dressing
500g tomatoes, chopped into large chunks
7 tablespoons olive oil
6 garlic cloves, peeled and thinly sliced
2 teaspoons white miso
4 fresh bay leaves
18 cardamom pods, roughly crushed in a mortar and pestle
½ teaspoon sweet smoked paprika
½ teaspoon salt
2 tablespoons lime juice
a few grinds of black pepper
For the Cucumbers
800g cucumbers (you could instead use slim courgettes, or a mixture of both)
1 tablespoon olive oil
½ teaspoon salt
a few grinds of black pepper
1 ball buffalo mozzarella (about 125g), roughly torn
about 8g coriander leaves and soft stems, roughly chopped
Method
Start with the dressing: put the tomatoes, oil, garlic, miso, bay leaves, crushed cardamom pods and seeds, paprika, and salt in a large (lidded) sauté pan. Place over medium-high heat, give everything a good stir and heat, uncovered, until it starts to bubble gently.
Once the dressing is bubbling, turn the heat down to medium-low, cover with the lid and cook gently for 15 minutes, stirring once, until the tomatoes have burst and start to release their juices. Turn down the heat if necessary; you want the garlic to soften without taking on colour, and you don't want the tomatoes to disintegrate completely. Remove from the heat, stir in the lime juice, season to taste with pepper, and set aside.
Now prepare the cucumbers (or courgettes): halve the cucumbers (or courgettes) lengthwise and then halve each of these pieces lengthwise, to make four long cucumber wedges. You need these to fit into your griddle pan, so cut them in width-wise if necessary, to make shorter lengths. Put the vegetables into a bowl and toss with the oil, salt, and a good grind of pepper.
Heat a grill pan over high, and open a window. This might get a bit smoky.
When the grill pan is very hot, grill the cucumbers (or courgettes) in batches, cut sides down, for 2 to 3 minutes, then flip them over and grill for 1 to 2 minutes more. You want nice grill marks and for the cucumbers to soften but still retain a bite. Courgettes will take a little longer. As they become ready, transfer to the tomato pan, stirring to coat in the dressing.
Once all the veg have been grilled, stir the coriander into the pan and transfer the mixture to a large serving platter. Sprinkle on the torn mozzarella, along with a good pinch of salt, and serve hot or at room temperature.
Recipe adapted from Yotam Ottolenghi in New York Times Cooking
July 29, 2021 by General Administrator
This is a bit of a summer favourite for getting a quick hit of refreshing and flavorful nutrition alongside the rest of lunch. It's easily adaptable to personal taste by adding things like feta cheese, so make it your own!
Ingredients
Cucumber
Red onion or shallots
Tomatoes
Black olives
Lemon juice
Olive oil
Salt
Method
Finely dice equal parts cucumber onion and tomato. Mix and add some diced olives, a splash of lemon juice a dash of salt and a good helping of olive oil.
April 22, 2021 by General Administrator
Everyone knows roasted vegetables are good. Adding a punchy caper and parsley vinaigrette makes them even better. You can use different vegetables (potatoes, say), and you can also vary the vinaigrette by adding harissa paste, or using basil or mint instead of parsley.
Served with rice or another grain to soak up the vinaigrette, this makes a good weekday dinner. You can add some salted yoghurt if you want additional creaminess (and protein).
Roasted Parsnips and Squash with Caper Vinaigrette
Serves 3-4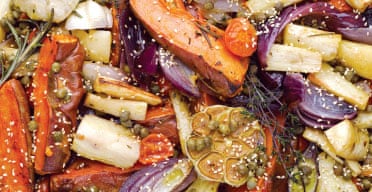 Ingredients
For the roast veg
700g parsnips, peeled
700g squash or pumpkin
120ml olive oil
4 medium red onions (optional)
4 sprigs of thyme
2 sprigs of rosemary
1 teaspoon salt
Several grinds of black pepper
1 whole head of garlic
10-20 small tomatoes, cut in half
For the dressing
1 large lemon
2 tablespoons olive oil
3 tablespoons capers, roughly chopped if they are large
1.5 teaspoons honey or maple syrup
½ teaspoon Dijon mustard
big handful of parsley, chopped fine
½ teaspoon salt
Several grinds of black pepper
Preparation
Prepare the roast veg:
Preheat oven to 190C.
Cut each parsnip into batons about 5cm long and 1.5 wide—but if they are small it is fine to leave them whole. They will look amusing in the finished dish.
Using your hand, scoop the seeds out the squash. (You can use these to make a nice nibble: https://www.101cookbooks.com/toasted-pumpkin-seeds/.) Peel the squash and cut it into chunks roughly the same size as your parsnips.
Peel the onions (if using) and cut each into 6 wedges.
Cut the head of garlic in half horizontally. Don't break it into individual cloves or try to peel it! Just cut the whole thing into two pieces, horizontally.
Place the parsnips, squash, onions and garlic into a roasting tin and add 120ml olive oil, the thyme and rosemary, 1teaspoon salt, and some pepper. Mix well and spread it out in the pan so the vegetables are not all heaped on top of themselves. Place in the oven and roast for about 20 minutes, or until the vegetables look golden and are pretty tender.
After 20 minutes add the tomatoes, and roast for another 10 minutes or so, until the vegetables are completely tender when prodded with a fork and the tomatoes have softened.
While the vegetables are roasting prepare the vinaigrette: zest the lemon and then cut it in half so you can juice it. Combine the lemon juice (about 2 tablespoons) and zest with the other ingredients in a small bowl. Whisk to combine.
Finish the dish: Once the vegetables are done, remove them from the oven and pour the vinaigrette over the hot vegetables. Toss to combine and serve with rice or some other grain.
Recipe adapted from Yotam Ottolenghi, Plenty (2010).
September 10, 2020 by General Administrator
One of the benefits of so many of us working from home is that there's more time to make a fancy lunch. This week I've enjoyed riffing on Panzanella themed recipes – you can adapt the one below to suit what you have in the fridge and the time you've got to make it.
Panzanella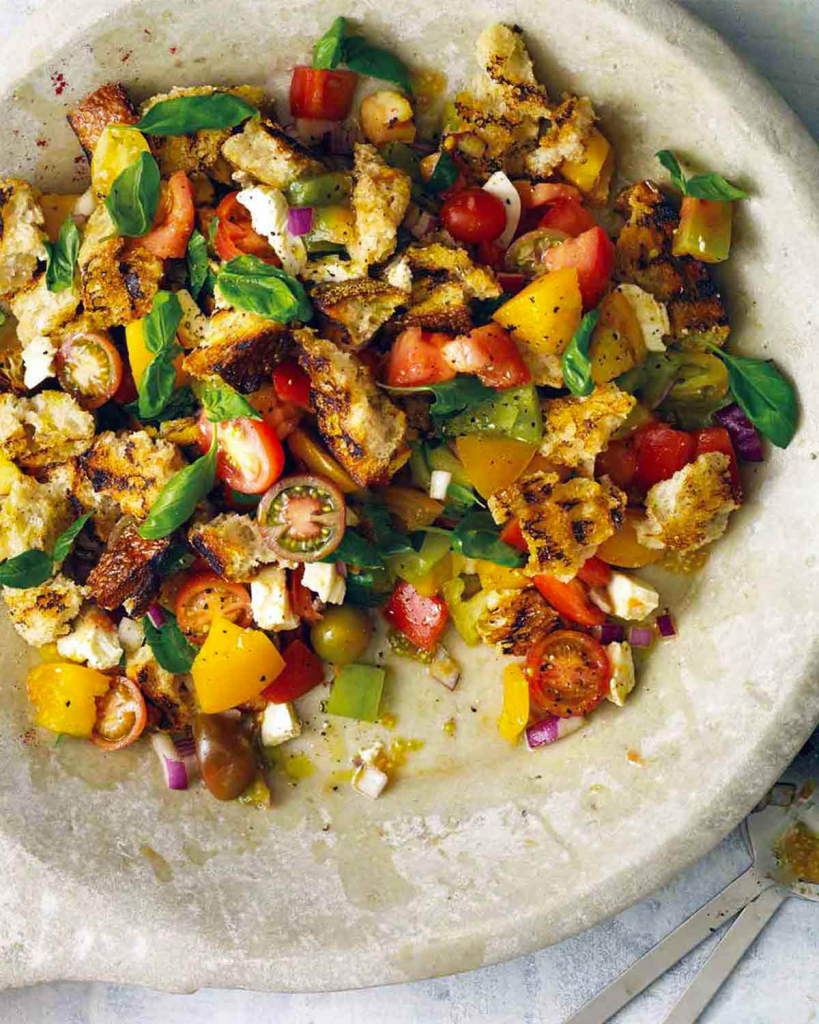 Ingredients:
3 tbsp olive oil
Splash red wine vinegar
day old bread, cut into 2cm cubes
1 tsp salt
2 large, ripe tomatoes, cut into 2cm cubes
1 cucumber sliced 1cm thick
1 or 2 peppers cut into 2cm cubes
1/2 red onion, thinly sliced
20ish large basil leaves, coarsely chopped
3 tbsp capers, drained
Method:
Heat the bread either by pan frying in oil if you have time, or 30s in the microwave if not. Then mix thoroughly with all the other ingredients in a large bowl, season and serve.
September 3, 2020 by General Administrator
In case you are wondering what to do with the mysterious 'huauzontle', here is the answer! Huauzontle, also known in Mexico as 'quelites', is a flavoursome green a bit like sprouting broccoli. In this recipe it is mixed with juicy tomatoes and cubed potatoes to make a superlative filling for a tortilla or other flatbread. Serve topped with thick yoghurt.
Quelites a la Mexicana
Serves 2
Ingredients
250g potatoes
250g huauzontle
200g onions
150g tomatoes
½ to 1 Canalside chile, deseeded if desired
1 tablespoon vegetable oil
1 teaspoon ground cumin
Yoghurt and flatbreads, to serve
Preparation
Put the potatoes in a saucepan and cover with cold water. Add a pinch of salt. Bring to the boil and cook until tender. Depending on the size of the potatoes, this can take between 20 and 40 minutes. Drain and let cool
Put the huauzontle in a saucepan and cover with cold water. Add a pinch of salt. Bring to the boil and cook until it's tender, about 8 minutes.
Peel the onions and chop coarsely. Chop the tomatoes into chunks roughly the same size as the onions. Slice the chile.
By now the potatoes should be cool. Cut them into cubes, about 2cm or thereabouts.
Heat the oil in a frying pan or casserole pan. Add the onions, tomatoes and chile, and sauté for a few minutes. Add the cooked huauzontle, cubed potatoes and cumin, and sauté for a few more minutes to heat through.
Serve topped with yoghurt in flatbreads (tortillas would be traditional).
Recipe freely adapted from this fantastic video by Mexican internet sensation Doña Ángela. Many thanks to Ricardo Aguilar for his advice about cooking quelites and for telling me about Doña Ángela.
August 6, 2020 by General Administrator
This week we're getting an unusual vegetable, Huauzontle. After a fair bit of digging it seems it's impossible to talk about Huauzontle without mentioning the dish "Tortas de Huauzontle", which are small battered and deep fried fritters of Huauzontle and cheese, so that has to be my recipe for this week. If this doesn't take your fancy though it seems the best alternative is to treat it like broccoli, maybe by sauteing with onion/garlic/cumin/vinegar.
Tortas de Huauzontle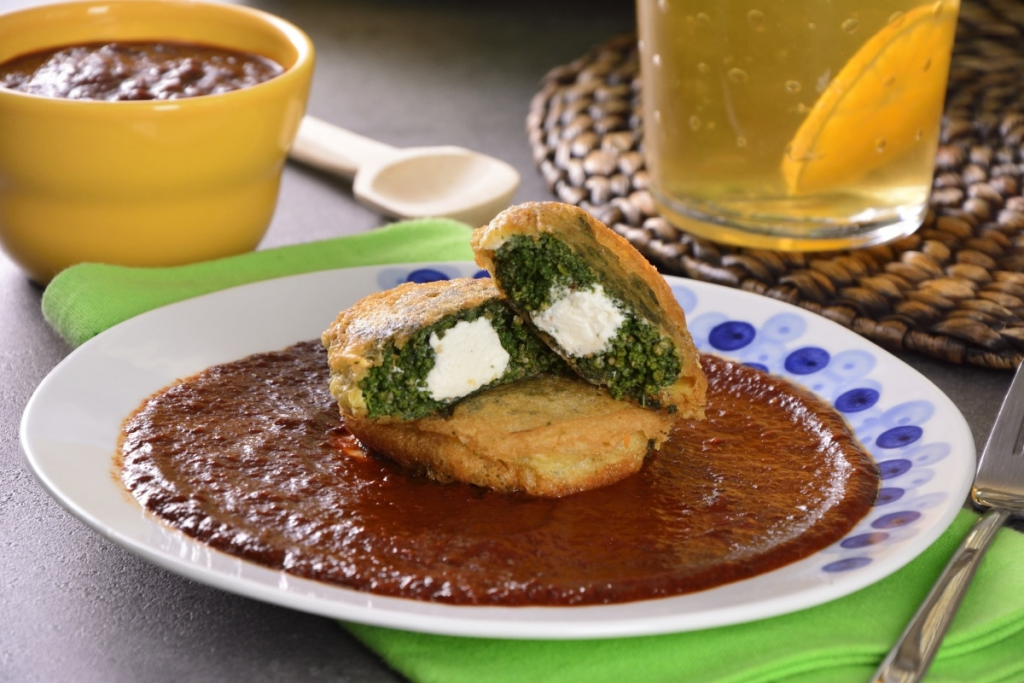 Ingredients (will need scaling according to your share):
Tortas:
1 1/2 liters Water
1 teaspoon salt
4 cups huauzontle, clean, without branches
190 grams cream cheese (or alternative)
1/2 cups flour
4 egg whites (For batter. For vegan alternative try a gram flour batter)
4 egg yolks
enough oil, to fry
Sauce:
3 pasilla chili peppers (deveined and soaked – try canalside dried chilis but beware they're much hotter)
2 tomatoes
1/4 onions
2 cloves garlic
1/2 cups Water
2 tablespoons oil
salt
Method:
Cook huauzontles in salted water for 5-10 minutes (cook time varies wildly from recipe to recipe, cook for longer if you're only shallow frying I think)
Place the huauzontles in a bowl of water with ice.
Remove the huauzontles and dry on a tea towel to remove moisture.
Strip everything from the bitter stalk and discard this.
Form a burger like patty in your hands by squeezing the huauzontle around a chunk of cream cheese, flouring the outside.
In a blender beat the egg whites with a pinch of salt, until peaks form
Add the yolks and beat for 1 minute more to integrate.
Dip the huauzontle pancakes in the batter.
Heat the oil over medium heat and fry 2 minutes on each side. (Make the sauce first)
For the sauce, blend the chilies, tomato, onion, garlic and water for 3 minutes.
Heat the oil over medium heat, pour the sauce, season with salt and let it cook for 15 minutes.
Serve the huauzontle pancakes bathed in pasilla sauce.
Recipe adapted from:
https://us.kiwilimon.com/recipe/main-dishes/huauzontle-pancakes-with-sauce-from-chile-pasilla
https://www.atastefortravel.ca/3408-huauzontle-puerto-escondido-mexico/#wprm-recipe-container-12833
July 30, 2020 by General Administrator
When I was growing up, tabouli formed part of my father's very limited cooking repertoire, alongside steak tartare and chicken marsala. The recipe he used called it 'non-lettuce salad', and that's a good description of this blend of parsley, mint, tomatoes, cucumbers and a little bulgar wheat. I dedicate this recipe to him!
The secret to this tabouli is the Lebanese 7-spice blend. For an absolute feast, serve it with Lebanese 7-spice chicken. It's pretty good on its own, too.
Lebanese Tabouli
Serves 4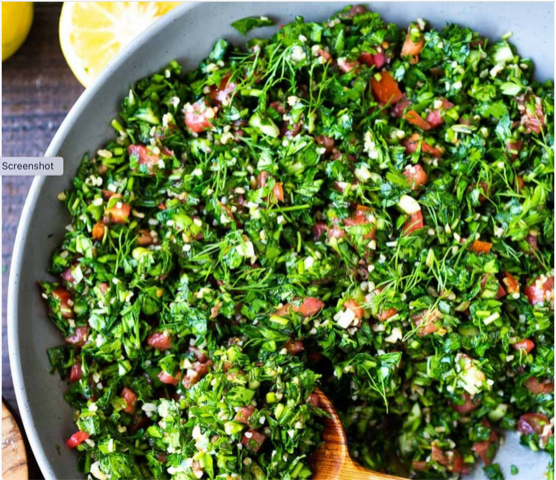 Ingredients
7 Spice Blend Ingredients
1 teaspoon ground coriander
1 teaspoon cumin
1 teaspoon cinnamon
1 teaspoon ground allspice
1/2 teaspoon grated nutmeg
1/2 teaspoon ground cloves
1/2 teaspoon ground cardamom
Tabouli ingredients
250ml dry medium grain bulgar wheat
4 spring onions
1 large bunch flat-leaf parsley
1 cup mint leaves
1 small bunch dill
3 medium tomatoes
1 cucumber
1 tablespoon lemon zest
70ml lemon juice, or to taste
125ml cup olive oil
1 teaspoon salt
1 teaspoon 7-Spice mix
Preparation
First prepare the 7-spice blend. This will make more than you need for the tabouli, but that shouldn't be a problem since it's so delicious. You can add it to lots of other things, including this splendid Lebanese 7-spice chicken. To make the blend combine all the ingredients together. If you want really to go to town with it, you can roast whole coriander and cumin seeds and then grind them, before combining with the other ingredients. This gives an added warm depth to the spice blend.
To make the salad, first prepare the bulgar wheat. Put it in a small bowl and pour 250ml boiling water over it. Cover with a plate, and set aside for at least 30 minutes while you prepare the rest of the salad. This allows the grains to soften.
Slice the spring onion and place in a large serving bowl.
Chop the parsley as fine as you can. It's ok to include the thinner stems. Add to the bowl. Chop the mint and dill and add them as well.
Dice the tomatoes and cucumbers into small cubes and add them to the bowl, along with all their juices.
Add the lemon zest, lemon juice, olive oil, salt and 1 teaspoon of the 7-spice mix. Give it all a good stir.
By now 30 minutes have probably passed, so the bulgar wheat should be al dente. Once it is, add it to the salad as well and mix again.
If you have time, let the salad sit for a few hours to allow the flavours to meld. The parsley will soften and the bulgar will soak up the flavourful juices. It will in any event be very good the next day if there is any left over.
Before serving, give a stir and taste for salt, lemon and 7-spice. Adjust to your liking. Slyvie Fountaine, whose recipe this is, says 'You want just the faintest whiff of the spices, like a whisper'.
Recipe adapted from Sylvia Fountaine, 'Feasting at Home'. https://www.feastingathome.com/lemony-tabouli-aka-tabbouleh/
July 10, 2020 by General Administrator
This week's recipe is a little niche if you stick to the vegan recipe, especially now that IKEA has closed in Coventry, but it can be adapted with other seafood flavours (the most obvious being actual seafood e.g. prawns). At worst, at least I'm giving you a quick and easy vegan mayo recipe… It's another that I picked up in Sweden and is an adaptation of the dish "Skagen" which is a sort of seafood toast topper/sandwich filler (£6 for a baguette in the Volvo canteen ouch!). For a while it was my absolute favourite breakfast when combined with cucumber, salad and tomatoes all of which will be abundant in the shares over summer.
Vegan Skagen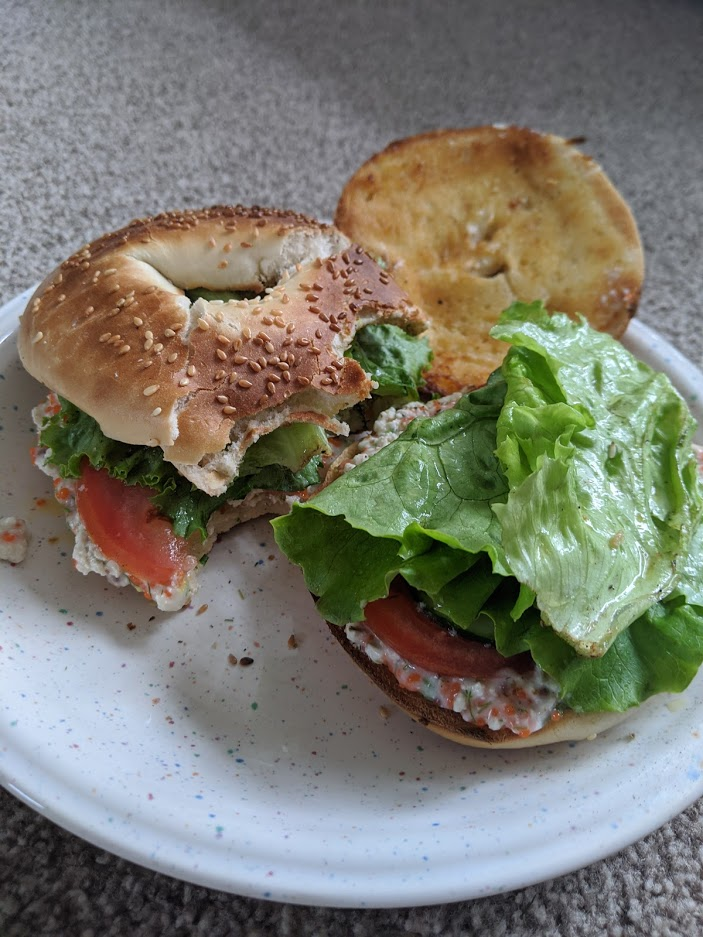 Dry Ingredients:
1 jar Seaweed pearls (AKA veggie caviar, available at IKEA)
Bunch of dill
1 pack of tofu, drained and squeezed as much as possible whilst maintaining solid chunks
Mayo:
100ml Soya milk (must be soya – I've tried with others but they refused to emulsify with the oil)
1 tbsn lemon juice
1 tsp mustard
200 ml oil (preferably rapeseed, other veggie oils work but again can have trouble emulsifying)
To serve:
Toast
Lettuce
Tomato
Cucumber
Wedge of lemon (optional)
Method:
For the mayo, combine milk, lemon juice and mustard in a blender (handheld will do) before SLOWLY adding oil as a thin stream whilst blending on a fairly high speed. As you get to the end of the oil the mixture should thicken up to a mayonnaise texture.
Then combine all ingredients in some Tupperware and serve with toast, sliced cucumber/tomato and lettuce. A lemon wedge is a nice addition if you have it.