August 19, 2022 by General Administrator
Here is another thing to do with cucumbers when you tire of slicing them into salads. Yotam Ottolenghi remarks that 'grilling cucumbers gives them a nice charred flavor while retaining their bite. . . Torn mozzarella adds richness to the cucumbers doused with a garlicky, spiced tomato dressing'. You could also grill the cucumbers on an outdoor grill, if you run to such things. I used a mixture of cucumbers and slim courgettes, which worked very well. Serve with some good bread to soak up the excellent tomato sauce.
Grilled Cucumbers with Tomato-Cardamom Dressing and Mozzarella
Serves 4 as part of a larger meal or 2 as a main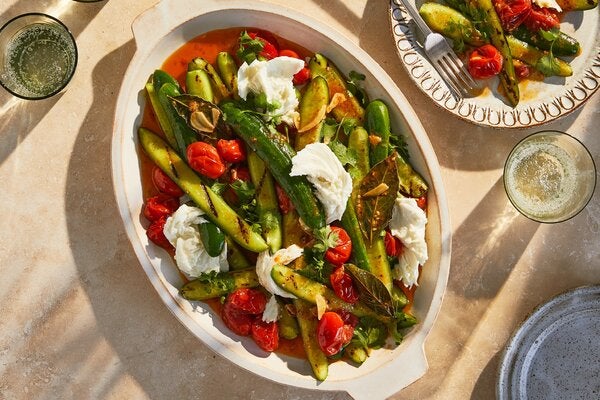 Ingredients
For the Tomato Dressing
500g tomatoes, chopped into large chunks
7 tablespoons olive oil
6 garlic cloves, peeled and thinly sliced
2 teaspoons white miso
4 fresh bay leaves
18 cardamom pods, roughly crushed in a mortar and pestle
½ teaspoon sweet smoked paprika
½ teaspoon salt
2 tablespoons lime juice
a few grinds of black pepper
For the Cucumbers
800g cucumbers (you could instead use slim courgettes, or a mixture of both)
1 tablespoon olive oil
½ teaspoon salt
a few grinds of black pepper
1 ball buffalo mozzarella (about 125g), roughly torn
about 8g coriander leaves and soft stems, roughly chopped
Method
Start with the dressing: put the tomatoes, oil, garlic, miso, bay leaves, crushed cardamom pods and seeds, paprika, and salt in a large (lidded) sauté pan. Place over medium-high heat, give everything a good stir and heat, uncovered, until it starts to bubble gently.
Once the dressing is bubbling, turn the heat down to medium-low, cover with the lid and cook gently for 15 minutes, stirring once, until the tomatoes have burst and start to release their juices. Turn down the heat if necessary; you want the garlic to soften without taking on colour, and you don't want the tomatoes to disintegrate completely. Remove from the heat, stir in the lime juice, season to taste with pepper, and set aside.
Now prepare the cucumbers (or courgettes): halve the cucumbers (or courgettes) lengthwise and then halve each of these pieces lengthwise, to make four long cucumber wedges. You need these to fit into your griddle pan, so cut them in width-wise if necessary, to make shorter lengths. Put the vegetables into a bowl and toss with the oil, salt, and a good grind of pepper.
Heat a grill pan over high, and open a window. This might get a bit smoky.
When the grill pan is very hot, grill the cucumbers (or courgettes) in batches, cut sides down, for 2 to 3 minutes, then flip them over and grill for 1 to 2 minutes more. You want nice grill marks and for the cucumbers to soften but still retain a bite. Courgettes will take a little longer. As they become ready, transfer to the tomato pan, stirring to coat in the dressing.
Once all the veg have been grilled, stir the coriander into the pan and transfer the mixture to a large serving platter. Sprinkle on the torn mozzarella, along with a good pinch of salt, and serve hot or at room temperature.
Recipe adapted from Yotam Ottolenghi in New York Times Cooking