May 20, 2021 by General Administrator
Beetroot with feta, or goat cheese, is a classic combination, but other cheeses are available. Cheddar, for instance. Lentils add bite and substance to this salad, and the mustard brings a complementary zing that combines well with the cheddar. You can use either red or yellow beetroot in this salad, which makes a good lunch or simple supper.
Beet and Lentil Salad With Cheddar
Serves 4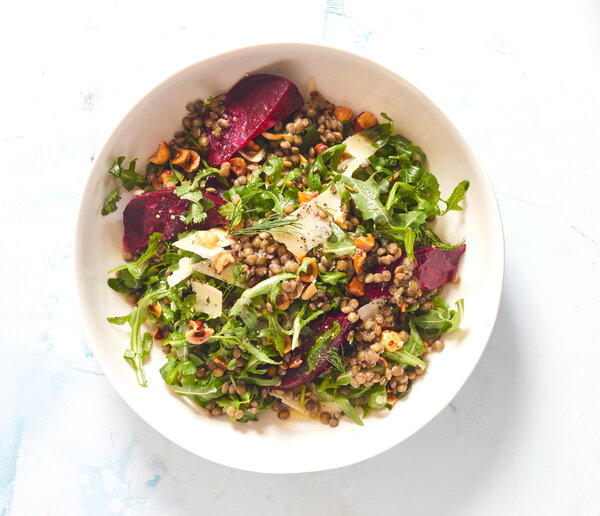 Ingredients
For the salad:
500g beetroot
300g green lentils, rinsed
1 garlic clove, smashed
1 teaspoon salt
approx. 2 cups rocket or another green such as shredded Swiss chard
5g dill, parsley, mint or coriander, roughly chopped
50g Cheddar, roughly crumbled
handful walnuts or hazelnuts, toasted in a dry frying pan for a few minutes
For the apple cider vinaigrette:
1 small garlic clove, grated
2 tablespoons apple cider vinegar
3 tablespoons extra-virgin olive oil
1 tablespoon maple syrup or brown sugar
½ teaspoon Dijon mustard
¼ teaspoon salt
several grinds of freshly ground pepper
Preparation
Place the beetroot in a microwave-proof bowl. Add 1 cup water to the bowl and cover the bowl tightly with clingfilm. Microwave for 20 minutes. By now the clingfilm should have collapsed tightly onto the beetroot, creating a sort of vacuum-seal. With your finger prod the beetroot through the clingfilm to see how soft it is. If it feels tender, the beetroot is done. If not, put it in for another 5 minutes and test it again. Keep going until the beetroot feels tender. Once it's done, remove it from the microwave, peel back the clingfilm, drain, and set aside.
Meanwhile, cook the lentils: in a medium pot, add the lentils, salt, garlic and 1 litre of water. Bring to a boil over high. Reduce heat to medium, cover and simmer for 20 to 25 minutes until just tender. (The lentils should still have some bite). Drain in a colander and stir to break up and evenly distribute the garlic. Let the lentils cool slightly.
Once the beetroot is cool enough to handle, set about peeling it. The peel should come off fairly easily with a knife. Cut the beetroot into 1cm cubes, or slice into small wedges.
While the lentils cook, prepare the vinaigrette: in a large serving bowl, whisk the garlic, vinegar, oil, maple syrup and mustard with the salt and pepper. Add the warm lentils to the serving bowl, then add the beets, greens, nuts and herbs. Toss together and then stir in the the cheese. Don't stir too vigorously, because you don't want the cheese to turn crimson from the beets, and serve.
Recipe adapted from Hetty McKinnon, New York Times Cooking
January 14, 2021 by General Administrator
Here we have a warm, sustaining main-course salad made bright with greens and the bite of mustard. It's a good use of that parsnip that's still in your fridge. You can make a meal of this, along with some good bread and a glass of red wine.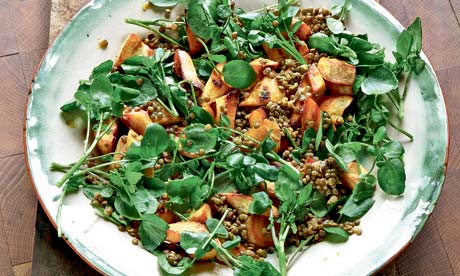 Roast Parsnip, Watercress and Lentil Salad
Serves 3
Ingredients
Salad
5 medium parsnips
2 tablespoons oil
salt and pepper
125g Puy or green lentils
2 bay leaves
1 medium onion, unpeeled
several parsley stems (optional)
several big handfuls of watercress or rocket
any hard cheese, to shave over the top
Salad dressing
1 clove garlic
½ teaspoon salt
1 teaspoon English mustard
2 teaspoons runny honey
1 tablespoon lemon juice
4 tablespoons rapeseed oil
Preparation
Preheat your oven to 190C.
Peel the parsnips and cut them into chunky batons. Toss them with the oil and a sprinkling of salt and pepper. Tip them onto a baking tray and roast for 30-40 minutes, or until they are tender and a bit golden. The time will depend on how large they are. You can poke them with a fork to see if they are soft inside. Remove from the oven and leave them to one side.
Meanwhile, prepare the lentils: cover them with boiling water and bring back to a boil. Boil for one minute, and then drain.
Return the drained lentils to the pan and add just enough water to cover them. Add the bay leaves, onion and parsley stalks (if you have any to hand). Bring to the boil, reduce to a simmer, and simmer for about 30 minutes, or until al dente. Drain and remove the bay leaves and parsley. It's up to you either to remove the onion or to leave it in the finished salad.
While the lentils cook and the parsnips roast prepare the salad dressing. Mash the garlic with the salt in a mortar and pestle to make a smooth paste. Whisk in the other ingredients.
When the parsnips and lentils are finished, toss them, still warm, with the dressing and add the watercress or rocket. Pile onto a serving platter and shave some hard cheese over the top before serving.
Recipe adapted from Hugh Fearnley-Whittingstall, River Cottage Veg Every Day! (2011) – online at rivercottage.net
May 14, 2020 by General Administrator
I tried a variation of this recipe tonight and it went down very well, it used a lot of Canalside produce and felt like an incredibly healthy meal! Feel free to adapt to what you have – I swapped the salad for boiled greens, the canned lentils for boiled red lentils and omitted the pomegranate seeds. I would be tempted to suggest some soy sauce on the lentils to cut through the sweetness of the other components (rocket probably does this job if you have it).
Roasted beets and squash with tahini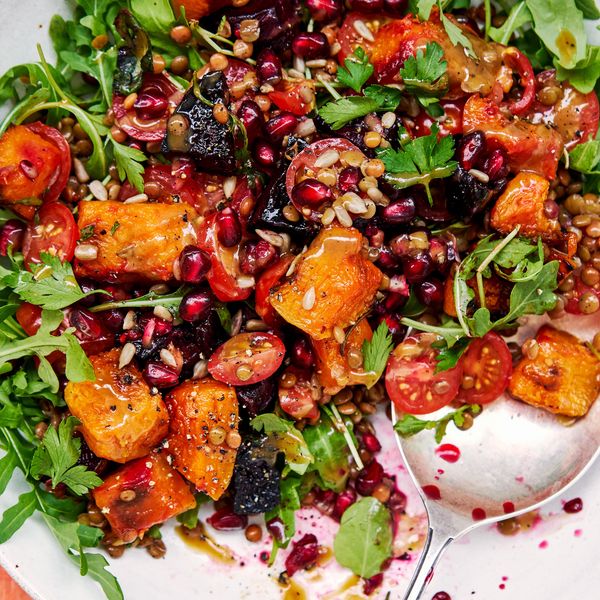 Ingredients:
2 large raw beetroots, peeled and chopped
1 medium squash, deseeded and chopped (no need to peel our squash)
Leaves from 2 rosemary sprigs, chopped
1 tbsp olive oil
1 tbsp maple syrup (I used honey)
1 × 400g tin brown lentils, drained and rinsed
200g mixed rocket and other salad leaves
200g cherry tomatoes, quartered
4 tbsp sunflower seeds
Handful fresh parsley, finely chopped
4 tbsp pomegranate seeds
Salt and black pepper
For the tahini vinaigrette:
3 tbsp extra-virgin olive oil
1 tbsp tahini
1 tsp maple syrup (I used golden syrup)
1 tsp Dijon mustard
1–2 tsp balsamic vinegar (to taste)
Method:
Preheat the oven to 200°C fan.
Place the beetroot, butternut squash and rosemary in a large baking tray or roasting tin and toss in the olive oil, maple syrup and some salt and pepper until evenly coated. Spread out the vegetables in a single layer and roast in the oven for 40–50 minutes, stirring once halfway through the cooking time, until tender and slightly crisp.
Meanwhile, combine all the ingredients for the tahini vinaigrette together in a bowl, seasoning to taste with salt and pepper.
Place the lentils and salad leaves in large bowl with the cherry tomatoes and a small drizzle of the tahini vinaigrette and toss until evenly coated.
Transfer the dressed salad to a serving dish and add the still-warm roast vegetables in layers with the sunflower seeds, parsley and pomegranate seeds. Finish with a generous drizzle of vinaigrette.
Adapted from: https://thehappyfoodie.co.uk/recipes/roasted-beets-and-butternut-squash-with-tahini
September 19, 2019 by General Administrator
This week I'm keeping it simple and taking a little inspiration from a recent roadtrip to Italy. The spinach and tomato are pretty core to the dish but feel free to pick and choose from the rest of the list depending what you've got – I use an app called plant jammer to figure out what things might go well together.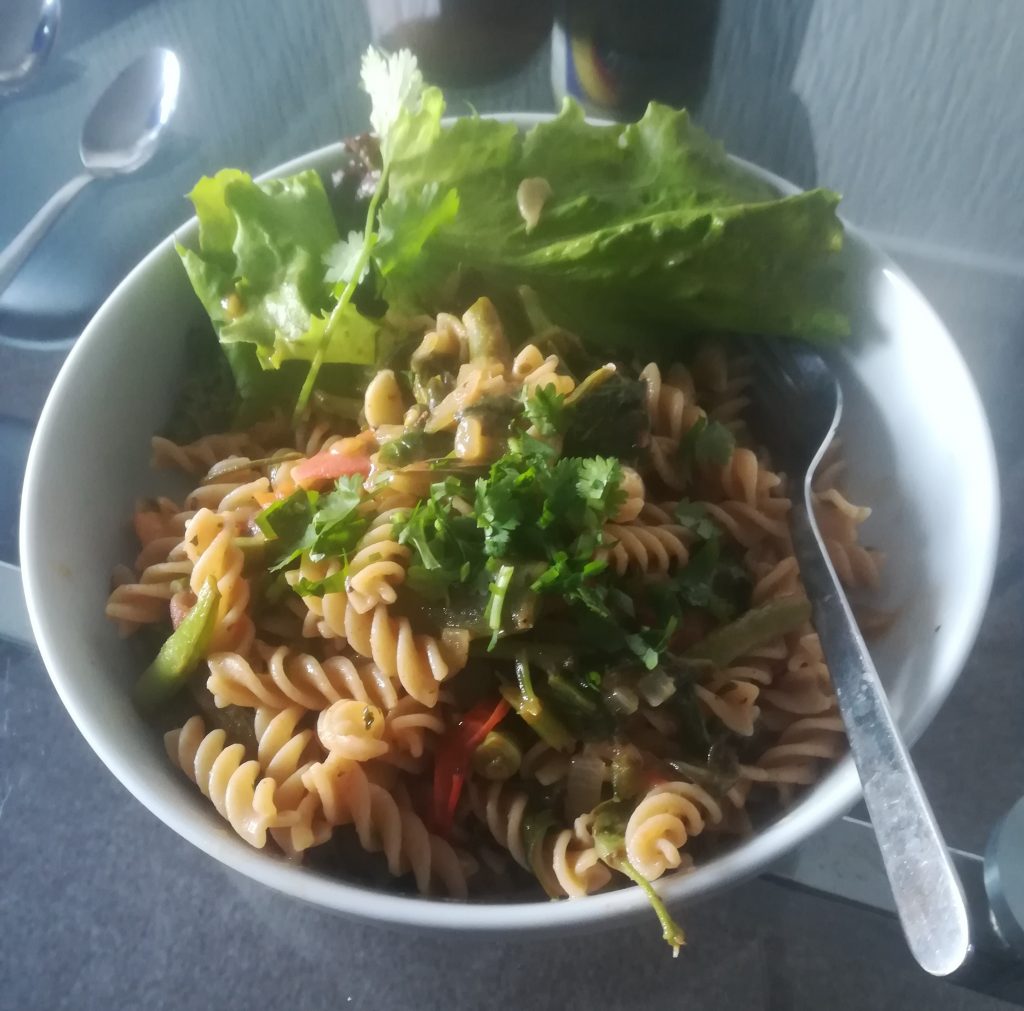 Core Ingredients (for 1 person):
Pasta of your choice, 2 handfuls
Fresh Tomatoes, 1 large handful
Spinach (or other greens depending on share), 3 handfuls
Basil, small handful
Garlic, 1 clove
Lemon Juice 0.5-1 tablespoon or to taste
Olive Oil, 2-3 tablespoons or to taste
Mixed herbs, 1 teaspoon
Optional extras:
Black olives, small handful
Walnuts, small handful
Onion, 1 medium
Green/French Beans, about 3cm bundle
Method:
First chop all your veg; tomatoes into quarters, spinach may need stems chopping down to manageable size, garlic minced or thin slices, onion diced
Next get the pasta on the boil – when it's ready remember to keep the water!
Whilst the pasta cooks, fry off onion and garlic, then add tomatoes, spinach and any optional extras and fry at a medium heat.
The pasta should be ready about the same time as the veg is cooked. Before draining, add the olive oil to the veg and then add a few sloshes of the pasta water – the starch helps make a good sauce! Then add the lemon juice, basil and mixed herbs and stir it all together until you have a nice shiny consistent sauce. Season with salt and pepper.
Drain the Pasta and add to the pan, mix and serve with some salad on the side and a little chopped coriander on top.
May 18, 2017 by General Administrator
I know I offered you a quinoa salad only a few weeks ago, but this one is also so good, and really different. And salads are perfect for warmer weather.
This one combines rocket and roasted carrots with crunchy quinoa tossed with currants and a pomegranate-molasses dressing. The whole thing is topped with crispy ringlets of frizzled leeks. It's ever so tasty.
Quinoa Salad With Roasted Carrots and Frizzled Leeks
Serves 10
Ingredients
1 leek, trimmed
¾ cup plus 2 tablespoons extra-virgin olive oil, plus more for frying leeks and for serving
salt and pepper
2½ tablespoons lemon juice
2½ tablespoons pomegranate molasses, plus more for serving
1kg carrots, peeled and sliced into 1/4-inch-thick coins
2 cups quinoa
⅓ cup dried currants
150g rocket
Preparation
Cut leek in half lengthwise and rinse away any grit. Slice into thin strips. In a small skillet over medium heat, warm 1/4 inch of olive oil. Add a handful of leeks and fry until golden brown, 15 to 30 seconds. Remove with a slotted spoon and transfer to a paper-towel-lined plate. Sprinkle lightly with salt. Repeat with remaining leeks.
In a small bowl, whisk together lemon juice, molasses, 1 teaspoon salt and a large pinch of pepper. Whisk in 3/4 cup oil.
Heat oven to 425 degrees. Toss carrots with 2 tablespoons oil, 1 teaspoon salt and some pepper. Spread on one or two large baking sheets so they fit in one layer. Roast carrots, tossing occasionally, until tender and golden brown, 30 to 35 minutes.
While carrots roast, bring a large pot of salted water to a boil. Add quinoa and cook until tender, 10 to 12 minutes. Drain.
In a large bowl, toss warm quinoa with currants. Add carrots and half the dressing and toss well. Taste and add dressing or salt (or both) if needed.
In a separate bowl, toss rocket with enough dressing to lightly coat. Spread the rocket on a serving platter and top with the dressed quinoa and the frizzled leeks. Drizzle with more pomegranate molasses and a little olive oil before serving.
(Adapted from New York Times Cooking.)