This week I'm keeping it simple and taking a little inspiration from a recent roadtrip to Italy. The spinach and tomato are pretty core to the dish but feel free to pick and choose from the rest of the list depending what you've got – I use an app called plant jammer to figure out what things might go well together.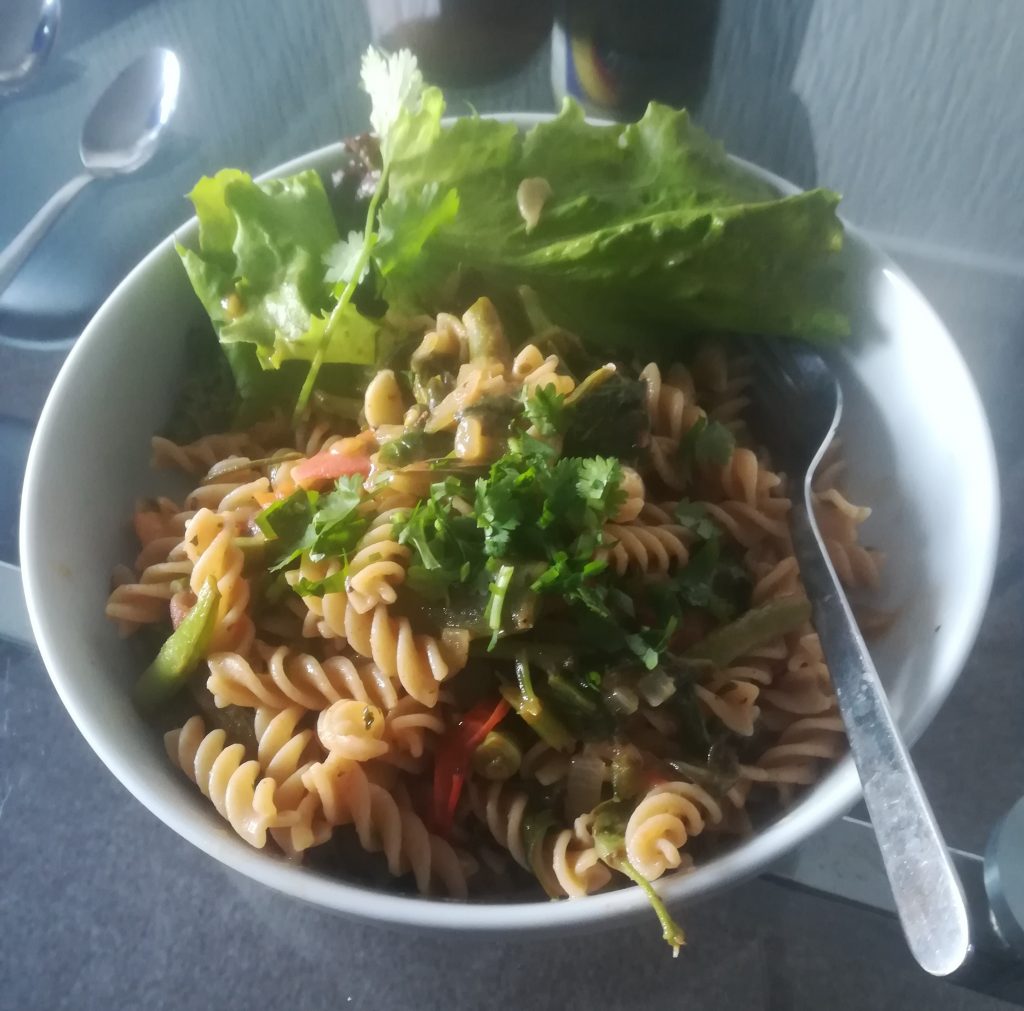 Core Ingredients (for 1 person):
Pasta of your choice, 2 handfuls
Fresh Tomatoes, 1 large handful
Spinach (or other greens depending on share), 3 handfuls
Basil, small handful
Garlic, 1 clove
Lemon Juice 0.5-1 tablespoon or to taste
Olive Oil, 2-3 tablespoons or to taste
Mixed herbs, 1 teaspoon
Optional extras:
Black olives, small handful
Walnuts, small handful
Onion, 1 medium
Green/French Beans, about 3cm bundle
Method:
First chop all your veg; tomatoes into quarters, spinach may need stems chopping down to manageable size, garlic minced or thin slices, onion diced
Next get the pasta on the boil – when it's ready remember to keep the water!
Whilst the pasta cooks, fry off onion and garlic, then add tomatoes, spinach and any optional extras and fry at a medium heat.
The pasta should be ready about the same time as the veg is cooked. Before draining, add the olive oil to the veg and then add a few sloshes of the pasta water – the starch helps make a good sauce! Then add the lemon juice, basil and mixed herbs and stir it all together until you have a nice shiny consistent sauce. Season with salt and pepper.
Drain the Pasta and add to the pan, mix and serve with some salad on the side and a little chopped coriander on top.
I know I offered you a quinoa salad only a few weeks ago, but this one is also so good, and really different. And salads are perfect for warmer weather.
This one combines rocket and roasted carrots with crunchy quinoa tossed with currants and a pomegranate-molasses dressing. The whole thing is topped with crispy ringlets of frizzled leeks. It's ever so tasty.
Quinoa Salad With Roasted Carrots and Frizzled Leeks
Serves 10
Ingredients
1 leek, trimmed
¾ cup plus 2 tablespoons extra-virgin olive oil, plus more for frying leeks and for serving
salt and pepper
2½ tablespoons lemon juice
2½ tablespoons pomegranate molasses, plus more for serving
1kg carrots, peeled and sliced into 1/4-inch-thick coins
2 cups quinoa
⅓ cup dried currants
150g rocket
Preparation
Cut leek in half lengthwise and rinse away any grit. Slice into thin strips. In a small skillet over medium heat, warm 1/4 inch of olive oil. Add a handful of leeks and fry until golden brown, 15 to 30 seconds. Remove with a slotted spoon and transfer to a paper-towel-lined plate. Sprinkle lightly with salt. Repeat with remaining leeks.
In a small bowl, whisk together lemon juice, molasses, 1 teaspoon salt and a large pinch of pepper. Whisk in 3/4 cup oil.
Heat oven to 425 degrees. Toss carrots with 2 tablespoons oil, 1 teaspoon salt and some pepper. Spread on one or two large baking sheets so they fit in one layer. Roast carrots, tossing occasionally, until tender and golden brown, 30 to 35 minutes.
While carrots roast, bring a large pot of salted water to a boil. Add quinoa and cook until tender, 10 to 12 minutes. Drain.
In a large bowl, toss warm quinoa with currants. Add carrots and half the dressing and toss well. Taste and add dressing or salt (or both) if needed.
In a separate bowl, toss rocket with enough dressing to lightly coat. Spread the rocket on a serving platter and top with the dressed quinoa and the frizzled leeks. Drizzle with more pomegranate molasses and a little olive oil before serving.
(Adapted from New York Times Cooking.)