May 14, 2020 by General Administrator
I tried a variation of this recipe tonight and it went down very well, it used a lot of Canalside produce and felt like an incredibly healthy meal! Feel free to adapt to what you have – I swapped the salad for boiled greens, the canned lentils for boiled red lentils and omitted the pomegranate seeds. I would be tempted to suggest some soy sauce on the lentils to cut through the sweetness of the other components (rocket probably does this job if you have it).
Roasted beets and squash with tahini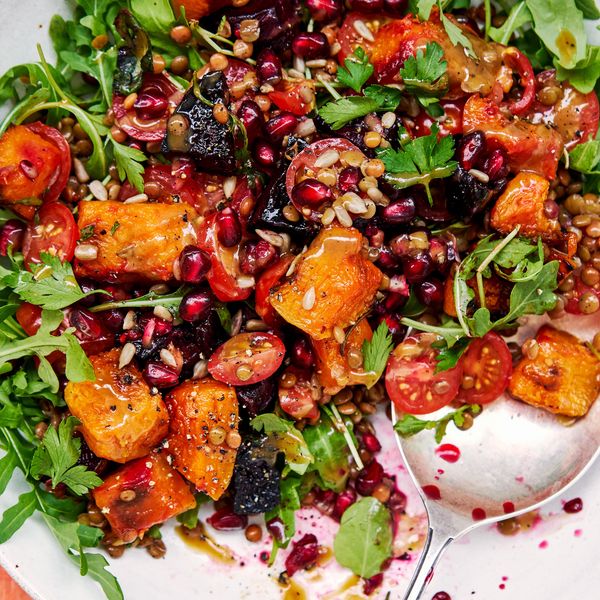 Ingredients:
2 large raw beetroots, peeled and chopped
1 medium squash, deseeded and chopped (no need to peel our squash)
Leaves from 2 rosemary sprigs, chopped
1 tbsp olive oil
1 tbsp maple syrup (I used honey)
1 × 400g tin brown lentils, drained and rinsed
200g mixed rocket and other salad leaves
200g cherry tomatoes, quartered
4 tbsp sunflower seeds
Handful fresh parsley, finely chopped
4 tbsp pomegranate seeds
Salt and black pepper
For the tahini vinaigrette:
3 tbsp extra-virgin olive oil
1 tbsp tahini
1 tsp maple syrup (I used golden syrup)
1 tsp Dijon mustard
1–2 tsp balsamic vinegar (to taste)
Method:
Preheat the oven to 200°C fan.
Place the beetroot, butternut squash and rosemary in a large baking tray or roasting tin and toss in the olive oil, maple syrup and some salt and pepper until evenly coated. Spread out the vegetables in a single layer and roast in the oven for 40–50 minutes, stirring once halfway through the cooking time, until tender and slightly crisp.
Meanwhile, combine all the ingredients for the tahini vinaigrette together in a bowl, seasoning to taste with salt and pepper.
Place the lentils and salad leaves in large bowl with the cherry tomatoes and a small drizzle of the tahini vinaigrette and toss until evenly coated.
Transfer the dressed salad to a serving dish and add the still-warm roast vegetables in layers with the sunflower seeds, parsley and pomegranate seeds. Finish with a generous drizzle of vinaigrette.
Adapted from: https://thehappyfoodie.co.uk/recipes/roasted-beets-and-butternut-squash-with-tahini