Warm Japanese noodles and bright green vegetables, tossed with a sharp, gingery dressing make a quick and delicious dinner. The whole thing comes together in under 25 minutes. I think you could add some toasted, chopped peanuts to the top, as well.
The dressing is also very good tossed onto shredded cabbage and kohlrabi, for a punchy slaw.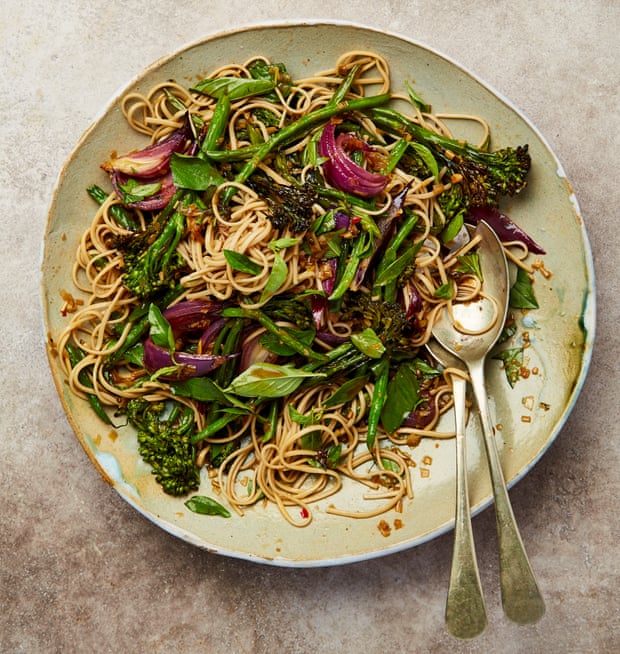 Charred broccoli and bean soba noodle salad
Serves 2
Ingredients
For the salad
450g French beans and/or broccoli (any combination)
2 red onions, peeled and cut into 8 wedges
2 tbsp rapeseed oil
¼ tsp salt
200g soba noodles, or a mixture of soba and udon noodles
¼ cup Thai basil and/or mint leaves, roughly chopped
For the dressing
4 spring onions (use the whole thing), finely chopped
4cm piece fresh ginger, peeled and finely grated
3 tbsp toasted sesame oil
3 tbsp rice wine vinegar (Meera Sodha specifies black Chingkiang vinegar)
4 tbsp light soy sauce
1 tbsp brown rice (or maple) syrup
1 dried red chilli, finely chopped, or de-seeded and then left whole if you'd like the option of removing it later
Preparation
Pre-heat the oven to 220C.
Trim the broccoli into long, slender strips. You can include the green leaves if you like, as well. Top and tail the beans.
Place the broccoli and/or beans and onion wedges on a baking tray. Drizzle over the oil and sprinkle with salt. Mix with your hands, and roast for 10-20 minutes, until they are a bit charred and the leaves have become crispy.
Bring a large pan of water to a boil, then cook the noodles according to packet instructions. Drain and rinse under cold water, then leave to one side to drain.
For the dressing, put all the ingredients in a small saucepan, bring to a boil, then take off the heat and put to one side.
When the vegetables have cooked, tip them into a serving bowl, add the drained noodles and dressing, and toss. Toss in the herbs, and serve while the vegetables are still a little warm.
Recipe adapted from Meera Sodha, The Guardian, 22 June 2019.