September 2, 2021 by General Administrator
My lovely sister in law Sue served this when we visited her this weekend, along with couscous and labneh (thickened yoghurt). It's fresh, light and vibrant with the green chermoula, a flavoursome blend of fresh coriander, cumin, smoked paprika and lemon.
The recipe makes more chermoula than you'll need for the recipe, but it's very tasty and can be used on other vegetables; try it on boiled potatoes, or roasted carrots. It would probably also be delicious on a little escalope of grilled pork.
Courgettes, Sweetcorn and Green Chermoula
Serves 2-3 as a main
Ingredients
4 courgettes, topped and tailed
salt
3 tablespoons olive oil
2 ears of sweetcorn, outer leaves and 'silk' removed
squeeze of lemon juice
for the chermoula
10g garlic
15g red fresh chiles
1 preserved lemon
200g fresh coriander, roughly chopped
150ml rapeseed oil
10g ground cumin
4g smoked paprika
about 15ml lemon juice
salt to taste
Preparation
Slice the courgettes lengthwise and sprinkle with salt. Leave them 30 minutes in a colander to draw out the moisture. This will make the final dish more crunchy and fresh tasting.
While the courgettes are salting, make the chermoula: combine together the garlic, chile and preserved lemon in a blender or other blending device. Once it's reduced to a paste add the coriander, oil and spices, and blend until smooth. Season to taste with the lemon juice and salt, and set aside.
When the courgettes have had their thirty minutes, brush off the salt and drizzle 1 tablespoon of the oil over the courgettes and sweetcorn.
Heat a griddle plan on high heat. When it's hot grill the whole ears of corn, turning them regularly, until they are slightly charred on all sides. Remove and set aside.
Place as many courgettes as will fit without crowding in the pan, and cook for about 5 minutes, or until slightly charred on the bottom. Flip over, and cook for 2 minutes on the other side, or until cooked through but retaining some bite. Remove and set aside, and cook the other courgettes, if necessary.
Shave off the kernels off the now-slightly-cooled sweetcorn: hold each cob upright and use a sharp knife to slice down its length to remove the individual kernels. Place the kernels in a mixing bowl. Chop the courgettes into 2cm chunks and add them to the bowl. Toss with the remaining 2 tablespoons of olive and a squeeze of lemon juice.
To serve, place some of the sauce on the bottom of a serving plate and top with the courgettes and grilled corn.
Recipe adapted from the Observer Food Monthly, 25 July 2021.
September 17, 2020 by General Administrator
When I was growing up in New York State, fresh corn on the cob was a familiar summertime treat. In my family we always, always, ate it boiled, with butter, salt, and pepper, and that is indeed an excellent way of preparing this delicious vegetable. (Just to be clear, you should boil your corn for no more than about five minutes, in plenty of water.) Here, however, is another equally excellent way to cook corn.
Grilled Corn
Serves 2
Ingredients
2 ears of corn
2 tablespoons rapeseed or other oil
1 teaspoon Spanish smoked paprika (sweet or hot, as you prefer)
½ teaspoon salt
Freshly-ground black pepper, to taste
Preparation
Preheat your grill to maximum heat.
Meanwhile, shuck your corn: peel away and discard the outer leaves and delicate thread-like silk.
Mix the oil, paprika and salt together and brush over the ears of corn.
Place the corn under the grill and grill for about 10 minutes, turning regularly, until it is a beautiful golden colour all over.
Remove from the grill, grind some black pepper over the cobs, and eat alongside your quelites a la mexicana or anything else that strikes your fancy.
March 27, 2020 by General Administrator
Thanks to Erica Moody for suggesting this recipe from Meera Sodha's column in last week's Guardian Food.
Meera says: There might seem to be a lot of chillies in this, but it's not a hot dish, because the natural sweetness of the squash and sweetcorn, combined with the rich coconut milk and spiky lime, balance things out. Fresh curry leaves are now sold in most major supermarkets.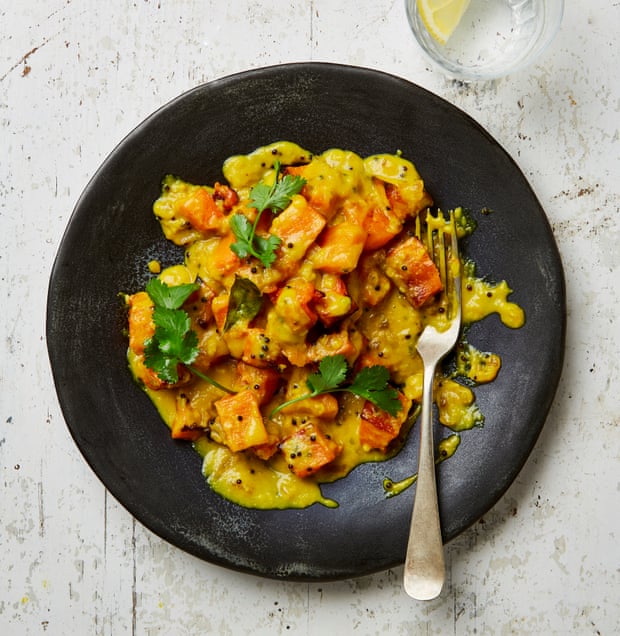 Butternut squash and sweetcorn erriseri
Prep 10 min
Cook 45 min
Serves 4
Ingredients:
1kg squash, washed
Sunflower oil
Fine sea salt
1 x 340g tin sweetcorn, drained
2 tsp black mustard seeds
12 curry leaves
1 large onion, peeled and finely chopped
4 garlic cloves, peeled and minced
3 green finger chillies, finely chopped
2 tsp turmeric
1 x 400ml tin coconut milk
2 tbsp fresh lemon juice (ie, from 1 lemon)
Coriander leaves, to garnish
Method:
Cut the squash in half (no need to peel), scoop out and discard the seeds, then cut it into 2cm cubes. Heat the oven to 200C (180C fan)/gas 6. Tip the squash pieces on to an oven tray, pour over two tablespoons of oil and a good sprinkling of salt, and toss to coat. Bake for 25-30 minutes, until the squash chunks are tender and their edges caramelised.
Add two tablespoons of water to the drained sweetcorn kernels and blend to a smooth paste (I use a stick blender).
In a large frying pan, heat two tablespoons of oil and, when hot, add the mustard seeds and curry leaves, and leave them to crackle and pop for a minute. Now add the onion and cook, stirring occasionally, for about 10 minutes, until translucent and turning golden, then add the garlic and chillies, and cook for two minutes. Stir in the sweetcorn paste, turmeric and a teaspoon and a half of salt, cook for a minute, then add the coconut milk (keep the tin) and whisk so everything is combined and the curry sauce is a vibrant yellow.
Half-fill the coconut milk tin with water and add to the pot to loosen the curry – you may need a little more or less water than this, depending on the thickness of your coconut milk – bring to a boil and simmer for five minutes, until it starts to thicken. Stir in the roast squash and lemon juice, and check the seasoning. Garnish with coriander and serve immediately.
Adapted from Guardian Food, 20th March 2020
October 17, 2019 by General Administrator
I wasn't quite sure what to suggest this week and was resigned to the oven chips recipe I've been holding in reserve, until I spotted this noodle dish. It's quite different to what I would normally cook and I'm excited to give it a try!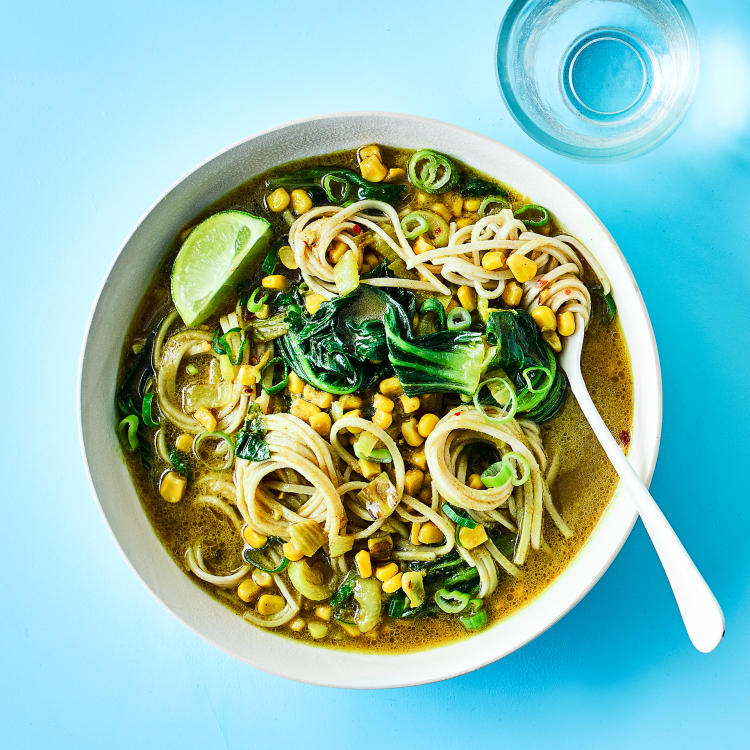 Sunny sweetcorn noodles
Ingredients:
Chilli flakes (I've still got some Canalside dried chillies to get through!)
coconut cream or coconut milk (add less water if not using cream)
2 garlic cloves
2 tbsp thai green curry paste
lime or lime juice
250g pak choi
35ml soy sauce
1 spring onion (optional garnish)
1tsp turmeric
sweetcorn
noodles (2 nests)
1 veg stock cube
Method:
Peel and thinly slice garlic and boil the kettle
Add sweetcorn on the cob to large pan of water and boil for 10 minutes
Cut pak choi in half to separate stems from leaves. Leave leaves whole and cut stems into bitesize pieces
In a large pan (preferably with a lid) heat some oil (high heat) then add turmeric and cook for 30 seconds.
Add sliced garlic and curry paste and cook for 2 minutes
Use this time to put noodles on to boil for about 5 minutes or according to instructions
Add pak choi stems and a large pinch of salt and cook for ~3 minutes with lid on until stems are tender
If using coconut cream, mix this with stock and 350ml of hot water. If coconut milk, add this and stock direct to pan.
Add cream mix / cocunut milk and stock to the pan of veg, along with the chilli flakes and soy sauce
Set to low heat whilst you take out the sweetcorn and use a knife to separate the corn from the cob
Add sweetcorn and pak choi leaves to the pan, add water to achieve your preferred consistency and boil on low heat until leaves have wilted.
Bowl up the noodles and veg soup, adding lime juice and chopped spring onions on top if you've got them
Adapted from https://www.gousto.co.uk/cookbook/vegetarian-recipes/sunny-sweetcorn-noodles
October 12, 2018 by General Administrator
This is an approximation of a salad I've just eaten for lunch. (I'm currently in California, for work, since you wondered.) My salad was served with GREEN chickpeas, something I'd never encountered hitherto.
The corn in the California salad was roasted; if you are able to do this it will add depth to the flavour. See the instructions below.
The Border Grill's Mexican Chopped Salad
Serves 4
Ingredients
Dressing Ingredients
4 tablespoons olive or rapeseed oil
2 tablespoons fresh lemon juice
1 teaspoon ground cumin (ideally, roast your cumin seeds in a dry pan and then grind them)
1 tablespoon fresh oregano, chopped roughly, or 1 teaspoon dried oregano, crumbled
1 tablespoon brown sugar
Salt and pepper, to taste
Salad Ingredients
2 ears of corn (or use 1 cup frozen corn, thawed)
1 medium red onion, peeled and diced
1 large tomato, diced
1 romaine or 2 little gem lettuces, shredded
1 crisp apple, diced
½ cup cooked chickpeas or black beans
½ cup toasted pumpkin seeds
Guacamole, to serve (optional)
Tortilla or plantain chips, to serve (optional)
Preparation
Make the dressing: combine the dressing ingredients in a jar with a lid and shake vigorously. Taste and see if you'd like more lemon, etc. Adjust as necessary.
IF you are able to roast the corn, follow the instructions below. Otherwise, shuck the corn and remove the stringy silk. Cut off the kernels: hold the ear vertically on its end and use a knife to cut the kernels off each cob. (Of course, if you're using frozen corn this is unnecessary.) Place the kernels in a medium bowl with the diced red onion and cover with the dressing. Leave for 10 minutes, or longer.
When you're ready to serve combine the corn and onion mixture with the other ingredients, toss well and serve, garnished, if you wish, with a dollop of guacamole and tortilla or plantain chips.
To Roast the Corn: Carefully peel back the husks from the corn, and remove the corn silks, leaving the husks attached. Wrap the husks back around each ear of corn. Soak the corn in a large bowl or sink of cold water for 10 minutes.
Meanwhile, pre-heat your grill to high.
Drain the corn well and place each husk-enclosed ear on the hot grill. Cook for about 12 minutes, turning frequently. Remove each cob from the grill and set aside to cool slightly. Then follow the instructions above to remove the kernels.
September 28, 2017 by General Administrator
Colombian ajiaco is a miracle of soups.  It's luxurious, convivial and fresh.  The basic idea is this: a bowl of rich chicken broth with lots of potatoes and chunks of sweetcorn, personalised with sliced avocado, capers, a tomato-coriander salsa and cream, followed by another bowl, or two.  Do try it.
A Sort of Ajiaco
Proper aijaco requires some ingredients we lack, so this is a Leamington approximation.  I think it's delicious but apologies to all Colombians.
Ingredients
the stock
1 whole chicken, or chicken pieces, of about 1.6 kilos in weight, but you needn't be precise.
1 large onion, chopped fine
4 litres of water
1 tablespoon salt
6 whole peppercorns
the additional soup ingredients
4 potatoes, cut into chunks — the Canalside potatoes we're currently getting are ideal as they are the mealy variety that disintigrate when you boil them. That's what you want here.
3 potatoes, cut into thinnish slices—ideally, use waxy  potatoes of the sort that will not disintegrate when you boil them.  Real ajiaco uses different varieties of potato but even if you use only one the result will be delicious.
200g runner beans, sliced in to 1-inch chunks
2-3 ears sweetcorn, shucked (i.e. husk and silk removed) and cut into 3 chunks
the delightful extras
2 avocados, cut into slices
1/4 cup capers
1/2 cup double cream (I suppose you could use single cream)
tomato-coriander salsa
4 tomatoes, chopped into small cubes
1 medium onion, chopped fine
1/2 cup fresh coriander, chopped fine
1 green or red chilli
salt to taste
Preparation
Put the soup ingredients into a large pot for which you have a lid.  Cover and bring to the boil. Once it begins boiling turn the heat down so that it simmers gently. Cook for 75 minutes.Meanwhile prepare the other components.  Put the avocadoes and capers in two attractive little dishes and place the cream in a jug. Then prepare the salsa: put the tomato, onion and coriander into a little serving bowl and mix.  Cut off the end of the chilli and the slice it in half.  If you don't want the salsa to be too hot remove the seeds, and then mince the chilli into tiny bits.  Mix it into the salsa and add salt to taste.  Let it mellow while you finish the soup.
After the soup has been cooking for about an hour and a quarter the chicken should be tender and the broth rich and flavourful.  If for any reason the chicken still seems a bit rubbery or under-cooked, let the soup simmer for another 15 minutes or so. Fish out the chicken and let it cool a little.  Once you're able to handle it, remove the meat from the bones, and, if you like, shred it a bit into bite-sized pieces.  Return the meat to the pot and bring the soup back to the boil.
Add the chunks of potato and cook for 20 minutes. The potato should disintegrate.  If chunks still remain give the whole thing a little mash with a potato masher to encourage them to break apart.
Add the sliced potatoes and runner beans nd cook for another 10-15 minutes, until they are tender.
Add the chunks of corn and cook for 5 final minutes.  Check to see if it needs more salt or pepper.
To serve: bring the soup to the table and give each diner a bowl brimming with chicken, sliced potatoes and runner beans, topped by a piece of corn on the cob.  Pass around the little bowls of avocado, capers, and the salsa, and the jug of cream.  Each diner can adorn their bowl with whatever they fancy.
September 8, 2017 by General Administrator
This, like all the Thomasina Miers recipes I've tried, is easy and, as she'd say, utterly yum. I've never used the prawns but since the original recipe calls for them I thought I'd include them. You choose. You can get black rice noodles at Gaia. This makes a fresh, quick, mid-week dinner.
Black Noodles with (or without) Prawns
Serves four
Ingredients
2 ears of corn
1-2 dried chillies
200g French beans, topped, tailed and cut in half
250g black rice noodles
3 tablespoons sunflower oil
1 large red onion, peeled, halved and thinly sliced
3 fat cloves garlic, peeled and sliced
1 handful peanuts (if you're not using the prawns increase this to a very big handful)
450g prawns (optional)
1 tablespoon fish sauce
Juice of 1 lime
1 handful mint leaves, roughly chopped
salt and pepper
Preparation
'Shuck' the corn: peel off the leaves and remove the corn silk—the delicate threads that surround the cob. By the way, it's best not to shuck corn until you're ready to use it. The kernels dry out quickly. Cut the kernels off each cob. Do this by standing the cob upright, on its end, on a board or in a wide bowl and slicing down along the length of the cob.
Chop the chillies. Remove the seeds unless you'd like the dish to be very hot.
Steam the beans for four minutes, until tender but still with a little crunch. Lift them out, set them aside, and then use the steaming water, topped up if needed, to cook the noodles according to the instructions on the packet. Drain them, rinse in cold water, toss with 1 teaspoon of oil so they don't stick to themselves, and set aside.
Heat the remaining oil in a wide pan over high heat, and stir-fry the onions, kernels of corn and chilli for a few minutes. Season generously with salt and pepper, add the garlic and peanuts, and stir-fry until the garlic starts to go translucent. Add the prawns (if using) and stir-fry for a few more minutes, until they turn pink and look a little caramelised around the edges. The corn should by now have also taken on some colour. Taste, add more chilli if you want more spice, and then add the fish sauce, lime juice, beans and noodles, and toss to heat through. Add more lime or fish sauce to taste, scatter over the mint and serve in deep, warmed bowls.
(Recipe adapted from Thomasina Miers, The Weekend Cook.)