May 4, 2023 by General Administrator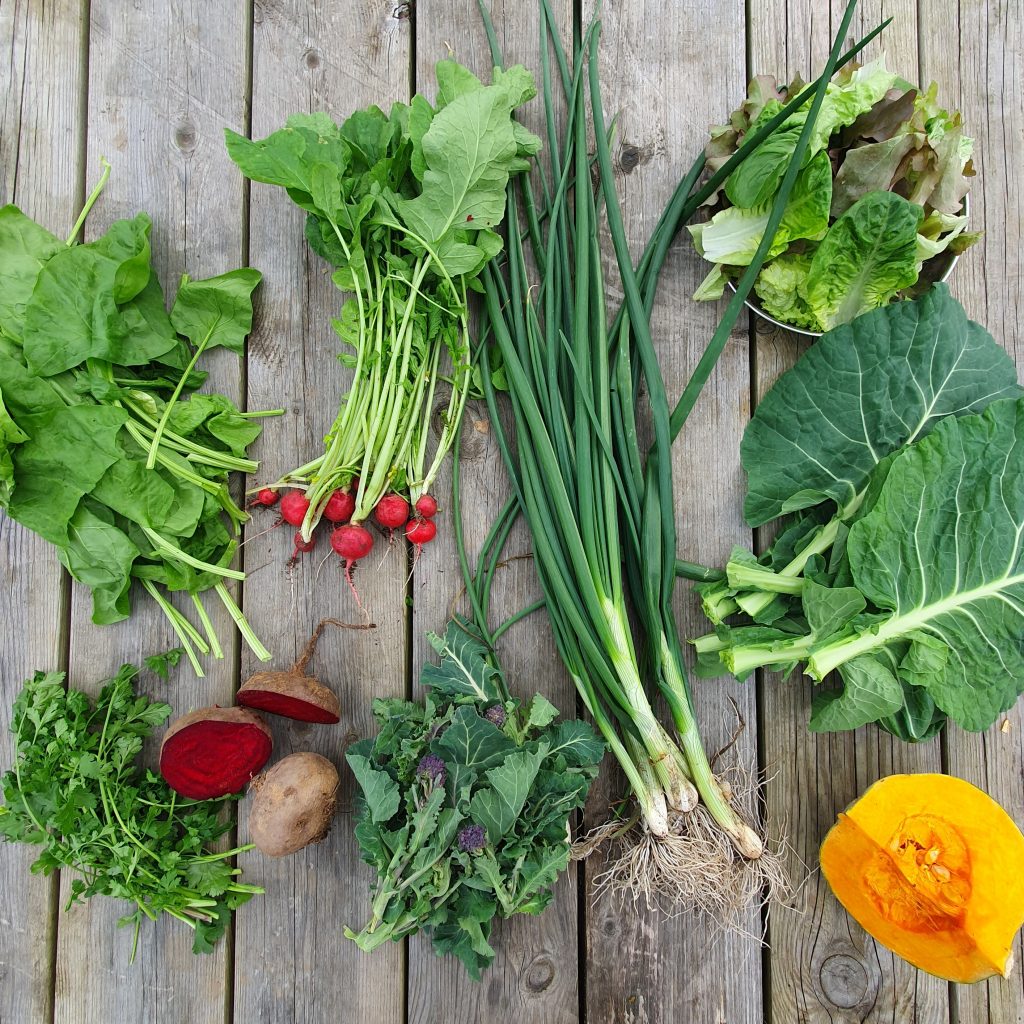 We're coming into the time of year for the earliest crops and, especially where they are roots, the young tender leaves can be as much an ingredient as the root veg. This is why we include them in the weight of the share – you will take the roots with any attached leaves in the weight for your size of share and get 2 share items in one!

Here are some insights about what might be coming in the share and ideas for how to make the most of all the edible parts. As a general rule, they all work well added to/as a basis for pesto, and in hummus, as well as like other greens in soups, stir fries and smoothies.

Radish tops:
As appeared in the share this week
The slightly rough/prickly texture on the surface of the leaves is lost with cooking
Try:
Chopped and used in stir fries, soups etc, as for any other green
One of the 5 ways suggested here

Carrot tops:
Will be in the share on the first baby carrots
Try:
Carrot top pesto
Roasted baby carrot and grain salad with carrot top dressing
More ideas and recipes here

Beet tops:
Similar to chard
Come with the first baby / early season beetroots
Try:
Braised beet tops with lemon juice
A number of ideas from Oddbox

Fennel tops/fronds:
Basically dill, and always plentiful on our fennel bulbs!
Try:
One of the 10 ways suggested here including in a pesto and salads, as a herby flavouring, in juices and curries

Celery tops:
Full of flavour and a great ingredient for a variety of uses
Try:
One of the 5 ways suggested here including in soups, to flavour salt and in a pesto
Ideas from Ali

April 20, 2023 by General Administrator
This recipe for carrot pudding, or gajar ka halwa, was contributed by Arushi Goyal to a cookbook I edited a few years ago. It is sweet and comforting. She describes it as 'one of the most famous sweet dishes in India, especially during the winter season'. (Ali adds: This is also perfectly timed, with Muslims celebrating Eid-ul-Fitr this weekend after the Islamic holy month of Ramadan ends: gajar ka halwa will no doubt feature in many Eid celebrations across the Indian subcontinent and beyond!)
Gajar ka halwa
Serves 4-6.
Ingredients
Skimmed milk powder
1 big bowl of ghee (Ghee is a clarified butter made from buffalo or cow milk, used in Indian cooking. It can be found in the Asian section of Tesco.)
Whole milk
8 carrots
1.5 cups of white sugar (it can be decreased or increased depending upon taste)
Method
First prepare the 'khoya'. (Khoya or khoa is a milk food widely used in the Indian cuisine, made of milk thickened by heating in an open iron pan.) To make it, take skimmed milk powder and add ghee to it. All the powder granules should be mixed with the ghee. Then add whole milk to the above mixture to form a thick batter. Place it in the microwave for 1 minute and take it out. Stir it and repeat this procedure two more times. So, in totality, the microwave time should be 3 minutes and the person should have stirred 3 times. The khoya is ready.
Now prepare the carrot pudding: take carrots, wash them, peel them and grate them by using a grater. Take a big pan which can accommodate grated carrots and the other ingredients. Add 2.5 tablespoon of ghee in the above pan. When the ghee melts, add the grated carrots and mix it properly. Now add milk until the grated carrots are submerged under the milk. Stir it at regular intervals. If carrots absorb most of the milk and still they look like as if they were not completely steamed, add more milk. Don't add water.
When grated carrots have absorbed most of the milk, add the prepared khoya. Also add the sugar and then stir it again. When everything is mixed and absorbed properly, switch off the knob and the carrot pudding is ready.
Special point: Always stir the mixture at small regular intervals otherwise the pudding will stick to the pan.
Recipe by Arushi Goyal, in Simple Scoff: The Anniversary Edition, edited by Rebecca Earle (2015).
February 23, 2023 by General Administrator
'This is delicious', said a guest as we sampled Matt's signature dirty martini a few weeks ago. 'It is good, isn't it?', I replied. 'No, I mean the dip', he explained. It is good (and so were the martinis).
Roasted Carrot and Garlic Dip with Seed Dukkah
Serves 4-6 as a pre-dinner nibble.
Ingredients
For the Dip
500g carrots, unpeeled but cut into 2cm chunks
1 dried Canalside chile pepper
2 tablespoons olive oil + 1 more tablespoon olive oil (3 tablespoons total)
¾ teaspoon salt
1 whole head of garlic, left whole but with the top sliced off horizontally so you can see the actual garlic cloves
1½ tablespoons cashew or almond butter
1 lime, juiced (about 2 tablespoons)
For the Dukkah
1 tablespoon pumpkin seeds
1 tablespoon sunflower seeds
½ tablespoon cumin seeds
¼ teaspoon salt
¼ teaspoon sugar
½ teaspoon ufea chile flakes or any other mild chile flakes
Method
For the Dip: Heat the oven to the maximum setting (240C/220C fan). Line a baking tray with greaseproof paper.
Toss the carrots and chile pepper with 2 tablespoons olive oil and the salt. Spread on the baking tray.
Wrap the whole head of garlic in some foil and put that on the baking tray, too.
Put the baking tray in the oven and roast for 15 minutes. Remove the chile (set it aside), give the carrots and garlic a stir, and continue roasting them for another 15 minutes. Remove from the oven and set aside to cool a bit.
Once it is cool, unwrap the garlic and squeeze out the roasted garlic cloves into a small bowl.
Put the roasted garlic, carrots, chile, nut butter, and half the lime juice in a blender or food processer, and pulse until the mixture is coarsely blended. Season to taste with more salt or lime juice.
Transfer the dip to an attractive serving bowl and drizzle with the remaining tablespoon of olive oil and the remaining lime juice. Sprinkle with the dukkah (see below) and serve with something to dip into the dip. Sourdough crackers are good.
For the Dukkah: Heat a small, dry (i.e. no added oil) frying pan over medium heat. Add the seeds and stir, until everything seems a bit toasted. Let them cool a bit and then transfer them to a mortar along with the remaining ingredients. Bash them a bit until they are coarsely broken up.
Recipe adapted from Yotam Ottolenghi, Guardian, 26 June 2021
December 8, 2022 by General Administrator
According to Kay Chun, this is inspired by chirashi, Japanese rice and raw fish bowls. Her
version features lightly cooked (rather than raw) fish, but if that is not your thing you can
cook the fish for as long as you like. The dish is built around the vinegary sweet-salty tang of
sushi rice, but instead of first cooking the rice and then mixing it with the sweetened vinegar,
here the rice is simply cooked in vinegar-seasoned water, which is much simpler. The result is
a sticky, delicious sushi rice that makes an excellent base for the richness of the mackerel.
The dish is topped with a gingery, sesame-flavoured coleslaw, sliced avocado, and toasted
nori, the black seaweed that typically surrounds a sushi roll. Think of it as a simple,
deconstructed form of sushi: very tasty, plus you use only one pot.
Chun's recipe used salmon fillets (and a larger quantity), cut into cubes, so feel free to play
around with the fish. I'd stick to an oily variety, though: you want that richness to contrast
with the sharpness of the sushi rice. Nice with a wheat beer.
Mackerel Sushi Bowls
Serves 4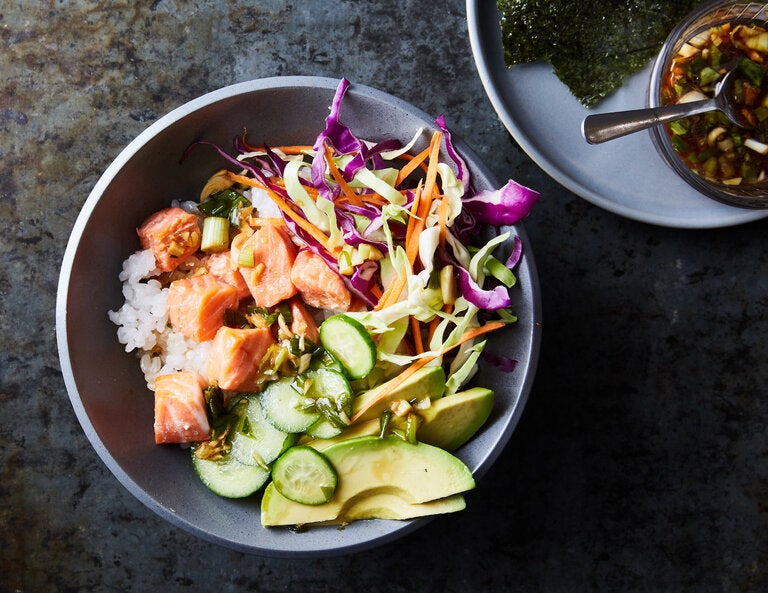 Ingredients
4 tablespoons + 3 tablespoons rice vinegar
3 tablespoons sugar
1 teaspoon salt
340ml sushi rice (measured in a jug), rinsed in a sieve under running water until the water
runs clear
500g (or up to 680g if you're really hungry) skinless mackerel fillets, cut into 2cm-wide
strips
1 teaspoon toasted sesame oil, divided into two portions of ½ teaspoon each.
800g green and/or red cabbage and carrots (combined weight)
6 tablespoons soya sauce
3 tablespoons neutral vegetable oil
3 tablespoons coarsely chopped spring onions (white and light green parts)
3 tablespoons minced fresh ginger
Big handful of fresh coriander, coarsely chopped
1 cucumber, thinly sliced
1 avocado, halved, pitted and thinly sliced
Several toasted nori sheets, torn into bits, for garnish
Method
In a large saucepan, combine 4 tablespoons rice vinegar, sugar and salt; stir to dissolve the
sugar. Add the rice and 400ml water, and mix well. Bring to a boil over high heat, then cover and reduce heat to low. Cook until rice is tender and most of the liquid is absorbed, about 20 minutes.
While the rice is cooking, toss the fish with ¼ teaspoon sesame oil in a small bowl, and set
aside. Shred the cabbage. Peel the carrot and grate coarsely.
Combine the soya sauce, remaining 3 tablespoons of vinegar, oil, spring onions, ginger and
the remaining ¼ teaspoon of sesame oil in a large bowl. Mix well and then add the shredded
cabbage. Using your hands, scrunch up the cabbage as hard as you can, so that it softens a bit
and begins to absorb the dressing. Toss in the carrots and coriander and set aside.
Once rice is tender (after about 20 minutes), arrange the mackerel on top of the rice in an
even layer. Cover and cook over low heat until fish is just barely cooked, about 5 minutes
longer.
Now serve: scoop the rice and fish into individual bowls. Decorate each with some of the
cabbage-carrot-coriander salad, some sliced cucumber, and some sliced avocado. Top with
the toasted nori and enjoy.
Recipe adapted from Kay Chun, New York Times Cooking
March 24, 2022 by General Administrator
According to Dr Bill Schindler, fermented carrot sticks not only taste more interesting than ordinary carrot sticks, but also contain lots of probiotics. I can't comment on the merits of this claim, but can confirm that fermented carrot sticks are really tasty. They retain the pleasant crunch of raw carrots, but are a little softer—midway between raw and cooked. The brine imbues each carrot stick with a salty tang, and the short fermentation adds an additional dimension. As fermentations go, this is really, really easy. You basically pack the carrots in a jar, add salty water, and leave them for a few days.
Serve your fermented carrot sticks as a nibble with drinks, or add them to a salad.
Fermented Carrot Sticks
Ingredients
3-6 carrots
sea salt
1 glass jar large enough to hold your carrots
kitchen scales of the sort you can zero
Method
Peel and trim the carrots. Cut them into sticks of a size you'd like to munch on.
Put the empty glass jar on the scales and zero the scales.
Leaving the jar on the scales, stand the carrot sticks neatly into it, packing them as tight as possible. With the carrot-filled jar still on the scales, pour in enough water to cover the carrots but leaving 2cm between the top of the water and the top of the jar. Note down the weight in grams.
Now do some maths to work out how much salt you will need. Multiply the weight by 0.02. This is the amount of salt you need. So, for instance, if the vegetable mixture weighs 1000grams, then you need 20 grams of salt.
Measure out the amount of salt you will need and put it into a medium bowl.
Drain the water from the carrots into that bowl. Mix until the salt is dissolved, and then pour the salty water back into the jar to cover the carrots.
Cover your jar with a piece of clean cloth secured by a rubber band. Put it somewhere tranquil and temperate—an ideal temperature is around 17C. Leave for 3-5 days to ferment. Try tasting a carrot after 3 days, and see if you like its crunchy, salty flavour. Once you're happy with the flavour, move the jar to the fridge, where it will keep for up to 3 months.
Recipe adapted from Bill Schindler, Eat Like a Human (2021).
March 10, 2022 by General Administrator
Some of you may have seen that Russian chef Alissa Timoshkina has teamed up with Ukrainian chef Olia Hercules to raise money for Ukraine. I thought this week I would repeat this recipe for their excellent borscht.
Borscht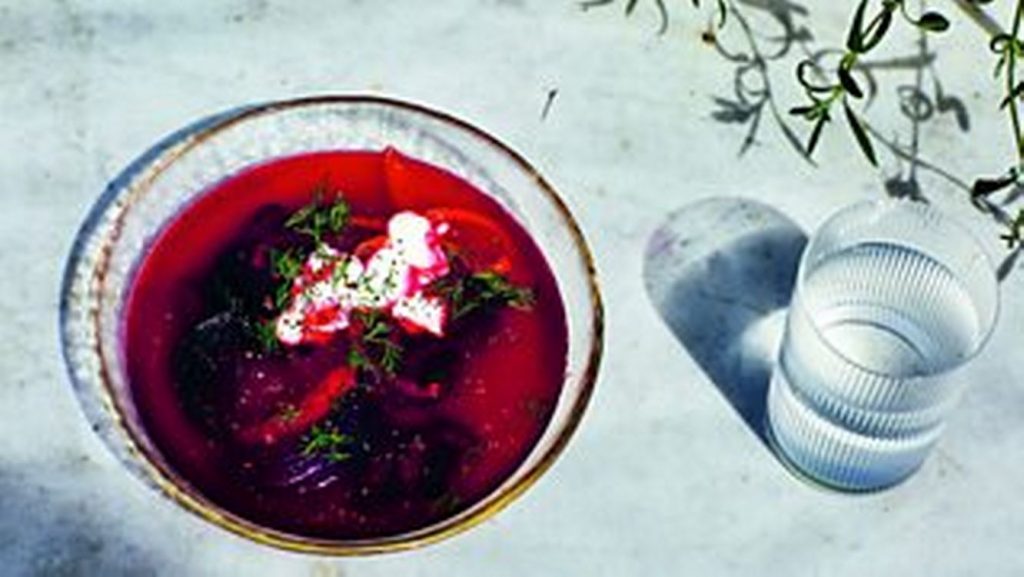 Serves 4
Ingredients
unrefined sunflower oil, for frying and roasting
1 large onion, finely diced
1 carrot, peeled and grated
6 raw beetroots
2 red peppers
2 tablespoons tomato purée
2 litres cold water
2 bay leaves
1 tablespoon black peppercorns
1 tablespoon coriander seeds
1 tablespoon fennel seeds
4 garlic cloves, peeled
bunch of dill
small bunch of flat leaf parsley
2 garlic cloves, grated
500g red cabbage sauerkraut
2 tablespoons pomegranate molasses
1 red onion
1 tablespoon brown sugar
400g can red kidney beans
2 teaspoons smoked paprika
4 tablespoons soured cream
salt
Preparation
Heat up a tablespoon of sunflower oil in a large pan and fry the onion and carrot for about 8 minutes until golden. Meanwhile, peel and grate 2 of the beetroots and core, deseed and thinly slice 1 red pepper. Add the vegetables to the pan together with the tomato purée and a splash of water. Season with salt to taste and fry for a further 5–8 minutes.
Top with the measured cold water, add the bay leaves along with the peppercorns and all the seeds, whole garlic cloves and half the bunches of dill and parsley. Season with a tablespoon of salt and bring to the boil. Reduce the heat, add the grated garlic and half the sauerkraut with its brine and simmer, covered, over a low heat for 40 minutes–1 hour.
Turn off the heat and let the borsch rest for another hour, while you prepare the rest of the elements.
So far, so good, but here is where the recipe starts to deviate from the norm quite a lot: to prepare the vegetables that will grace the plate and also add extra flavour and texture to the soup, you will need to do a bit of roasting.
Start by preheating the oven to 160°C fan/Gas Mark 4. Peel the remaining 4 beetroots, cut into wedges and dress with oil, salt and the pomegranate molasses. Peel the red onion, cut into wedges and season with salt and the brown sugar to bring out their sweetness and promote caramelization. Place on a roasting tray with the beetroot and roast together for 30 minutes. Drain the kidney beans, then dress them with salt, oil and the smoked paprika. Core and deseed the remaining red pepper, then cut into thin strips and dress with salt and oil. Roast the beans and pepper together, as they will need only 10–15 minutes.
When ready to serve, strain the broth through a sieve or a muslin cloth, discarding the solids. All we need is that rich broth! Reheat again if necessary. Next, create layers of texture and flavour in each bowl by adding a heaped tablespoon of the remaining sauerkraut to each, as well as a handful of roasted beetroot, onion, kidney beans and red pepper. Top each bowl with the hot broth and add a dollop of soured cream and a generous sprinkle of the remaining dill and parsley, chopped. The intensity of the flavours and textures of this dish is beyond words, while the look of the bowl will seduce the eye without a doubt.
Recipe from Alissa Timoshkina, Salt & Time: Recipes from a Russian Kitchen (2019).
January 27, 2022 by General Administrator
Yotam Ottolenghi recommends serving this root vegetable mash with either roast chicken or his very tasty wine-braised shallots (link: https://www.theguardian.com/lifeandstyle/2009/nov/28/root-mash-braised-shallots-recipe-ottoleghi). I've cut down the butter a bit as it seemed plenty rich with 35g of butter, but feel free to add the full 70g if you'd like. I don't think the ratio between the vegetables needs to be observed religiously.
Ottolenghi Root Mash
serves 4-6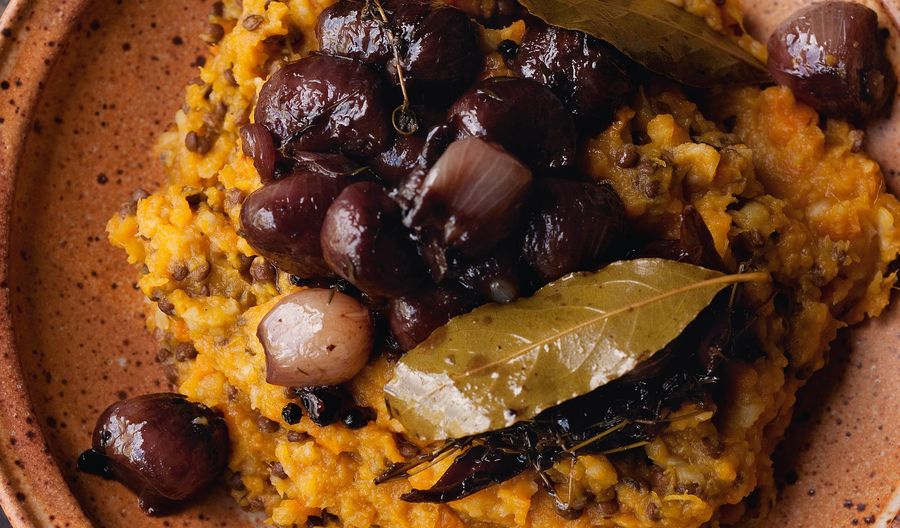 Ingredients
80g Puy lentils
300g celeriac, peeled and cut into chunks
300g carrots, peeled and cut into chunks
300g squash, peeled and cut into chunks
600g sweet potato, peeled and cut into chunks
35g butter
1 tablespoon maple syrup
1½ teaspoons ground cumin
1 teaspoon salt
black pepper (to taste)
Preparation
Bring a pan of water to the boil and add the lentils. Reduce the heat and simmer for about 25 minutes, or until tender. Drain and set aside.
Bring a large pan of water to the boil and add the celeriac and carrots. Cook for 10 minutes. Add the squash and sweet potato and cook for a further 10-15 minutes, or until everything is tender. Drain, shaking off as much liquid as possible.
Return the vegetables to the pan and mash well with a potato masher. Add the butter, maple syrup, cumin, salt, and black pepper and mash a bit more. Add the lentils, and taste to see if you would like more salt or pepper.
Recipe adapted from Yotam Ottolenghi, Plenty More (2014).
January 20, 2022 by General Administrator
The honey helps make the carrots glazed and sticky, as well as sweet. The sharp tahini-yoghurt sauce contrasts well with this.
Honey Roasted Carrots with Tahini Yoghurt
Serves 2-4 alongside other dishes
Ingredients
for the roast carrots
1.3kg carrots
60g runny honey
1 tablespoon olive oil
1 tablespoon coriander seeds, toasted in a dry pan and lightly crushed
1 teaspoon cumin seeds, toasted in a dry pan and lightly crushed
7g whole thyme sprigs
1 teaspoon salt
several grinds of black pepper
1½ tablespoons coriander leaves, roughly chopped (to garnish)
for the tahini-yoghurt sauce
1 garlic clove
pinch of salt
40g tahini
130g thick yoghurt (Greek or kerned is ideal but whole-milk plain yoghurt will work too)
2 tablespoons lemon juice
Preparation
Prepare the carrots: Heat your oven to 200C. Peel the carrots. If they're thick cut them into smaller batons of about 2cm by 6cm. Put them in a large bowl with all the other carrot ingredients aside from the coriander leaves. Mix them well and then spread them in a single layer on one or more baking trays. Put them in the oven and roast for 30-40 minutes, stirring a few times, until they are soft and glazed. Remove them from the oven.
Prepare the tahini-yoghurt sauce: While the carrots are cooking prepare the tahini-yoghurt sauce: crush the garlic with the salt in a mortar and pestle. Transfer the salt-garlic mix to a small bowl and whisk in the other ingredients. Taste and see if you would like more salt or lemon juice.
To serve: spread the carrots on an attractive platter, and top with a few spoonfuls of the sauce and the coriander leaves. Serve warm or at room temperature with the remaining sauce on the side.
Recipe adapted from Guardian, 12 April 2013.
September 23, 2021 by General Administrator
This very delicious recipe is from the Moosewood, a pioneering vegetarian restaurant in Ithaca, New York State, where I (mostly) grew up. The carrot makes the dressing a beautiful bright orange. The sesame oil, ginger and soya sauce balance the carrot's sweetness (although you can add additional sugar if you like). The Moosewood Collective note that if you use this dressing on iceberg lettuce you will make 'that Japanese restaurant bento box salad'. They also recommend it as a topping on grilled fish, or as a dip for green beans or sugar-snap peas.
If you don't have a set of cup measures, you can measure the carrots and onions in measuring jug. A US cup is 8 fluid ounces, so ½ a cup of grated carrots is 4 fluid ounces, and ¼ cup of chopped onion is 2 fluid ounces.
Japanese Carrot Dressing
Yields about 10 ounces.
Ingredients
½ cup carrots (about 2 medium-sized carrots).
¼ cup onion or shallot, chopped
8 ounces vegetable oil
3 tablespoons rice wine vinegar
1.5 tablespoons grated fresh ginger
1 tablespoon soya sauce
1 teaspoon sesame oil
2 tablespoons water
¼ teaspoon salt
1 teaspoon brown sugar (optional)
black pepper
Preparation
Combine all the ingredients except the sugar and pepper in a blender and whizz. Start on low and the gradually increase the speed until the purée is smooth. Taste the dressing; add the brown sugar if you'd like this a little sweeter, and also add pepper and more salt, to taste.
Recipe adapted from Moosewood Collective, Moosewood Restaurant Favorites: The 250 Most Requested Naturally Delicious Recipes from One of America's Best-loved Restaurants (2013).
July 22, 2021 by General Administrator
Diana Henry includes this light and uplifting dish in a menu she calls 'Too Hot to Cook', which is exactly what it is right now. In truth the recipe involves a bit of cooking, since you have to sauté the carrots and beetroots, but only for about 2 minutes total, so it's not too taxing. This is particularly good with the small, tender Canalside carrots we're getting just now. She observes that ready-cooked beetroot is perfectly fine. (Just avoid the ones in vinegar.) Her version is a bit more elaborate insofar as it involves straining the yoghurt through a cloth for a few hours to make it a bit thicker before you mix it with the herbs and other seasonings. You can do that if you want.
In case you're curious, the rest of her menu consists of roast tomatoes, fennel and chickpeas with preserved lemons and honey, and, for pudding, cherries in wine, with cardamom cream and rose pistachio shortbread. Yum!
Beetroots & Carrots with Cumin and Yoghurt
serves 4-6 as a starter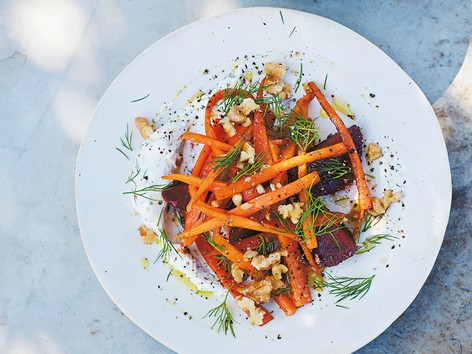 Ingredients
400g plain (full-fat) yoghurt
4 tablespoons olive oil
15g dill or coriander, roughly chopped
2 garlic gloves, peeled and crushed to a paste with a little salt in a mortar and pestle (optional)
¼ teaspoon Aleppo pepper (or to taste)—or use part of a chopped Canalside chile pepper
800g carrots
600g cooked beetroot
2 teaspoons cumin seeds
½ tablespoon white balsamic vinegar
½ lemon
25g walnuts, lightly toasted (optional)
Preparation
Mix the yoghurt with 2 tablespoons olive oil (i.e. not all of it!), most of the chopped herbs (keep a little back for a garnish), the crushed garlic and pepper. Swirl the yoghurt over the bottom of a serving plate and set aside.
Peel the carrots and cut them into thin matchsticks. Peel the beetroot and cut into slim wedges.
Heat 1 more tablespoon of olive oil in a large frying pan over medium heat. When it's hot add 1 teaspoon of cumin seeds (i.e. not all of them!) and sizzle for about 30 seconds, then add the carrots. Stir-fry for about 1-2 minutes, or until they lose their rawness but still have some crispness to contrast with the soft beetroot. Add the white balsamic vinegar and a generous squeeze of lemon juice and season to taste with salt and pepper. Transfer to a bowl and return the pan to the heat.
Add the final tablespoon of olive oil and heat up as before. Add the remaining cumin seeds and again let sizzle before adding the beetroot. Cook for about 30 seconds, until they are heated through but not hot. Squeeze some more lemon juice over the top and season to taste with salt and pepper.
Array the beetroots over the yoghurt and then spoon on the carrots. Sprinkle the remaining herbs over the top and garnish with the walnuts (if you're using them). Decorate with a final drizzle of olive oil and serve.
Recipe adapted from Diana Henry, How to Eat A Peach (2018).