July 22, 2021 by General Administrator
Diana Henry includes this light and uplifting dish in a menu she calls 'Too Hot to Cook', which is exactly what it is right now. In truth the recipe involves a bit of cooking, since you have to sauté the carrots and beetroots, but only for about 2 minutes total, so it's not too taxing. This is particularly good with the small, tender Canalside carrots we're getting just now. She observes that ready-cooked beetroot is perfectly fine. (Just avoid the ones in vinegar.) Her version is a bit more elaborate insofar as it involves straining the yoghurt through a cloth for a few hours to make it a bit thicker before you mix it with the herbs and other seasonings. You can do that if you want.
In case you're curious, the rest of her menu consists of roast tomatoes, fennel and chickpeas with preserved lemons and honey, and, for pudding, cherries in wine, with cardamom cream and rose pistachio shortbread. Yum!
Beetroots & Carrots with Cumin and Yoghurt
serves 4-6 as a starter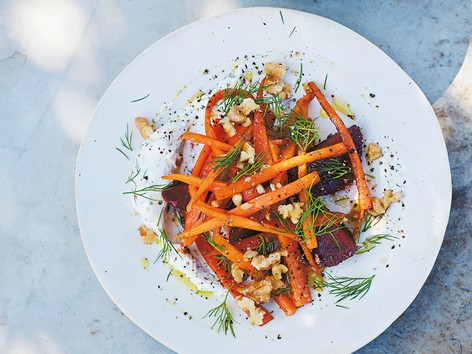 Ingredients
400g plain (full-fat) yoghurt
4 tablespoons olive oil
15g dill or coriander, roughly chopped
2 garlic gloves, peeled and crushed to a paste with a little salt in a mortar and pestle (optional)
¼ teaspoon Aleppo pepper (or to taste)—or use part of a chopped Canalside chile pepper
800g carrots
600g cooked beetroot
2 teaspoons cumin seeds
½ tablespoon white balsamic vinegar
½ lemon
25g walnuts, lightly toasted (optional)
Preparation
Mix the yoghurt with 2 tablespoons olive oil (i.e. not all of it!), most of the chopped herbs (keep a little back for a garnish), the crushed garlic and pepper. Swirl the yoghurt over the bottom of a serving plate and set aside.
Peel the carrots and cut them into thin matchsticks. Peel the beetroot and cut into slim wedges.
Heat 1 more tablespoon of olive oil in a large frying pan over medium heat. When it's hot add 1 teaspoon of cumin seeds (i.e. not all of them!) and sizzle for about 30 seconds, then add the carrots. Stir-fry for about 1-2 minutes, or until they lose their rawness but still have some crispness to contrast with the soft beetroot. Add the white balsamic vinegar and a generous squeeze of lemon juice and season to taste with salt and pepper. Transfer to a bowl and return the pan to the heat.
Add the final tablespoon of olive oil and heat up as before. Add the remaining cumin seeds and again let sizzle before adding the beetroot. Cook for about 30 seconds, until they are heated through but not hot. Squeeze some more lemon juice over the top and season to taste with salt and pepper.
Array the beetroots over the yoghurt and then spoon on the carrots. Sprinkle the remaining herbs over the top and garnish with the walnuts (if you're using them). Decorate with a final drizzle of olive oil and serve.
Recipe adapted from Diana Henry, How to Eat A Peach (2018).