December 8, 2022 by General Administrator
According to Kay Chun, this is inspired by chirashi, Japanese rice and raw fish bowls. Her
version features lightly cooked (rather than raw) fish, but if that is not your thing you can
cook the fish for as long as you like. The dish is built around the vinegary sweet-salty tang of
sushi rice, but instead of first cooking the rice and then mixing it with the sweetened vinegar,
here the rice is simply cooked in vinegar-seasoned water, which is much simpler. The result is
a sticky, delicious sushi rice that makes an excellent base for the richness of the mackerel.
The dish is topped with a gingery, sesame-flavoured coleslaw, sliced avocado, and toasted
nori, the black seaweed that typically surrounds a sushi roll. Think of it as a simple,
deconstructed form of sushi: very tasty, plus you use only one pot.
Chun's recipe used salmon fillets (and a larger quantity), cut into cubes, so feel free to play
around with the fish. I'd stick to an oily variety, though: you want that richness to contrast
with the sharpness of the sushi rice. Nice with a wheat beer.
Mackerel Sushi Bowls
Serves 4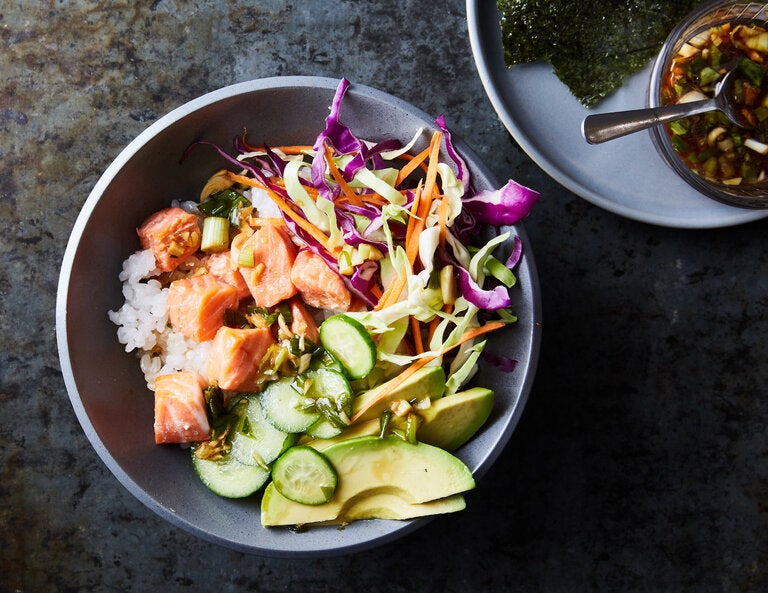 Ingredients
4 tablespoons + 3 tablespoons rice vinegar
3 tablespoons sugar
1 teaspoon salt
340ml sushi rice (measured in a jug), rinsed in a sieve under running water until the water
runs clear
500g (or up to 680g if you're really hungry) skinless mackerel fillets, cut into 2cm-wide
strips
1 teaspoon toasted sesame oil, divided into two portions of ½ teaspoon each.
800g green and/or red cabbage and carrots (combined weight)
6 tablespoons soya sauce
3 tablespoons neutral vegetable oil
3 tablespoons coarsely chopped spring onions (white and light green parts)
3 tablespoons minced fresh ginger
Big handful of fresh coriander, coarsely chopped
1 cucumber, thinly sliced
1 avocado, halved, pitted and thinly sliced
Several toasted nori sheets, torn into bits, for garnish
Method
In a large saucepan, combine 4 tablespoons rice vinegar, sugar and salt; stir to dissolve the
sugar. Add the rice and 400ml water, and mix well. Bring to a boil over high heat, then cover and reduce heat to low. Cook until rice is tender and most of the liquid is absorbed, about 20 minutes.
While the rice is cooking, toss the fish with ¼ teaspoon sesame oil in a small bowl, and set
aside. Shred the cabbage. Peel the carrot and grate coarsely.
Combine the soya sauce, remaining 3 tablespoons of vinegar, oil, spring onions, ginger and
the remaining ¼ teaspoon of sesame oil in a large bowl. Mix well and then add the shredded
cabbage. Using your hands, scrunch up the cabbage as hard as you can, so that it softens a bit
and begins to absorb the dressing. Toss in the carrots and coriander and set aside.
Once rice is tender (after about 20 minutes), arrange the mackerel on top of the rice in an
even layer. Cover and cook over low heat until fish is just barely cooked, about 5 minutes
longer.
Now serve: scoop the rice and fish into individual bowls. Decorate each with some of the
cabbage-carrot-coriander salad, some sliced cucumber, and some sliced avocado. Top with
the toasted nori and enjoy.
Recipe adapted from Kay Chun, New York Times Cooking