November 24, 2022 by General Administrator
This recipe by Yasmin Fahr in the New York Times yields impressive flavour and a surprisingly creamy texture. As Fahr observes, it 'hits all the right notes: sweet, salty and savory'. The lime juice and zest contrasts with the richness of the buttery squash or pumpkin, and the combination of miso, butter an cheese is magical. In fact, if you like this, and you will, then definitely try the NYT's 'five ingredient creamy pasta' (https://cooking.nytimes.com/recipes/1020979-five-ingredient-creamy-miso-pasta).
Serve with a green salad. This is a great use of that Hallowe'en pumpkin, if that happens to be still hanging around.
Miso-Butter Pasta With Squash
Serves 4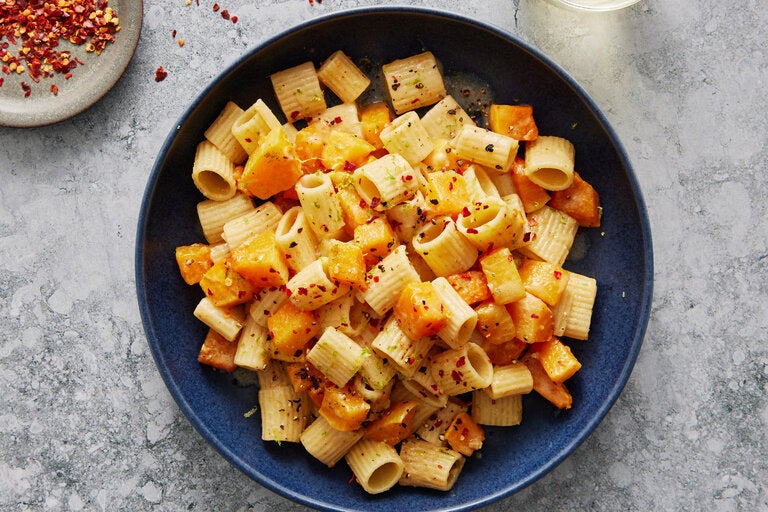 Ingredients
2 tablespoons unsalted butter, at room temperature
2 teaspoons white miso
3 to 5 large garlic cloves, crushed to a paste in a mortar and pestle with a little salt
1 tablespoon olive oil
Several grinds of black pepper
1 kilo squash or pumpkin, peeled and cut into 1cm cubes
500g rigatoni or other short pasta
50g grated Parmesan, plus more for serving
1-2 limes, zested and juiced, to yield 2 teaspoons zest and 2 tablespoons juice
Pinch of red-pepper flakes (optional)
Method
Heat the oven to 230C. Combine the softened butter, miso, crushed garlic and olive oil in a small bowl. Grind in some pepper. Dump the cubed squash or pumpkin onto a sheet pan and, using your hands, coat it in the miso-garlic butter. Spread it out evenly on the sheet pan, so the pieces are not all piled up on top of each other. Roast in the oven for 20-30 minutes, or until easily pierced by a fork.
When the squash or pumpkin has been roasting for about 10 minutes, bring a large pot of salted water to a boil. Add the pasta, adjusting the heat to maintain a gentle boil, and cook until just shy of al dente. Use a mug to remove about 250ml of the cooking water, and set aside. Now drain the rest of the water off the pasta.
When the squash or pumpkin is done, return the pasta to the pot over low heat. Scrape in the squash or pumpkin and any remaining miso butter, then add the Parmesan and about 100ml of the pasta water, stirring well until the noodles have a light sheen to them. If it appears dry, add more pasta water a little at a time until you reach your desired consistency. Stir in the lime zest and juice, season to taste with salt, pepper and the red-pepper flakes, if using. Serve with extra cheese.
Recipe by adapted from New York Times Cooking