January 27, 2022 by General Administrator
Yotam Ottolenghi recommends serving this root vegetable mash with either roast chicken or his very tasty wine-braised shallots (link: https://www.theguardian.com/lifeandstyle/2009/nov/28/root-mash-braised-shallots-recipe-ottoleghi). I've cut down the butter a bit as it seemed plenty rich with 35g of butter, but feel free to add the full 70g if you'd like. I don't think the ratio between the vegetables needs to be observed religiously.
Ottolenghi Root Mash
serves 4-6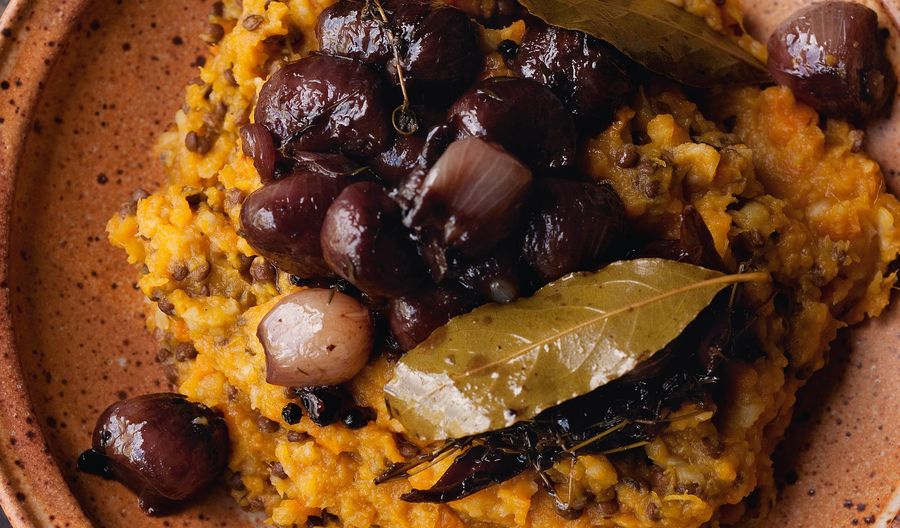 Ingredients
80g Puy lentils
300g celeriac, peeled and cut into chunks
300g carrots, peeled and cut into chunks
300g squash, peeled and cut into chunks
600g sweet potato, peeled and cut into chunks
35g butter
1 tablespoon maple syrup
1½ teaspoons ground cumin
1 teaspoon salt
black pepper (to taste)
Preparation
Bring a pan of water to the boil and add the lentils. Reduce the heat and simmer for about 25 minutes, or until tender. Drain and set aside.
Bring a large pan of water to the boil and add the celeriac and carrots. Cook for 10 minutes. Add the squash and sweet potato and cook for a further 10-15 minutes, or until everything is tender. Drain, shaking off as much liquid as possible.
Return the vegetables to the pan and mash well with a potato masher. Add the butter, maple syrup, cumin, salt, and black pepper and mash a bit more. Add the lentils, and taste to see if you would like more salt or pepper.
Recipe adapted from Yotam Ottolenghi, Plenty More (2014).