January 14, 2021 by General Administrator
Here we have a warm, sustaining main-course salad made bright with greens and the bite of mustard. It's a good use of that parsnip that's still in your fridge. You can make a meal of this, along with some good bread and a glass of red wine.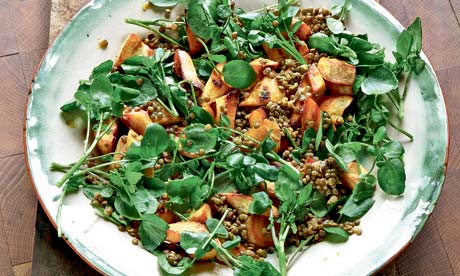 Roast Parsnip, Watercress and Lentil Salad
Serves 3
Ingredients
Salad
5 medium parsnips
2 tablespoons oil
salt and pepper
125g Puy or green lentils
2 bay leaves
1 medium onion, unpeeled
several parsley stems (optional)
several big handfuls of watercress or rocket
any hard cheese, to shave over the top
Salad dressing
1 clove garlic
½ teaspoon salt
1 teaspoon English mustard
2 teaspoons runny honey
1 tablespoon lemon juice
4 tablespoons rapeseed oil
Preparation
Preheat your oven to 190C.
Peel the parsnips and cut them into chunky batons. Toss them with the oil and a sprinkling of salt and pepper. Tip them onto a baking tray and roast for 30-40 minutes, or until they are tender and a bit golden. The time will depend on how large they are. You can poke them with a fork to see if they are soft inside. Remove from the oven and leave them to one side.
Meanwhile, prepare the lentils: cover them with boiling water and bring back to a boil. Boil for one minute, and then drain.
Return the drained lentils to the pan and add just enough water to cover them. Add the bay leaves, onion and parsley stalks (if you have any to hand). Bring to the boil, reduce to a simmer, and simmer for about 30 minutes, or until al dente. Drain and remove the bay leaves and parsley. It's up to you either to remove the onion or to leave it in the finished salad.
While the lentils cook and the parsnips roast prepare the salad dressing. Mash the garlic with the salt in a mortar and pestle to make a smooth paste. Whisk in the other ingredients.
When the parsnips and lentils are finished, toss them, still warm, with the dressing and add the watercress or rocket. Pile onto a serving platter and shave some hard cheese over the top before serving.
Recipe adapted from Hugh Fearnley-Whittingstall, River Cottage Veg Every Day! (2011) – online at rivercottage.net