April 1, 2021 by General Administrator
Since spring greens and spring onions are in the share next week I've been trying to find light and fresh recipes to celebrate the light evenings and good weather. This one looks like it could take some effort with all the rolling and re-rolling but hopefully you'll be rewarded with some nice crisp layers!
Scallion pancakes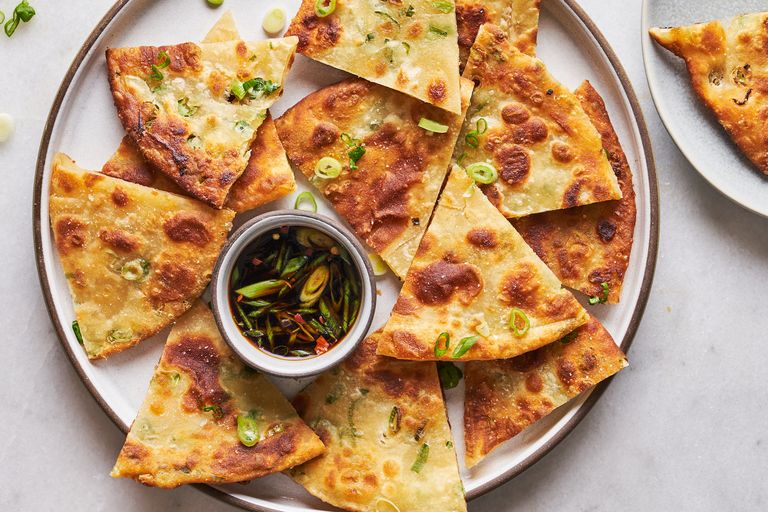 Ingredients:
FOR PANCAKES:
250 g plain flour
240 ml boiling water
60 ml plus 2 tbsp. vegetable oil
2 tbsp. sesame oil
100 g thinly sliced spring onions, from about 4 whole spring onions
FOR DIPPING SAUCE:
2 tbsp. rice wine vinegar
2 tbsp. soy sauce
1 spring onion, thinly sliced
Pinch crushed chilli flakes (optional)
Method:
Combine flour and boiling water in a large bowl and stir to combine until a mass of dough forms. Transfer dough to a lightly floured surface and knead until smooth, slightly tacky ball forms, 3 to 4 minutes.
Transfer dough ball to a medium bowl and cover with a kitchen towel or cling film. Let rest 30 minutes at room temperature, or up to overnight in the fridge.
Meanwhile, mix 2 tablespoons vegetable oil and sesame oil in a small bowl.
Make dipping sauce: in a small bowl, stir together vinegar, soy sauce, spring onions, and chilli flakes.
Separate dough into four equally-sized balls. Return 3 to bowl and recover with kitchen towel or cling film. Roll remaining ball into an 8" disk, and brush with a thin layer of the oil mixture. Roll tightly, then twist into a tight spiral, tucking the outer end underneath the roll. Using the palm of your hand, flatten the spiral, then roll out again into an 8" disk. Brush the top with another thin layer of oil, and scatter with 1/4 sliced spring onions. Roll up disk again, then re-roll into spiral. Re-roll into an 8" disk, then repeat with remaining dough balls.
Add ¼ vegetable oil to an 8" pan over medium-high heat until shimmering and gently add first pancake. Cook, undisturbed, until golden on one side. Flip and cook until golden on underside, about 2 to 3 minutes per side. Remove to paper-towel lined plate and season immediately with salt. Repeat with the remaining pancakes, adding more oil if necessary.
Cut pancakes into triangles and serve with dipping sauce.
From delish.com