March 18, 2021 by General Administrator
The swede crop this year is doing very well, and if you're running out of ways to use up this ubiquitous winter root, try this unusual recipe idea. The friend who suggested the recipe to me gave it the thumbs up, as did her 2 children, and with the use of 'flax eggs' it's possible to make it vegan / egg and dairy allergy friendly – a must in that family. You should have enough swede from any size of share to make this cake.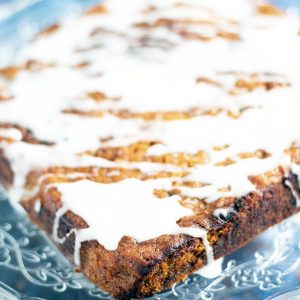 Ginger swede cake
PREP TIME: 15 mins
COOK TIME: 40 mins
TOTAL TIME: 55 mins
INGREDIENTS
2 large eggs or two flax eggs – see notes below
100 g dark brown sugar
120 ml maple syrup or agave syrup
150 ml sunflower oil
2 pieces stem ginger finely chopped
2 tablespoons syrup from the stem ginger jar
175 g plain flour
2 teaspoons baking powder
2 teaspoons ground ginger
200 g grated swede
To ice (optional)
100 g icing sugar
1-2 tablespoons cold water
INSTRUCTIONS
Pre-heat the oven to 180°C(fan)/200°C/gas mark 6. Grease and line with baking paper a 20cm/8inch square cake tin.
Beat together the 2 eggs (or flax eggs), 100g brown sugar, 120ml syrup, 150ml sunflower oil, the chopped stem ginger and 2 tablespoons of ginger syrup in a large mixing bowl.
In a separate bowl sift together 175g plain flour, 2 teaspoons baking powder and 2 teaspoons ground ginger. Fold the dry ingredients into the wet ingredients until combined and finally mix in 200g grated swede.
Bake in the oven for 35-40 minutes until golden brown and a skewer inserted in the centre comes out clean. Leave to cool completely in the tin before turning out.
To ice (optional)
Mix together 100g sifted icing sugar with a tablespoon of cold water. Add the remaining water gradually, mixing it in as you go so it doesn't get too runny. If you put in too much water simply sift in a little more icing sugar.
Drizzle over the cake and leave to set.
NOTES
To make 2 flax eggs mix together 2 tablespoons of ground flax seeds (also known as linseeds) with 6 tablespoons of cold water. Leave for a few minutes until you have a thick paste and then use in place of eggs in this recipe. You can also use chia seeds.
From Sneaky Veg