February 18, 2022 by General Administrator
This makes a very good Friday night dinner. The pumpkin (or squash) soup is silky and rich, despite its simple ingredients, and the multiple toppings add complexity and, in the case of the pumpkin seeds, crunch. The rice provides a backdrop for the ginger-spiked soup and rosemary butter. You will leave the table feeling well-fed and comfortable in your tummy.
Pumpkin and Rice Soup, Serves 2-3 as a main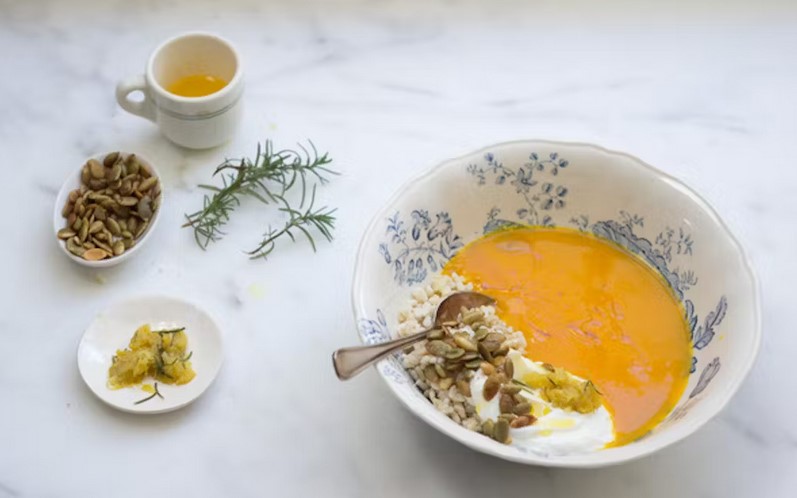 Ingredients
For the Soup
1 tablespoon butter
1 large onion, peeled and chopped
½ dried chile, chopped and de-seeded if you prefer
1 teaspoon salt
1kg squash or pumpkin
1.2 litres of water
2 teaspoons grated fresh ginger, or a bit more, to taste
To Serve
cooked brown rice, warm
plain yoghurt
toasted pumpkin seeds
lemon-ginger-rosemary butter (see below)
Method
In a large pot melt the butter over medium-high heat. Add the onion, chile and salt. Turn the heat to low and cook for 5-7 minutes or until the onion is softened.
Meanwhile, prepare the squash or pumpkin. Peel it, remove any seeds and cut it into 2cm chunks. You need about 700g once it's been peeled and de-seeded.
When the onion is soft add the squash or pumpkin and water. Bring to a simmer and cook gently until the squash or pumpkin is soft. This will take between 15 and 25 minutes, depending on the squash or pumpkin.
Remove from the heat and add the ginger. Use a stick blender to puree until it is smooth. Add a bit more water if it seems too thick for your taste.
To serve, put a big scoop of rice in each soup bowl and top with the soup. Decorate with some yoghurt, toasted pumpkin seeds and lemon-ginger-rosemary butter.
Lemon-Ginger-Rosemary Butter
Ingredients
50g butter
rosemary leaves from a 10cm sprig, chopped
zest of 1 lemon
1 teaspoon grated fresh ginger
pinch of salt
Method
Melt the butter in a small pan over medium heat, until the butter starts to brown. Keep an eye on it so it does not burn.
Remove from the heat and stir in the other ingredients. Let sit for at least 5 minutes, to let the flavours meld.
Recipe adapted from 101 Cookbooks