March 23, 2023 by General Administrator
Here is a relaxing weekend baking project to use that uneaten chunk of squash you got in the
last share. The recipe does not demand a lot of your attention but it does take quite a bit of
time, since you need to roast the squash, the dough needs to rise and rest in the fridge. The
result is a soft, golden brioche-like bread with a moist crumb. It's very good with unsalted
butter.
Since the dough is quite sticky it's best to make this recipe using a stand mixer. In fact, Milk
Street (whose recipe this is) states that 'it would be difficult to make this dough by hand', so I
didn't even attempt to do so.
Kürbisbrot
Makes 1 loaf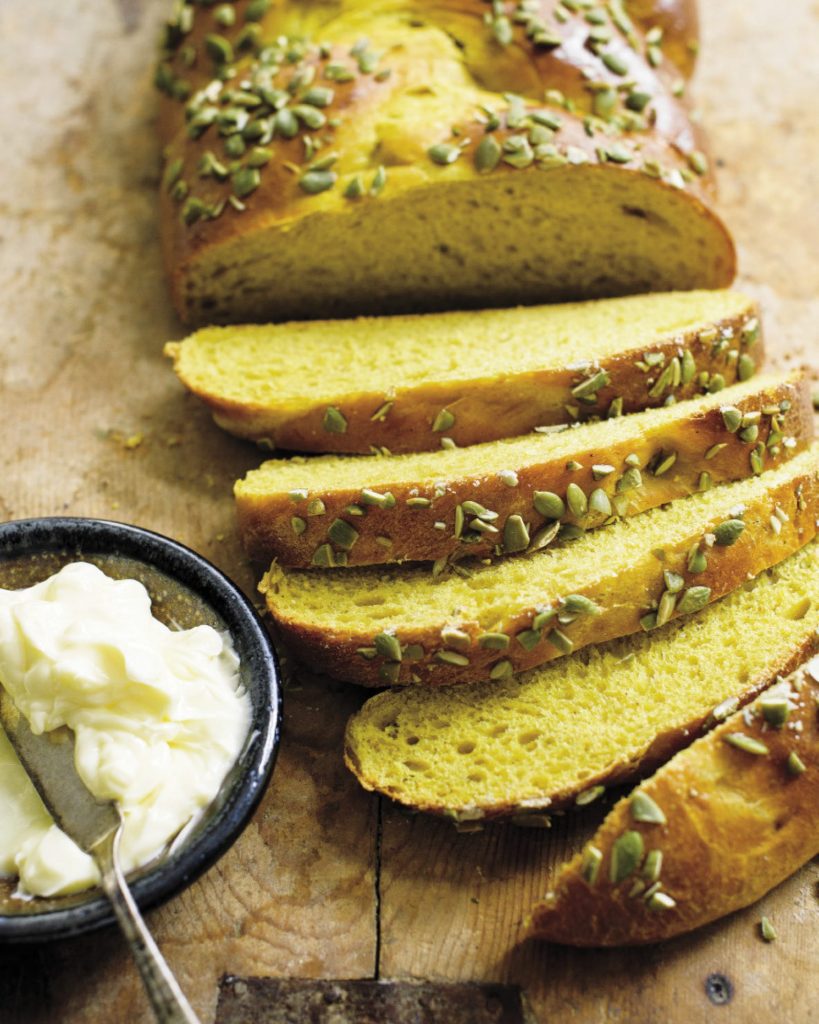 Ingredients
700g-1kg winter squash or pumpkin, chopped into wedges
4 tablespoons milk (I used Oatly barista), plus a little more to brush over the loaf before
baking
2 tablespoons runny honey
2 large eggs
400g plain flour, plus possibly a little more
1 teaspoon easy-blend yeast
1 teaspoon allspice
1 teaspoon salt
4 tablespoons butter, softened
3 tablespoons pumpkin seeds, coarsely chopped
Method
Heat the oven to 200C. Place the squash or pumpkin on a baking sheet and bake for 30 to 40
minutes or until it is soft and tender. Remove from the oven and set aside to cool.
Once the squash is cool enough to handle, cut off the rind (or just scoop out the flesh with a
spoon). Measure out 230 grams of the soft, cooked flesh for use in this recipe. You can use
the rest to make pumpkin muffins, or you can freeze it, or do with it what you will.
Put your 230 grams of squash/pumpkin into a medium bowl and add the milk, honey, and
eggs. Whizz it up with a hand blender, or mash it carefully, until it is smooth. Set aside.
In a stand mixer fitted with the dough hook, combine 400g of flour with the yeast, allspice
and salt. Mix on low for about 20 seconds to blend, and then add the squash/pumpkin
mixture. Scrape down the sides and continue to mix for about two more minutes, or until a
wet, somewhat lumpy dough begins to form. Increase the speed to medium and knead for 6
minutes or so, or until the dough begins to pull away from the sides of the bowl. If it
continues to stick to the bowl you can add a few tablespoons more flour and knead for about
two more minutes.
Add the butter, one tablespoon at a time, mixing thoroughly after each addition. After all the  butter has been added, knead for another eight to nine minutes. The dough should be smooth  and elastic, and pull away from the sides of the bowl. When you lift the dough hook, the  dough should fall from the hook in a single mass. If it breaks into pieces, continue to knead  for another few minutes until it does. 
Scrape the dough into an oiled mixing bowl and put it somewhere warm to rise. Let it rise  until double (about an hour), and then put it in the fridge. Leave it there for at least four  hours, or overnight. 
After this time has elapsed, take the dough out of the fridge and tip it onto a work surface.  Divide it into three equally-sized portions. Roll each into a 45cm-long rope. Plait the three  ropes together, pinching the ropes together at each end. Gently tuck each end under the  plaited loaf, so that it looks attractive.  Place it on an oiled baking sheet. 
Cover the loaf with a tea-towel and put it somewhere warm to rise. When it has doubled in  size, and the top springs back gently when you press it with a finger-tip, it is ready to bake. 
Heat the oven to 180C. Very gently, brush the loaf with a little milk and sprinkle with the  pumpkin seeds.  Bake for 25 to 35 minutes, until it is golden brown. The inside temperature  should be about 88C, if you happen to have a bread thermometer. Remove from the oven and  cool on a rack for at least an hour before slicing. 
Recipe adapted from Milk Street (https://www.177milkstreet.com/recipes/german-style-winter-squash-bread), 2022.