July 23, 2020 by General Administrator
Text and photo from: https://www.cuisinefiend.com/242/courgette-and-spinach-tian
What's a tian? In spite of sounding rather middle-Eastern or even oriental, it's a Provençal pan made of clay, enamelled in bright colours, which they use to cook vegetable gratins in. Or, indeed, tian, as it's also the name of the dish.
They sell tian pottery at the markets all over Provence and you can hardly pass by the stalls without stopping to admire the vivid colours, the glaze and the various shapes. If pottery wasn't fragile and rather heavy, I'd have a collection brought over from my French voyages… As it is I need to use boring mass-produced vessels to cook my tians et al in.
They come in all sorts, being basically roasted vegetables with cheese. Rice is a common ingredient, sometimes potatoes, and spinach is a veritable tian king. Eggs are frequently added but I skipped them here, aiming for a less quiche-y flavour. And make a note of the courgette treatment – that's how this boring vegetable needs to be handled. Squeeze the living daylights out of it and it might just be vaguely tasty.
Courgette and Spinach Tian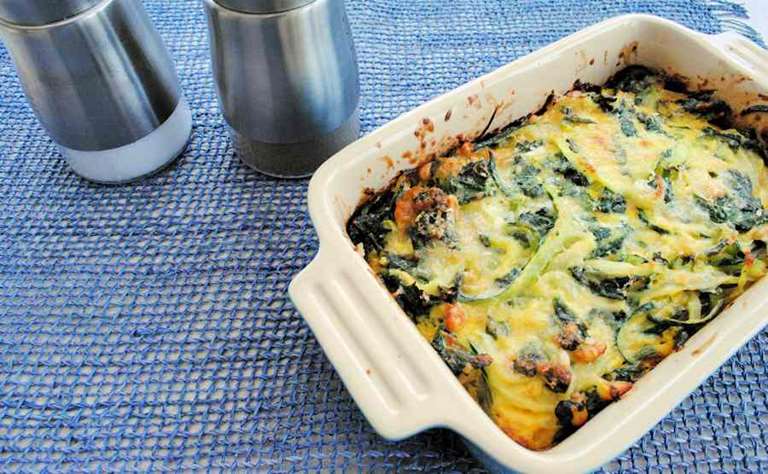 INGREDIENTS
1 large courgette
200g fresh or frozen spinach (thawed)
2 tsp sea salt
2 cloves of garlic, peeled and finely chopped
2 spring onions, chopped
a handful of pine nuts
60ml double cream
1 egg yolk
30g grated hard cheese, Gruyere or Cheddar
20g grated Parmesan
a little olive oil
METHOD
Wash, top and tail the courgette and cut it into ribbons or noodles on a mandolin or in a spiralizer. Sprinkle with salt, stir it around and place in a colander for at least 10 minutes. After that time rinse it with cold water, squeeze out as much moisture as you can without squashing the courgette, and pat dry with paper towels.
Rinse the spinach, if using fresh, and wilt it in a microwave or blanch briefly in boiling water. When cool, squeeze out the liquid and chop finely.
Mix the cream with the egg yolk and add the hard cheese. In a bowl mix the courgette with spinach, pine nuts, garlic and spring onions and most of the Parmesan. Pour over the cream mixture and stir through.
Preheat the oven to 220C/425F/gas 7.
Drizzle a little olive oil in the bottom of a tian or gratin dish, transfer the vegetables into it and sprinkle with the remaining Parmesan. Bake for 20 minutes until brown and bubbling. Best serve very warm, instead of piping hot.
From https://www.cuisinefiend.com/242/courgette-and-spinach-tian