September 16, 2021 by General Administrator
What are you going to do with all those cucumbers? This salad is a tasty way to enjoy them. It combines a touch of sweetness from the dried fruit with feta's salty kick, and the richness of toasted walnuts. Note the enormous quantity of sumac, which brings a bright, lemony note. We ate this for lunch along with some brown bread. It would probably also be good alongside a piece of grilled fish, or a little lamb chop.
Cucumber, Walnut, Feta and Dill
Serves 2 for lunch.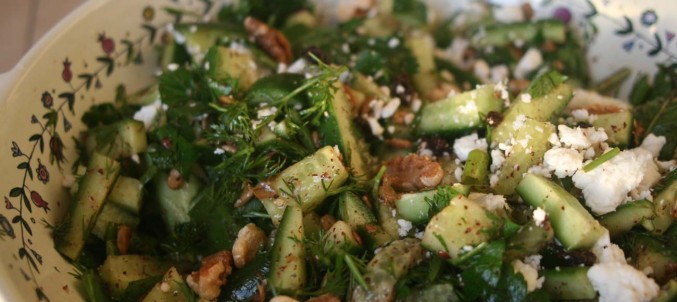 Ingredients
Salad
500g (or about 2) cucumbers, cut into matchsticks or spiralised
20g dill (or mixed dill and parsley), chopped
50g currants or golden raisins
100g feta, crumbled or cut into small cubes
60g walnut pieces, toasted and coarsely chopped
Dressing
2 tablespoon olive oil
zest of 1 lemon—zest it before you cut it in half to juice
1 tablespoon lemon juice
1 tablespoon sumac
½ teaspoon salt
several grinds of black pepper
Preparation
Gently toss the salad ingredients in a serving bowl.
Combine the dressing ingredients in a screw-top jar and shake vigorously. Pour over the salad and toss gently. Taste, add more salt or pepper to your liking, and serve.
Recipe adapted from Shaina Shealy, at Jewish Food Experience, 2021, https://jewishfoodexperience.com/recipes/cool-cucumber-salad-feta-walnuts/