July 3, 2020 by General Administrator
This is an ideal recipe when you have 4 or 5 cucumbers looking at you from the bottom of your veg drawer. Smashing the cucumbers, which is apparently a classic Chinese recipe technique, changes the texture by making them more absorbent so they really soak up the dressing. It's refreshing, easy, and makes an excellent accompaniment to an Asian-style noodle dish, such as this one for sesame noodles with smashed courgettes by Meera Sodha. (By the way, I served the noodle dish warm, which worked just fine.)
Chinese Smashed Cucumbers with Sesame Oil and Garlic
Serves 4 as a side dish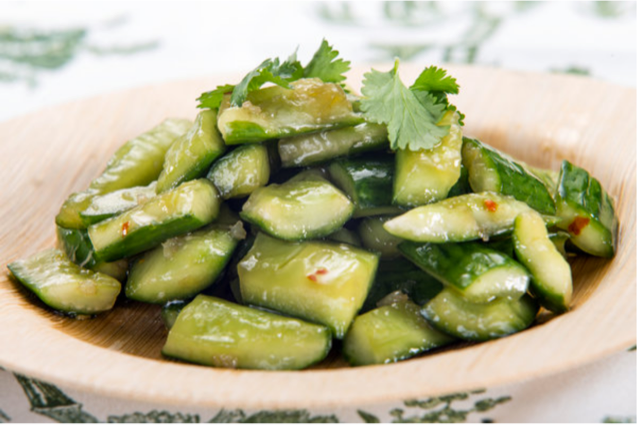 Ingredients
4 cucumbers
Salt
Sugar
1½ tablespoons rice vinegar
2 teaspoons sesame oil
2 teaspoons soya sauce
2 garlic cloves, grated
½ -1 Canalside chile, minced (to taste)
Small handful fresh coriander, chopped, for garnish
1 tablespoon toasted sesame seeds, for garnish
Preparation
Top and tail the cucumbers, and cut lengthwise into 4 long strips. Cut each strip into bite-sized pieces.
Using a rolling pin or (this is the less messy option) the side of a large knife, crush the cucumber pieces so that the skin begins to crack and the insides break down, releasing some of the seeds.
Place the crushed cucumber pieces in a colander and toss with a big pinch of salt and another of sugar. Fill a plastic bag with ice and place this on top of the cucumbers pieces, to weigh them down and at the same time chill them a bit. Leave for anywhere from 15 minutes to 4 hours.
Meanwhile, make the dressing: mix 1 teaspoon salt, 2 teaspoons sugar, and the rice vinegar. Stir until the salt and sugar have dissolved and then add the sesame oil and soya sauce.
When you are ready to serve, shake the cucumbers to drain off any remaining liquid and transfer to a beautiful flat plate. Toss with about half the dressing, and then add the garlic and as much chile as you like. Toss again, and then add more dressing to taste, until you're pleased with the ensemble. Serve, garnished with fresh coriander and toasted sesame seeds.
Recipe adapted from New York Times Recipes.