November 12, 2020 by General Administrator
The zingy, fried ginger topping gives this dal an invigorating freshness. Absolutely don't leave it out!
The ratio between the pumpkin and the carrots does not need to be precise and overall I used a good deal more pumpkin than the 200g called for in the original recipe. Plus I didn't have a Kashmiri red chilli so I used a dried Canalside chile and that worked just fine. Serve with flatbreads or rice.
Red lentil dal with carrots, pumpkin, and fried ginger
Serves 4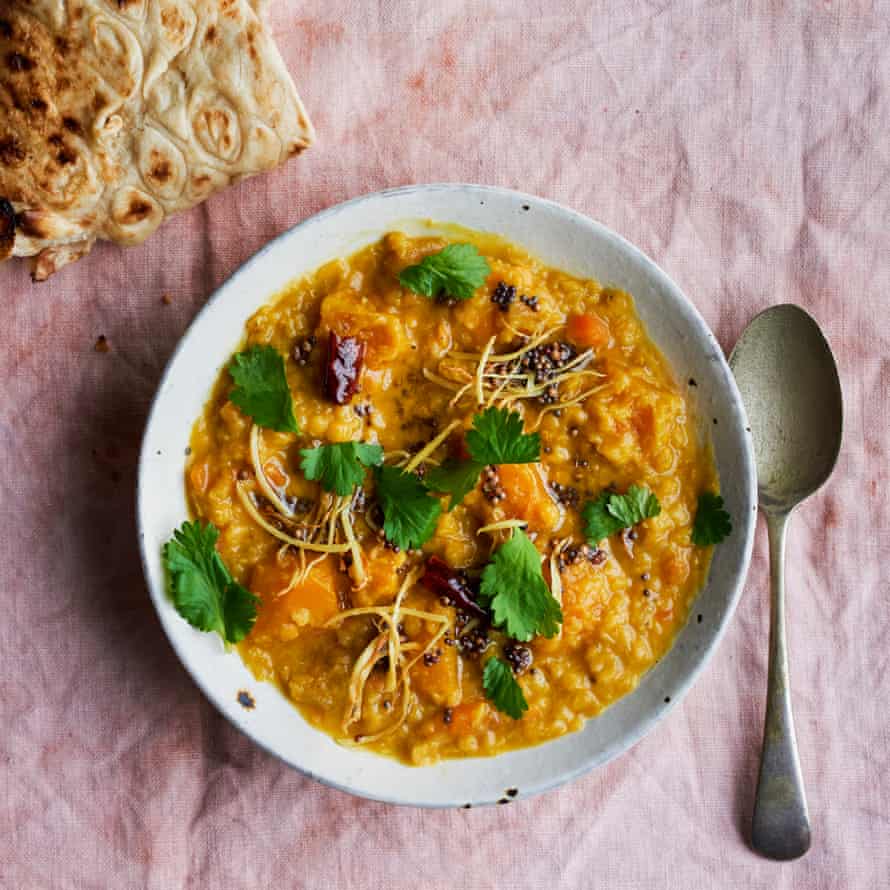 Ingredients
210g red lentils
3 tbsp coconut oil
150g onion, cut into half moons
100g carrots, finely diced
200-300g pumpkin, peeled and diced into 2cm pieces
½ tsp ground turmeric
½ teaspoon ground red chilli powder
1 teaspoon salt
2 tablespoon fresh lime or lemon juice
2 teaspoon coriander seeds, crushed
2 teaspoon black or brown mustard seeds
5cm piece fresh ginger, peeled and cut into matchsticks
1 Kashmiri red chilli
10g chopped fresh coriander leaves
Preparation
Clean the lentils for any debris, rinse under cold running water, then put in a bowl, cover with 500ml cold water and set aside.
Heat a tablespoon of the oil over medium-high heat in a medium saucepan. Add the onions, and saute until they turn translucent – three to four minutes. Add the carrots and pumpkin, and saute until tender – about eight minutes. Stir in the turmeric and red chilli powder, and cook for a further minute.
Add the lentils and their soaking water to the vegetables, stir in a teaspoon of salt and bring to a rolling boil over a medium-high heat. Reduce the heat to low, cover and leave to simmer until the vegetables are completely tender and cooked – about 20 minutes. Remove from the heat, stir in the lime juice, taste and season with salt as needed.
Heat the remaining coconut oil in a small saucepan over a medium heat. When the oil is hot, add the coriander and mustard seeds, and cook until the seeds start to pop. Add the ginger to the hot oil, cover the pan with a lid and swirl for 30 seconds, until the mustard seeds stop sputtering.
Break the Kashmiri chilli in half and toss it into the hot oil. Remove from the heat and swirl the contents of the saucepan for another 30 seconds, until the chilli turns crisp. Pour this hot mixture over the lentils. Garnish with the fresh coriander leaves and serve warm with buttered flatbread or plain rice.
Recipe adapted from Nik Sharma, Guardian 31 Oct. 2020.