January 3, 2019 by General Administrator
Since we're getting celeriac this week I thought I would share this recipe with you since I thought it was amazing last time we got it in the share (my first taste of celeriac in fact!) I guess the chard in the recipe can be replaced with the spinach this week too 🙂
Celeriac ribbons tossed with chard, garlic & pumpkin seeds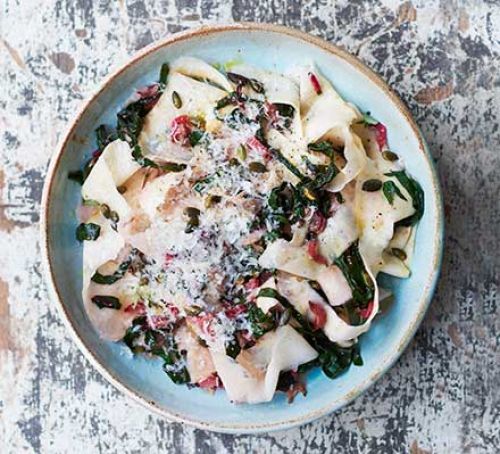 Ingredients
1 small celeriac, peeled
1 lemon, juiced
40g pumpkin seeds
2 tbsp extra virgin olive oil
15g butter
4 thyme sprigs, leaves removed
2 finely chopped cloves of garlic
½ tsp of dried chilli flakes
1 bunch of chard, leaves separated from stalks, stalks sliced and leaves shredded
20g pecorino
Method
Using a good vegetable peeler, cut long, wide strips (about the width of pappardelle) around the circumference of the celeriac, into a bowl of water and lemon juice, until you have lots of ribbons. Allow for more than you would if using pasta.
Dry-fry the pumpkin seeds in a pan until they've puffed and popped. Set aside.
Bring a large pan of salted water to the boil. Add the celeriac for 1 min, drain and reserve the water. In a non-stick frying pan, heat the oil and butter until the butter has melted and foamed up. Add the thyme, garlic and chilli.
Cook the garlic mixture for 5 mins until fragrant and almost golden, add the chard stalks and stir, cooking for a couple more mins. Add the pumpkin seeds and the chard leaves, season and squeeze in some lemon juice. Turn up the heat and stir in half the grated cheese. Add the celeriac and a slosh of the cooking water and toss, shaking the pan until the sauce looks glossy. Divide between plates, top with more cheese and serve.
Recipe from Good Food magazine, October 2017 and available online at: https://www.bbcgoodfood.com/recipes/celeriac-ribbon-pasta-tossed-chard-garlic-pumpkin-seeds