January 10, 2019 by General Administrator
My friend Sharon gave me a copy of Diana Henry's beautiful new cookbook. It consists of a series of menus. This magnificent recipe is from the menu called 'Midnight at the Oasis'. She recommends serving it alongside some pickled vegetables with other nibbles, semolina bread with orange and aniseed, olive oil braised leeks with harissa and dill, roast sprouting broccoli with chile, feta and preserved lemon yoghurt . . . well, I'll stop there but it's a pretty mesmerising list of dishes, no?

This particular dish combines the buttery crunch of barley with the melting texture of roast pumpkin, all topped with very spicy red shatta. (I'd not heard of it either, but it's apparently a first cousin of zhug.) It turns out to be a thick, chile-hot blend of fresh green herbs with tomato and cumin. It's very good.

I have no idea where you get black barley, so I used ordinary pearl (not instant) barley, and it was delicious.
Pumpkin with shatta and black barley
Serves 4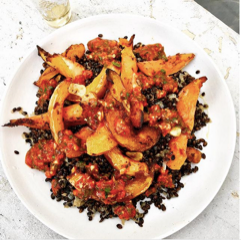 Ingredients
For the pumpkin
3 tablespoons olive oil
10g butter
1.5kg pumpkin
1 teaspoon fennel seeds, roughly crushed in a mortar
3cm ginger, peeled and grated
3 garlic cloves, finely sliced
For the barley
10g butter
1 tablespoon olive oil
4 small onions or shallots
250g barley
5 tablespoons dry white vermouth
700ml water or stock
2 bay leaves
Salt and pepper, to taste
For the shatta
5 red chiles, 4 de-seeded and all roughly chopped
3 garlic cloves, roughly chopped
50ml olive oil
50ml water
50g tomato purée
1 teaspoon ground cumin
Juice of ½ a small lemon
30g coriander and parsley in any proportion
Preparation
To make the pumpkin, preheat the oven to 190C. Put the olive oil and butter into a roasting pan large enough to allow the pumpkin to lie in a single layer, and melt in the oven while you prepare the pumpkin. Halve the pumpkin and remove the seeds. You can peel it or not as you prefer. Cut it into slices about 3cm thick.

Toss the pumpkin in the melted butter and oil, and roast for 20 minutes.
Add the fennel, ginger and garlic, toss, and roast for another 20 minutes or so, or until the pumpkin is tender and begins to caramelise on the edges. Set aside.

To make the barley, heat the butter and olive oil in a large saucepan and sauté the onions (or shallots) until they are soft but not coloured. Add the barley and stir it about for about 2 minutes so that it gets coated with butter. Add the vermouth and cook until about half of it has evaporated. Add the water or stock, bay leaves, and season with a bit of salt and pepper. Bring to a boil, and then reduce to a simmer. Cook, with the lid on, for about 40 minutes, or until the barley is al dente. The liquid should be absorbed but check a bit beforehand and if it's still very liquidly, take off the cover and raise the heat a bit so that some of the liquid can evaporate.

To make the shatta, purée everything except the herbs in a blender and pulse into a chunky purée. Add the herbs and pulse it again so that you have a red purée flecked with green—don't over-blend this. Set aside

To serve, arrange the barley on a big platter and set the pumpkin on top. Spoon some of the shatta over the top, and serve the rest on the side, in a little bowl.
From Diana Henry, How To Eat A Peach (2018).