November 14, 2019 by General Administrator
Much as I'm excited to get back to my favourite celeriac recipe (Celeriac Pasta Ribbons Weekly update Jan 3 2019), I'm in desperate need of replenishing my lunch stores at the moment and nothing is better than a good autumnal soup. This should use a few different items from this weeks share, so enjoy!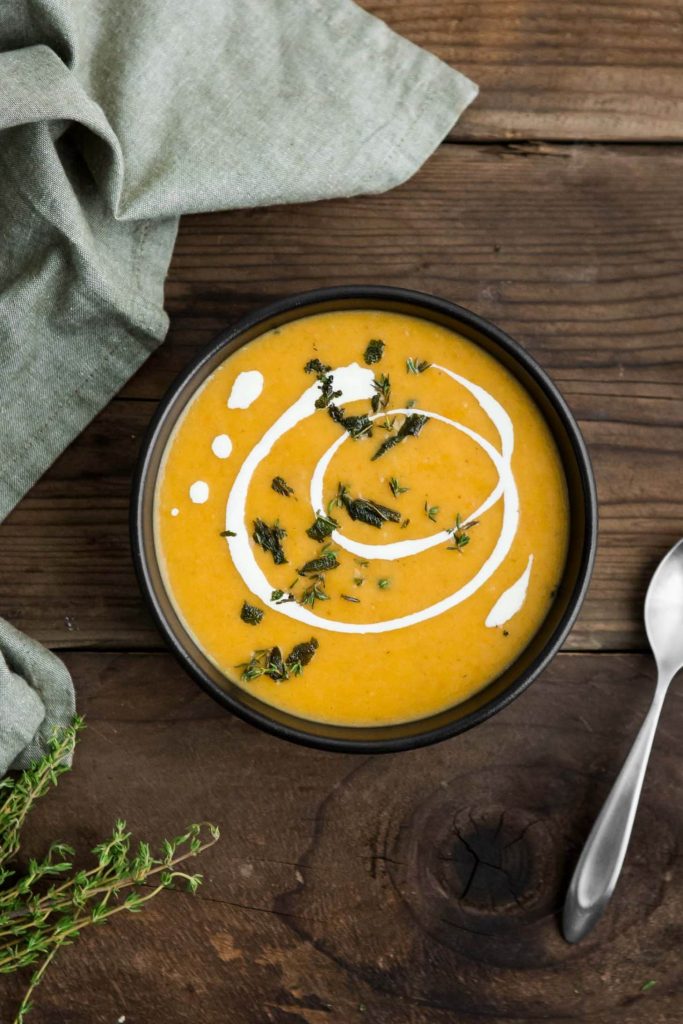 Celeriac soup with thyme
Prep Time: 15 minutes
Cook Time: 45 minutes
Total Time: 60 minutes
Yield: 2 large servings
Ingredients:
1 medium celeriac
2 carrots
2 medium potatoes
1 medium shallot (or onion if not)
2 cloves large garlic
4 tablespoons olive oil
1/4 teaspoon salt
0.75 to 1L veg stock
5 sprigs thyme
10 fresh sage leaves (I'll probably use dried sage to save a trip to the shops)
1 to 2 tablespoons heavy cream (optional)
Preparation:
Preheat oven to 220° C (might need turning down!)
Cut off skin and roots of celeriac. Dice celeriac, carrots, and potatoes into 1cm cubes. Place on a baking sheet or in roasting pan. Roughly mince shallot and garlic. Add to dice vegetables. Drizzle with 2 tbsn olive oil and sprinkle with salt. Toss until all the vegetables are well coated. Roast in the oven 35 to 40 minutes or until the vegetables are beginning to caramelize and brown.
While vegetables are roasting, heat 2 tablespoons olive oil over medium-high heat until hot. Fry sage, 3 to 4 leaves at a time until crisp. Remove from heat and set aside.
When vegetables are done roasting, transfer them into a blender. Add thyme leaves from 5 sprigs into blender with most of vegetable stock. Puree until smooth. Add more vegetable stock to achieve the consistency you desire.
Transfer soup to a medium pot. Bring to boil over medium heat. Serve with crispy sage, extra thyme and a drizzle of heavy cream.
If you are using an immersion blender consider peeling the potatoes before roasting to achieve a smooth consistency in the soup.
The soup consistency is on the thicker side. After pureeing, add more stock if desired to get a thinner soup.
Taken from: https://naturallyella.com/celeriac-soup/