January 16, 2020 by General Administrator
Gochujang, Korean chile paste, is warm and flavourful without being mouth-numbing. It adds a richness and complexity to roasted carrots and cabbage. The proportions of the two vegetables is not terribly important, and you might even want a bit more of the gochujang-cumin-ginger mixture. You could serve this with almost anything, from roast chicken to a potato pancake. It's nice topped with yoghurt, too.
Roasted Carrot and Cabbage with Gochujang
Serves 2-4 as a side dish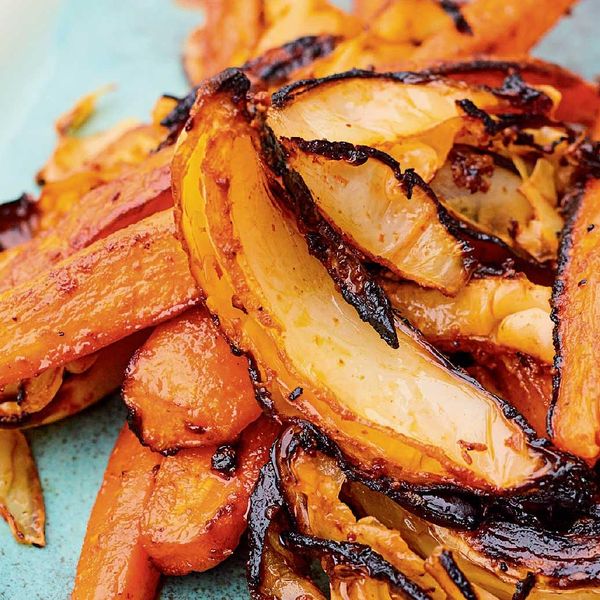 Ingredients
750g carrots, peeled
750g white cabbage
3 tablespoons rapeseed oil
1.5 tablespoons gochujang paste
1 teaspoon ground cumin
1 teaspoon salt
4 cloves garlic, peeled and grated
3cm fresh ginger, peeled and grated
2 tablespoons more rapeseed oil
1 tablespoon white vinegar (I used rice wine vinegar; the original recipe calls for white wine vinegar)
Preparation
Preheat the oven to 220C. You will need two large baking trays and Meera Sodha recommends lining them with foil.
Cut the carrots lengthwise in half or quarters (depending on the size) to make long batons. Cut the cabbage into 2cm wedges. Place them in a large mixing bowl, or directly onto your two baking trays.
In a small bowl, mix the 3 tablespoons oil, gochujang, cumin, salt, garlic, and ginger. Pour over the vegetables and mix with your hands so that the marinade gets everywhere.
Spread the vegetables across the two trays. Make sure the carrots and cabbage are in a single layer, then bake for 35 to 40 minutes, until the vegetables are tender and blackened at the edges.
Meanwhile, put 2 tablespoons of oil and the vinegar into a large serving bowl. When the carrots and cabbage are roasted, transfer them to the bowl while still hot and toss them in the oil and vinegar and serve.
Recipe adapted from Meera Sodha, East (2019).