January 23, 2020 by General Administrator
This week I'll keep it simple with one I've been saving up. My first winter at Canalside I felt almost overwhelmed by the number of potatoes I had to get through – there's only so much mash one man can eat! That all changed when I worked out how to make good oven chips from scratch. Serve with whatever you want but for me there always has to be mayonnaise involved when it comes to oven chips…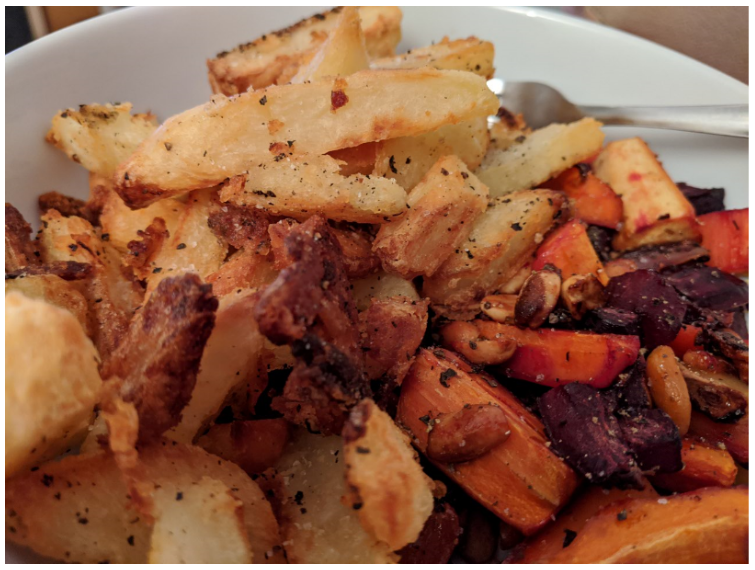 Ingredients:
Potato (2-3 medium size per person)
Salt, pepper, oil
Method:
Put oven on about 220degC, put baking tray in to heat up with plenty of oil. Clean potatoes and peel if desired. Put kettle on to boil. Cut into 1.5cm thick slices, then lay these out and cut into chips. Next, boil the chips for about 4 minutes in a pan (par-boiling).
Drain potatoes and then put a lid on the pan and give a really good shake – this is key to rough up surface and make some crispy chips!
Get tray out of oven, and liberally salt and pepper, put chips on tray and apply more salt pepper and oil on top. Bake for about 20 minutes or until they look good to eat.
Variations: Add herbs/spices such as rosemary, thyme, fennel seeds, paprika (or any combination of). Patatas bravas: Same recipe but cut to 2cm chunks, add plenty of paprika when baking and serve with a pureed tomato sauce.