April 29, 2021 by General Administrator
I've had this recipe on my list to try for a while but the stars have yet to align with me having everything I need in stock. One day!
Baked Pasta and Leeks with Anchovy Cream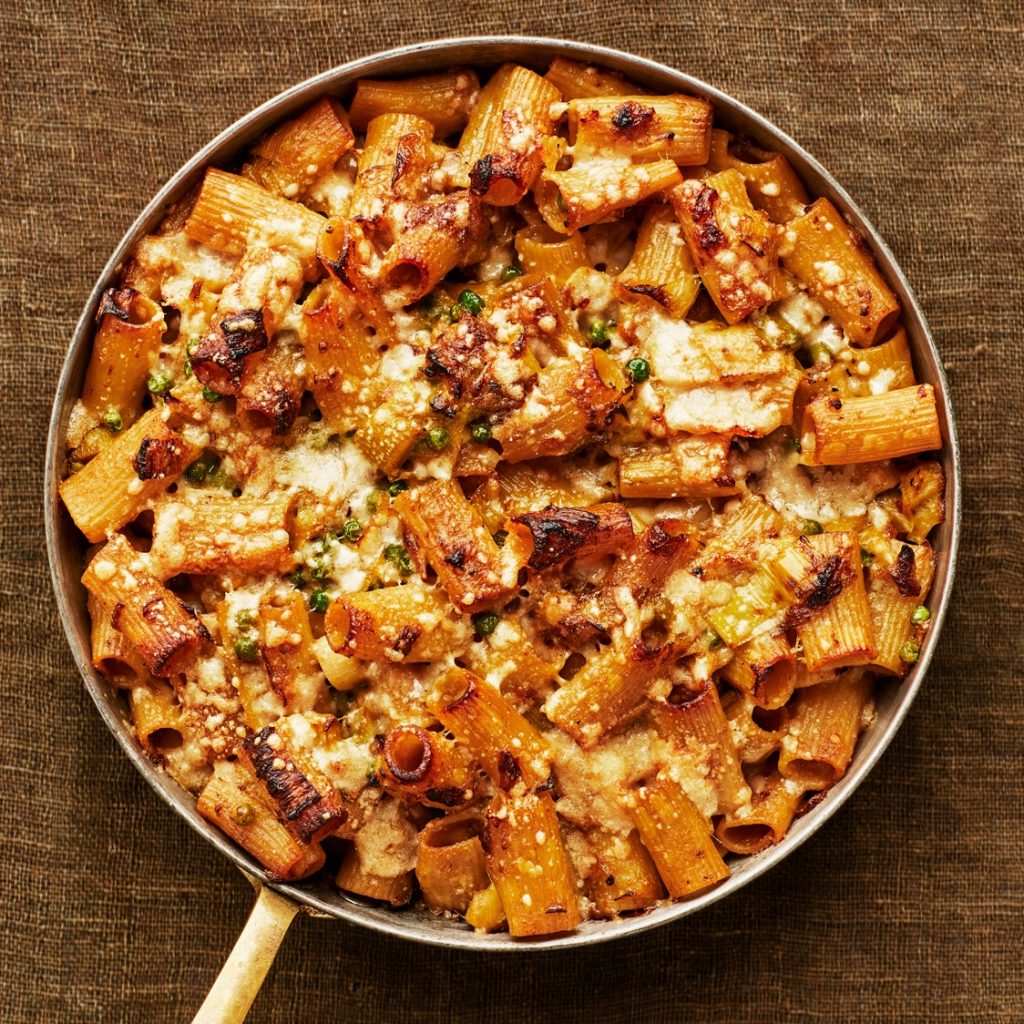 Ingredients (4-6 servings)
1lb. short pasta (such as rigatoni, penne, or conchiglie)
Kosher salt
¼ cup extra-virgin olive oil
3 large leeks (about 600g of), white and pale green parts only, trimmed, sliced ½" thick
15 oil-packed anchovies, drained (from a 1.5-oz. tin)
6 garlic cloves, thinly sliced
1 tsp. mild red pepper flakes or ½ tsp. crushed red pepper flakes
Freshly ground black pepper
2 cups double cream
3oz. Parmesan, finely grated, plus more for serving
10-oz. frozen baby peas, thawed in warm water, drained
Method
Preheat oven to 200°. Cook pasta in a large pot of boiling salted water, stirring occasionally, until very al dente, about 2 minutes less than package directions. Drain and set aside.
Meanwhile, heat oil in a large Dutch oven or large high-sided skillet over medium. Add leeks; season with a couple pinches of salt. Cover and cook, stirring occasionally, until tender and golden around the edges, 6–8 minutes. Uncover and add anchovies, garlic, red pepper flakes, and several grinds of black pepper. Cook, stirring occasionally, until anchovies are disintegrated and garlic is tender, about 5 minutes.
Add cream and 3 oz. Parmesan. Bring to a simmer; season with salt and black pepper (it should taste a bit salty because the pasta will absorb some seasoning as it bakes). Add peas and reserved pasta and toss gently to coat; top with more Parmesan. Transfer pasta to oven; bake until top is crisp and cream is bubbling around the edges, 25–30 minutes. Let cool slightly before serving.
From https://www.bonappetit.com/recipe/baked-pasta-and-leeks-with-anchovy-cream