May 24, 2019 by General Administrator
'These tasty savoury scones are best eaten warm with lashings of butter, or they can be served with prosciutto slices for a weekend brunch', states Jacque Malouf. They're also very good for dinner alongside an array of Canalside roasted vegetables.
Pumpkin, Cheese and Rosemary Scones
Makes about 8 scones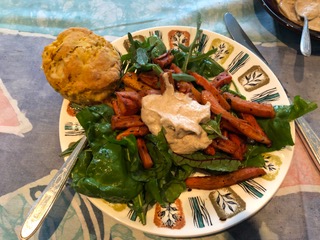 Ingredients
250g pumpkin or squash, peeled, de-seeded and cut into 2-inch chunks
1 tablespoon olive oil
Salt and pepper
250g self-raising flour
1 teaspoon bicarbonate of soda
½ teaspoon salt
60g cold butter, cut into small cubes
180ml buttermilk or yoghurt
1 tablespoon fresh rosemary leaves, finely chopped
100g sharp cheese (feta, cheddar, goat, as you prefer), cut into ½-inch cubes
Preparation
Preheat the oven to 200C. Place the squash or pumpkin on a baking tray and drizzle with olive oil, and then toss with salt and pepper. Roast for 30-50 minutes, or until the squash is tender and lightly caramelised. Set aside to cool. When cool, chop the squash into ¼-inch cubes.
Increase the oven temperature to 225C and butter a baking tray.
In a large mixing bowl combine the flour, bicarbonate of soda, ½ teaspoon salt, and a few grinds of black pepper. Rub in the butter until the mixture has an even consistency, like fine breadcrumbs.
Fold in the buttermilk, rosemary leaves, cheese, and cubed squash or pumpkin.
Knead gently in the bowl and then tip onto a floured board. Gently roll out to 1 inch thick. Cut into scones using a 2½-inch cutter.
Place the scones on the baking tray and bake for 12 minutes. Remove to a rack and eat warm or cold.
Recipe adapted from Jacqui Malouf, Breakfasts (2005).