August 13, 2020 by General Administrator
This week's recipe is from Matt. He says: 'This is really simple but very tasty way of cooking courgettes to their best'. It's based on a classic Italian pasta dish called caccio e pepe, in which the pasta is dressed with grated cheese and lots of black pepper. That combination turns out to work equally well on courgettes.
This dish is delicious served with sausages, or some grains tossed with pesto, which, incidentally, is a further good use of the bountiful crop of basil we're currently enjoying from Canalside.
Seared Courgettes with Black Pepper and Cheese
Serves 3-4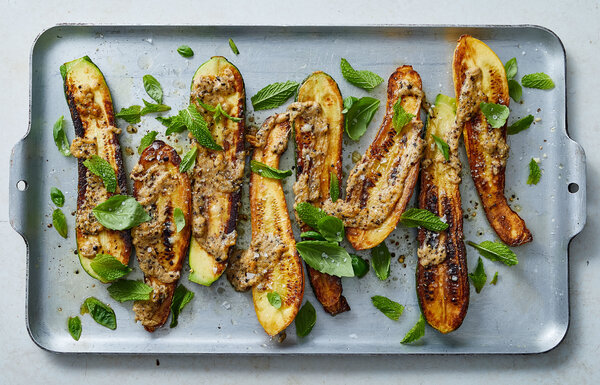 Ingredients
700g courgettes
3 tablespoons oil
Salt
2 teaspoons coarsely ground black pepper
4 tablespoons butter, cut into 4 pieces
50g hard cheese, grated
Handful of basil and/or mint leaves, torn into pieces
Preparation
Halve the courgettes lengthwise. If they are large, cut them into lengthwise quarters. Cut each length into 5-7cm sections. Sprinkle them with salt.
Heat the oil in a large, heavy frying pan for 2 minutes over medium-high heat. This will help you get a good sear on the courgettes. Once the oil shimmers, begin to sear the courgettes. You will need to do this in several batches so as not to crowd the pan—they need to be in a single layer. In batches, lay them cut side down in the hot oil and leave them undisturbed for 2-3 minutes, or until they begin to turn golden brown. Flip them over and cook for another 2-3 minutes on the other side, ensuring all sides are seared and golden brown. Remove them from the pan, setting them aside on a serving platter, and repeat with the remaining courgettes.
While the final batch cooks, add the pepper to a small saucepan and toast over medium-high heat for about 2 minutes, or until it becomes fragrant. Add the butter, which will quickly start to foam. Stir until the butter is melted and the foam subsides. Remove from the heat and quickly add the grated cheese. Stir vigorously, so the cheese doesn't stick to the bottom of the pan. It will begin to melt, but will also cling together in pieces, which is the result you want.
Spoon the butter over the seared courgettes, making sure to include all the black pepper and melted cheese. Scatter the herbs over the top and serve.
Recipe adapted from NYT Cooking