September 24, 2020 by General Administrator
You'll have to nip to the shops for some mushrooms but otherwise, put with mash and greens, this recipe makes good use of lots of this week's share. I've never made bourguignon so I'm looking forward to it!
Mushroom bourguignon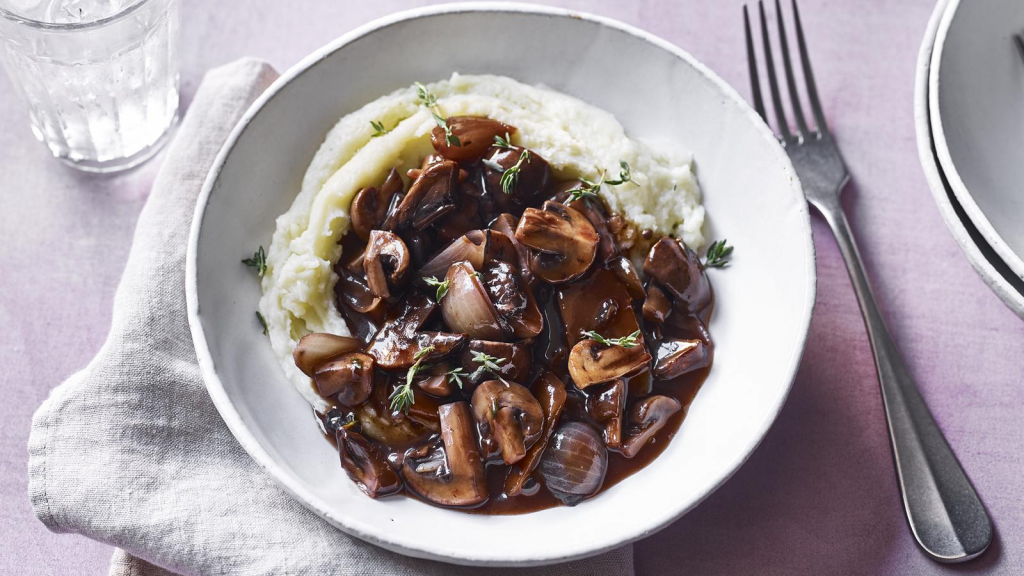 Ingredients
1½ tsp olive oil
3 shallots, peeled, quartered and layers separated
1 large carrot, peeled and cut into slices on an angle
100g/3½oz button mushrooms, quartered
50g/1¾oz chestnut mushrooms, quartered
3 Portobello mushrooms, roughly chopped
7 fresh thyme sprigs, leaves only, or 1½ tsp dried thyme
3 garlic cloves, finely chopped
150ml/¼ pint fruity vegan red wine
200ml/7fl oz vegetable stock
2 bay leaves
1 tbsp tomato purée
1 tsp yeast extract
1 tbsp cornflour, or plain flour
salt and freshly ground black pepper
Method
Heat the oil in a heavy-based saucepan over a medium heat. Add the shallots and carrot and fry gently for 5 minutes.
Add all the mushrooms and most of the thyme and cook for 5–6 minutes (note, an alternative is to dry fry the mushrooms before the other ingredients – they cook in their own juices, enhancing the flavour). Add the garlic and fry for a further minute.
Add the wine and bring to the boil. Simmer for 2 minutes, then turn the heat down and add the stock, bay leaves, tomato purée and yeast extract and stir. Sift in the cornflour and ½ teaspoon salt and whisk in well.
Cook for 7–8 minutes, then season with salt and pepper and add the rest of the thyme if preferred.
Serve with creamy mashed potatoes or a crunchy slice of crusty bread.
Taken from: BBC Good Food