August 19, 2021 by General Administrator
'A zucchini and a steak may not have much in common, but, like steak, zucchini takes incredibly well to the method of quickly searing in a smoking hot pan'. So states Lidey Heuck in the New York Times, and she's right. In this easy recipe courgettes are cooked fast to develop an appetising char, and then basted with butter, garlic and rosemary. We ate these topped with ricotta, alongside a tomato salad and some good bread.
Pan-Seared Courgettes
Serves 2-3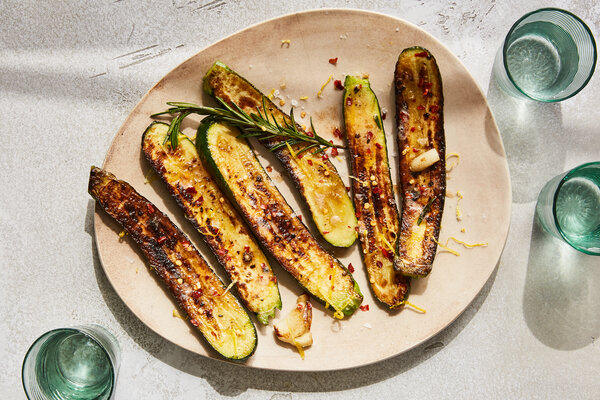 Ingredients
3 small courgettes (6 to 8 inches each)
1 tablespoon grapeseed, safflower or other high-heat cooking oil
salt and pepper
1½ tablespoons unsalted butter, or more to taste
1 garlic clove, peeled and smashed
1-2 tablespoons fresh rosemary, chopped
To garnish:
coarse sea salt
lemon zest
red-pepper flakes
Preparation
Trim the ends off the courgettes and cut them lengthwise into planks about ½-inch thick. Pat them dry, pressing gently but firmly on both sides to absorb any moisture.
Heat a large (12-inch) cast-iron or stainless-steel skillet over medium-high. If you have a ridged pan this is a good opportunity to use it. Add the oil and heat until it's almost smoking.
Add the courgettes to the pan and press lightly with a spatula so that the planks make contact with the pan. Don't crowd them—if you do they will steam rather than sear.
Sprinkle the tops with salt and pepper, and cook for about 3 minutes, until the courgettes are nicely charred on the bottom. Lower the heat to medium, flip over the courgettes, and season again with salt and pepper. Cook for 2 to 3 more minutes, until the bottoms are charred. 
Turn the heat to low and add the butter, garlic and rosemary. Carefully tilt the pan, letting the garlic and rosemary cook in the butter for 30-60 seconds, until the butter has begun to brown. Spoon the butter over the courgettes, and cook for another minute, flipping them a few times to coat both sides with the butter. 
Transfer the courgettes to a serving platter, along with the garlic and rosemary, and spoon any butter that's left in the pan on top. Garnish with sea salt, lemon zest and red-pepper flakes, and serve hot.
Recipe adapted from New York Times Cooking