May 9, 2019 by General Administrator
Cumin-scented cauliflower, yellow from turmeric, cooks with Canalside chile and a subtle coconut-poppy seed glaze. The result is spicy, satisfying and beautiful. Eat it topped with toasted almonds, fresh coriander, yoghurt and a squeeze of lime. Yotam recommends serving with flatbread, but it's pretty delicious just on its own.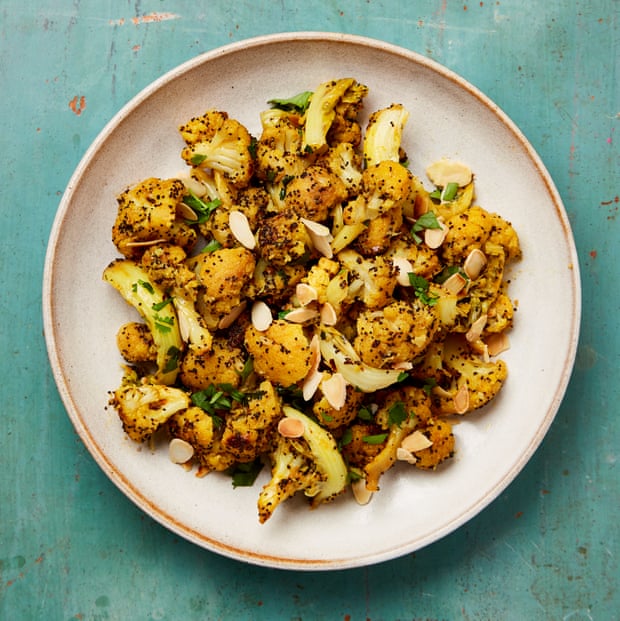 Poppy-Seed Cauliflower with Coconut
Serves 2
Ingredients
40g poppy seeds
60ml sunflower oil
½ – 1 Canalside dried red chile, de-seeded if desired, and shredded
1 teaspoon turmeric
1 teaspoon cumin seeds
2 garlic cloves, peeled and sliced fine
1 large cauliflower and leaves, broken into 4cm-sized florets, leaves shredded
150ml coconut milk (approx.)
To serve
1 handful fresh coriander, shredded
1 small handful flaked almonds, lightly toasted in a dry pan
plain yoghurt
1 lime, halved
Preparation
Put the poppy seeds in a small bowl. Pour over just enough boiling water to cover them. Leave them for half an hour, and then whiz them in a blender or food processor, or crush them in a mortar and pestle, so that they begin to break up a bit. Set aside.
Heat the oil over medium-high heat in a large sauté pan for which you have a lid. When it is hot add the chile, turmeric, cumin and garlic. Turn the heat to medium and sauté for 4 minutes, stirring often, until the garlic starts to brown and the mixture gives off a nice smell.
Add the cauliflower leaves and florets and toss with the spices. Stir for 2 minutes, until the cauliflower has turned an attractive yellow.
Add the coconut milk and the poppy seeds. Add enough coconut milk to make a little sauce, but not so much that it is soupy. Turn the heat down a little and cover. Cook for 4 more minutes, until the cauliflower has begun to soften.
Uncover and turn the heat up to medium-high. Cook for 8 more minutes, stirring regularly, until the cauliflower is tender and has begun to caramelise and the liquid has evaporated.
Serve topped with fresh coriander, toasted almonds, yoghurt and a squeeze of lime.
Recipe adapted from Yotam Ottolenghi, The Guardian, 16 Feb. 2019.