May 2, 2019 by General Administrator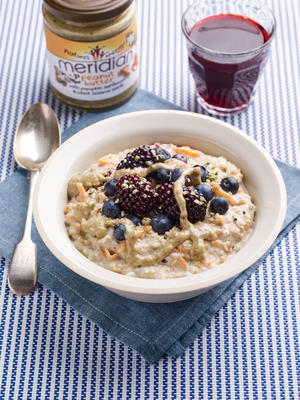 I was recently at an event where everyone was asked what they had for breakfast. 8 of the 10 people replied 'porridge'. Clearly porridge is having a bit of a moment. Here is a surprising, satisfying and toothsome variant. Cooked with oat milk, shredded carrot becomes soft and sweet, blending perfectly with the oats to make a rich, thick breakfast. The peanut butter, berries and hemp hearts add further sweetness, depth and crunch.
Carrot-Nut Porridge
Serves 2
Ingredients
100g porridge oats
100g carrot, peeled and shredded
600ml oat milk
¼ teaspoon grated nutmeg
2cm vanilla pod
2 tablespoons crunchy peanut butter
Blueberries or blackberries, to serve (frozen are fine)
2 tablespoons hulled hemp seeds, to serve
2 tablespoons date syrup, mulberry syrup, maple syrup or honey, to serve (if desired)
Preparation
Place the oats, shredded carrot, oat milk, nutmeg and vanilla pod in a saucepan and bring slowly to a simmer. Simmer for 8-10 minutes, or until it's thick and the carrot is soft. Stir in the peanut butter.

Divide into two serving bowls and top with berries and hemp seeds, and drizzle with syrup to taste.
Recipe adapted from Meridian Foods.