February 10, 2023 by General Administrator
These buttery scones are exactly what you need to accompany a mug of tea on a cold
February day. They are easy and delicious. The parsnips are indetectable aside from the
sweet, nutty base-notes they bring to the flavour. Serve with thick cream and jam, or even on
their own, since they're really rich and crumbly. If you left out the sugar I think they would
be good with ham and cheese, too.
Parsnip and orange scones
Makes 8 enormous scones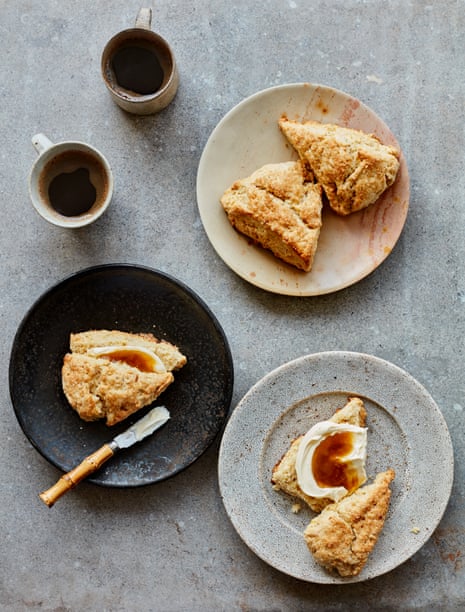 Ingredients
450g plain flour​
80g caster sugar​
1 teaspoon ground ginger​
zest of 2 oranges​
1 tablespoon baking powder​
¼ teaspoon salt​
200g cold unsalted butter, coarsely grated​
220g parsnips, peeled and coarsely grated​
130ml milk, plus extra for brushing​
Demerara sugar, to sprinkle over the top
Method
Heat the oven to 200C (180C fan), and line an oven tray with baking paper.
Mix the flour, sugar, ginger, orange zest, baking powder and salt in a large bowl, then add the
butter and, using your fingertips, rub it into the dry mixture until everything resembles fine
breadcrumbs. Mix in the grated parsnips.
Make a well in the centre and pour in the milk. Give the dough a quick mix, then turn it out
on to a lightly floured surface. Knead the dough quickly, bring it together and pat it into a
thick, round disc.
Cut the disc into eight triangular wedges. Put them on the baking tray, brush the tops with a
little milk and sprinkle them with demerara sugar. Bake for 20-25 minutes, until well risen
and golden.
Leave to cool, then serve with clotted cream and jam, or some butter and honey.
Recipe adapted from Benjamina Ebuehi, The Guardian, 14 Oct. 2022,
https://www.theguardian.com/food/2022/oct/14/parsnip-and-orange-scones-recipe-
benjamina-ebuehi