July 1, 2021 by General Administrator
With new season carrots appearing in the share for the first time this week, there's an opportunity for an interesting way to use the fronds, saving them from the compost heap. Carrots tops have a grassy, parsley-like flavour that makes them ideal for blitzing into a quick and simple pesto. It's sensational served with roasted carrots, spread on toast, tossed through pasta or stirred with a few glugs of olive oil to make a delicious salad dressing.
Carrot top pesto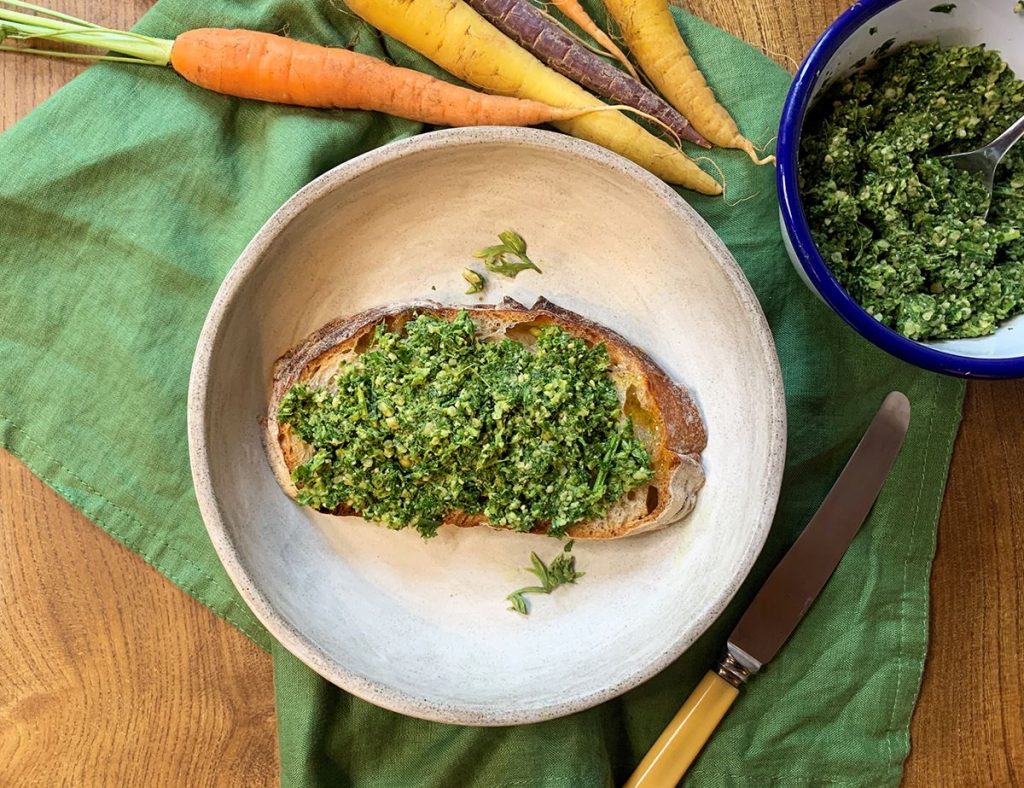 Ingredients
Bunch of carrots (tops only) – for best results discard any tougher larger stems and just use the feathery ones
½ lemon, juice only
1 garlic clove, peeled
75g cashews, walnuts or almonds
3 tbsp olive oil
Sea salt
Freshly ground pepper
Handful of grated Parmesan (optional)
Prep: 10 mins
Method
1.Trim the carrot tops off the carrots and thoroughly wash the tops to get rid of any dirt. Roughly chop them.
2.Pop the carrot tops into a food processor and add the other ingredients. Whizz till you have a coarse paste. Taste and add more salt or pepper if you think the pesto needs it. Loosen with a little more olive oil or a splash of water if needed.
3.Herb is the word: add a handful of fresh herbs to the mix, if you like. Parsley, mint, oregano and basil would all make excellent additions.
Adapted from: https://www.abelandcole.co.uk/recipes/carrot-top-pesto