June 3, 2021 by General Administrator
When sliced crosswise, Chioggia beets have a stunning red-and-white bull's-eye pattern. Compared with common red beets, chioggias don't bleed much color, so they're ideal for mixing in salads. The small beets at the start of the season are ideal for eating raw – they're more tender. Larger ones that we get later in the season will be paler, and maybe a bit woody, so save them for roasting or boiling. Use a mandoline or vegetable peeler for paper-thin, even slices.
Chioggia Beet Salad with Crumbled Cheese and Hazelnuts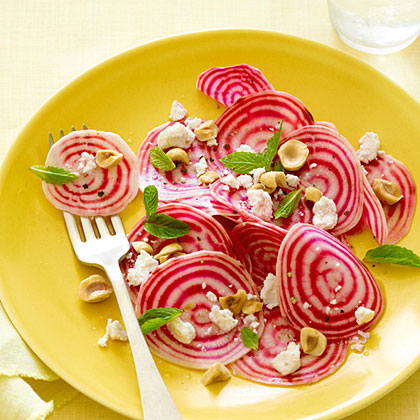 Ingredients:
¼ cup lemon juice
¼ cup hazelnut or olive oil
½ teaspoon salt
¼ teaspoon pepper
6 small Chioggia beets, peeled and sliced very thinly
½ cup crumbled ricotta salata or feta cheese
¼ cup torn mint leaves
½ cup roughly chopped toasted hazelnuts
Method:
Whisk together lemon juice, oil, salt, and pepper in a large bowl. Add beets and toss to coat evenly. Sprinkle with remaining ingredients.
Adapted from https://www.myrecipes.com/recipe/chioggia-beet-salad