December 5, 2019 by General Administrator
Another brilliant recipe from Meera Sodha: crispy homemade gnocchi tossed with greens and served with spicy Korean chile sauce. Gnocchi can be a little stodgy; the solution is to fry them briefly after they've been boiled, so the crunchy outside contrasts with the soft, pillowy inside. A simple red sauce of Korean chile paste, miso and sesame oil provides the perfect foil.
If you don't know gochujang chile paste, you're in for a treat. Get some at the KW Oriental Supermarket on Bath Street, or (I suppose) in major supermarkets everywhere.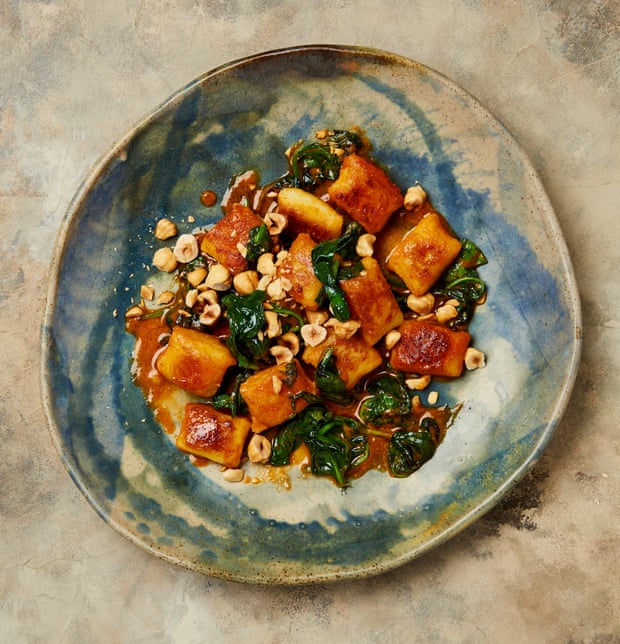 Parsnip and potato gnocchi with gochujang
Serves 2
Ingredients
250g potatoes
150g parsnips
60-100g '00' flour
2 tbsp rapeseed oil, for frying
100g young spinach
25g toasted hazelnuts, chopped
for the chile sauce
4 tsp gochujang paste
4 tbsp white miso
3 tbsp toasted sesame oil
2 tbsp fresh lemon juice
Method
Put the potato and parsnips in a medium saucepan, cover with cold water and bring to a boil. Turn down to a simmer and cook until tender (15-30 minutes, depending on the size).
While the potatoes are cooking make the sauce: combine the sauce ingredients in a small bowl and mix until smooth. Set aside.
When the potatoes are tender, drain and leave to steam dry for 15 minutes. Peel and then mash until very smooth. If you have a potato ricer, this is a good moment to use it.
Add the flour to the mashed/rice potatoes and parsnip, and, using your hands, gently mix it in to form a dough. Add as much flour as you need to stop it sticking to everything, but try not to add more than that. Tip out on to a clean work surface sprinkled with a bit more flour and knead a bit to form a smooth dough.
Divide the dough in two and roll each piece into a sausage around 35cm long x 2cm thick. Cut each sausage into 2cm pieces. If you have the energy, you can use a fork to give each piece some little ridges, which will be cute and make the sauce stick a bit more to the gnocchi. To do this, roll each piece across the tines of a fork, indenting parallel ridges into the individual gnocchi (gnoccho?).
Bring a big pan of water to a rolling boil, drop some of the gnocchi in and and cook for one to two minutes, until they float to the top. Lift them out with the slotted spoon as they rise to the top and and drain in a sieve. Continue until they are all cooked.
In a medium frying pan, heat the rapeseed oil, swirling the pan gently so it coats the base. Once hot, add some of the gnocchi and fry for a couple of minutes, until golden brown underneath. Flip them over and cook for another couple of minutes, to brown the other side. Remove from the pan and then cook any remaining gnocchi.
Add the spinach to the pan and stir gently (so as not to break up the gnocchi) until it wilts. Return any remaining gnocchi to the pan and toss together.
Divide onto two plates and drizzle with a couple of tablespoons of the sauce. Sprinkle with the hazelnuts and serve with extra sauce on the side.
Recipe adapted from Meera Sodha, The Guardian, 23 Nov. 2019.