December 22, 2021 by General Administrator
Canalside community food, a pioneering CSA based outside of Leamington Spa is looking for a part-time grower. We are seeking a grower with experience to join our team producing organic veg and fruit all year round for our community of 170 households.
The successful candidate will work as part of a small growing team alongside the admin team and other volunteers and will be expected to play a key role in crop production and farm upkeep. We are establishing a collaborative approach; the role initially being under supervision with a view to developing skills and experience for all aspects of farm management at Canalside. The role is 2 days per week, annual salary: £9,360 with statutory holiday allowance and a pension offered.
More details and full job description here
Applications by CV and covering letter to mail@canalsidecommunityfood.org.uk: deadline – noon on Friday 21st January 2022
Selection will be based on an interview, to take place in the weeks following the application deadline.
October 28, 2021 by General Administrator
Here is a different sort of apple cake. Unlike the Apple Spice Cake of a fortnight ago, this one uses yeast. But don't panic! It's very easy and doesn't require any kneading. The result is somewhere between a bread and a cake; it's very moist, and is good toasted.
Using yeast to leaven a cake is an old practice. Before the invention of bicarbonate of soda and baking powder in the nineteenth century, eggs provided one way to create a light texture. Yeast was another. Many traditional English cakes were originally leavened with yeast. This loaf is heavier than a typical cake, but still crumbly—see what you think!
Apple Loaf – makes 1 large loaf
If you don't have a set of cup measures, don't worry. 1 cup = 8 fluid ounces, so you can use an ordinary measuring jug.
Ingredients
1 tablespoon dried yeast
¼ cup lukewarm water or apple juice
¼ cup vegetable oil
½ cup runny honey
2 eggs
¼ teaspoon salt
2 teaspoons cinnamon
½ teaspoon ground allspice
½ teaspoon nutmeg
1 teaspoon vanilla essence
1 tablespoon finely grated orange zest
2 cups wholewheat plain flour (use white flour, or a mixture, if you prefer)
2 cups apples, cut into small (¼-inch) pieces—fine to leave unpeeled
½ cup nuts, toasted in a dry pan and coarsely chopped (optional)
¼ cup raisins or chopped dates (optional)
Preparation
Oil a loaf pan and set it aside. In a small bowl, dissolve the yeast in the warm water or juice. Leave to one side for 5 minutes, or until it starts to bubble a bit. (If it doesn't bubble, your yeast is probably dead.)
Combine the oil, honey, eggs, salt, spices, vanilla and zest in a large bowl and mix well. If you have stand mixer use it to beat the mixture for 5 minutes, for added lightness.
Stir in the yeasty water/juice.
Add the flour and stir well to combine.
Stir in the apples and optional nuts and raisins (if used).
Turn into the oiled loaf pan and leave to rise for 1-2 hours, or until about double. When it's nearly there preheat the oven to 180C.
When the oven is hot put in the loaf and bake for 40-50 minutes, or until a cake tester emerges clean. Leave to cool and eat with butter for breakfast. It's nice toasted.
Recipe adapted from Edward Espe Brown, The Tassajara Bread Book (1970).
October 14, 2021 by General Administrator
This moist apple cake uses oil in place of butter, which makes it exceptionally tender and probably also lower in cholesterol. It offers a perfect autumnal blend of fresh apples, spices and walnuts, and is very nice with a cup of tea. It keeps very well, should you somehow not eat it all in the first 48 hours.
If you don't have a set of cup measures, don't worry. 1 cup = 8 fluid ounces, so you can use an ordinary measuring jug.
Ingredients
1¼ cups vegetable oil
2 cups brown sugar (any mix of soft brown sugar, light muscovado, and dark muscovado)
3 eggs
2 teaspoons vanilla extract
3 cups plain white flour, or 2 cups plain white flour and 1 cup plain wholemeal flour
1 teaspoon baking powder
1 teaspoon bicarbonate of soda
½ teaspoon salt
1 tablespoon ground cardamom
½ teaspoon cinnamon
1 tablespoon apple cider vinegar + 2 tablespoons water (or 3 tablespoons water)
3 cups chopped apples (peeled or not, as you prefer, cut into whatever sizes you'd like to find in your cake)
1 cup chopped walnuts (optional)
Preparation
Preheat the oven to 180C. Butter or oil a 10-inch Bundt pan, or similar tube pan. Coat the pan with a light dusting of flour and set aside.
In a large bowl, beat the oil and sugar for 5 minutes, or until thick. This is a good use of your stand mixer if you have one. Add the eggs one at a time, beating for a minute after adding each one. Add the vanilla.
In a separate bowl, combine the dry ingredients (flour, baking powder, bicarbonate of soda, salt and spices).
Add the dry ingredients to the wet mixture and beat until smooth. Stir in the apple cider vinegar and water.
Fold in the chopped apples and nuts.
Pour the batter into the pan and bake for an hour, or until the cake is golden brown, smells lovely, and is pulling away from the widest part of the pan.
Cool the cake in the pan for 10 minutes and then invert onto a rack. Leave to cool more or eat it right away.
Recipe adapted from Moosewood Collective, Moosewood Restaurant Favorites: The 250 Most Requested Naturally Delicious Recipes from One of America's Best-loved Restaurants (2013).

October 8, 2021 by General Administrator
This week we'll be getting a good number of apples, so looking for an alternative to apple crumble I've come across an idea for a porridge topping. Add some vanilla essence to the porridge to round it off!
Brown sugar apples for porridge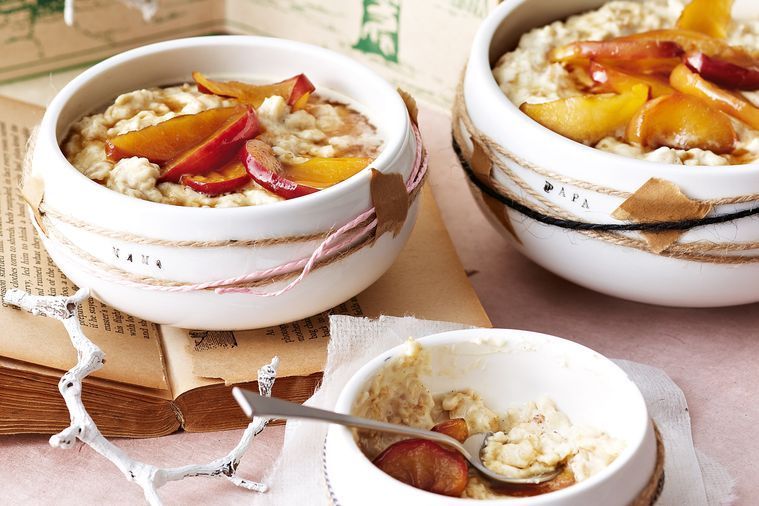 Ingredients
2 apples (preferably red), cored, cut into 1cm-thick wedges
2 tablespoons brown sugar
2 tablespoons honey
Method: For the brown sugar apples, place the apple, sugar and honey in a saucepan over medium heat and cook, stirring occasionally, for 10 minutes or until apple is tender, golden and sticky.
Top porridge with apples and syrup from the pan.
From: https://www.delicious.com.au/recipes
The full bank of recipes provided by Rebecca and Rob (and guest contributors) can be found and searched by categories on our website blog here: https://www.canalsidecommunityfood.org.uk/category/recipes-and-veg-tips/
October 1, 2021 by General Administrator
Here is a good use of Canalside basil if you're tired of pesto. The Moosewood describes this as a 'creamy, green, slightly sweet dressing' and note that customers sometimes ask if they can buy a couple of pints to take home. Try it on lettuce, grated carrot, and sliced cucumber for a simple side salad.
If you don't have a set of cup measures, you can measure the carrots and onions in measuring jug. A US cup is 8 fluid ounces, so ½ a cup of grated carrots is 4 fluid ounces, and ¼ cup of chopped onion is 2 fluid ounces.
Moosewood's Creamy Green Dressing
yields about 16 fluid ounces
Ingredients
¾ cup vegetable oil
3 tablespoons cider vinegar
2 teaspoons honey or maple syrup
2 teaspoons Dijon mustard
½ teaspoon salt
½ cup packed fresh spinach
¼ cup packed basil leaves, or more to taste
¾ cup milk (I used oat milk)
Preparation
Combine all the ingredients except the milk in a blender and whizz until very smooth. With the blender running, pour in the milk in a steady stream. The dressing will thicken and turn a lovely shade of green. Taste and add more salt or basil to taste. (I in fact made this in a Nutribullet, so instead of pouring in the milk with the motor running, I simply added the oat milk to the vessel and gave it another whizz. That worked fine too.)
Recipe adapted from Moosewood Collective, Moosewood Restaurant Favorites: The 250 Most Requested Naturally Delicious Recipes from One of America's Best-loved Restaurants (2013).
September 23, 2021 by General Administrator
This very delicious recipe is from the Moosewood, a pioneering vegetarian restaurant in Ithaca, New York State, where I (mostly) grew up. The carrot makes the dressing a beautiful bright orange. The sesame oil, ginger and soya sauce balance the carrot's sweetness (although you can add additional sugar if you like). The Moosewood Collective note that if you use this dressing on iceberg lettuce you will make 'that Japanese restaurant bento box salad'. They also recommend it as a topping on grilled fish, or as a dip for green beans or sugar-snap peas.
If you don't have a set of cup measures, you can measure the carrots and onions in measuring jug. A US cup is 8 fluid ounces, so ½ a cup of grated carrots is 4 fluid ounces, and ¼ cup of chopped onion is 2 fluid ounces.
Japanese Carrot Dressing
Yields about 10 ounces.
Ingredients
½ cup carrots (about 2 medium-sized carrots).
¼ cup onion or shallot, chopped
8 ounces vegetable oil
3 tablespoons rice wine vinegar
1.5 tablespoons grated fresh ginger
1 tablespoon soya sauce
1 teaspoon sesame oil
2 tablespoons water
¼ teaspoon salt
1 teaspoon brown sugar (optional)
black pepper
Preparation
Combine all the ingredients except the sugar and pepper in a blender and whizz. Start on low and the gradually increase the speed until the purée is smooth. Taste the dressing; add the brown sugar if you'd like this a little sweeter, and also add pepper and more salt, to taste.
Recipe adapted from Moosewood Collective, Moosewood Restaurant Favorites: The 250 Most Requested Naturally Delicious Recipes from One of America's Best-loved Restaurants (2013).
September 16, 2021 by General Administrator
What are you going to do with all those cucumbers? This salad is a tasty way to enjoy them. It combines a touch of sweetness from the dried fruit with feta's salty kick, and the richness of toasted walnuts. Note the enormous quantity of sumac, which brings a bright, lemony note. We ate this for lunch along with some brown bread. It would probably also be good alongside a piece of grilled fish, or a little lamb chop.
Cucumber, Walnut, Feta and Dill
Serves 2 for lunch.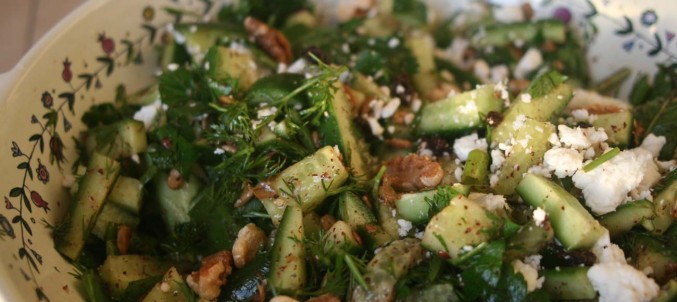 Ingredients
Salad
500g (or about 2) cucumbers, cut into matchsticks or spiralised
20g dill (or mixed dill and parsley), chopped
50g currants or golden raisins
100g feta, crumbled or cut into small cubes
60g walnut pieces, toasted and coarsely chopped
Dressing
2 tablespoon olive oil
zest of 1 lemon—zest it before you cut it in half to juice
1 tablespoon lemon juice
1 tablespoon sumac
½ teaspoon salt
several grinds of black pepper
Preparation
Gently toss the salad ingredients in a serving bowl.
Combine the dressing ingredients in a screw-top jar and shake vigorously. Pour over the salad and toss gently. Taste, add more salt or pepper to your liking, and serve.
Recipe adapted from Shaina Shealy, at Jewish Food Experience, 2021, https://jewishfoodexperience.com/recipes/cool-cucumber-salad-feta-walnuts/
by General Administrator
We've now weighed in our onion and garlic harvests which have been a great success. Over 100kilos of cured garlic bulbs and 1.7 tonnes of onions which will see us through the coming months. This is a much better yield than last year and on par with the year before that. A lot of work went into making sure the onions were irrigated well during the drought earlier in the year so we are pleased this paid off in the end.
September 9, 2021 by General Administrator
I've selected this week's recipe because whenever I search for green bean ideas they're heavily based around the idea of a healthy side dish, which is great… except sometimes all I want is a big cheesy bowl of pasta with a faint nod at healthiness. So here we have it, green bean mac'n'cheese.
Green bean mac'n'cheese
Ingredients:
~200g green beans (or runner beans or anything similar)
300g dried macaroni
60g butter, plus a few extra knobs
4 tbsp plain flour
2 tsp English mustard powder
600ml whole milk
Pinch of cayenne pepper
Sea salt, to taste
100g mature Cheddar cheese, grated
100g Lancashire cheese, crumbled
100g Cheshire cheese, crumbled
3 tbsp fresh white breadcrumbs
1 tbsp thyme leaves
Method:
Bring a large pan of well-salted water to the boil. Add the green beans and cook for 4–5 minutes until tender. Remove with a slotted spoon and refresh in a bowl of ice-cold water to prevent them from cooking any further. Drain well.
Tip the macaroni into the boiling salted water and cook until al dente, according to packet instructions. Drain, refresh under cold, running water and drain again. Mix the macaroni, beans and a few knobs of butter together in a large bowl.
Preheat the oven to 200°C/Gas 6. Heat the 60g butter in a pan, and stir in the flour and mustard powder to make a roux. Gradually add the milk, beating continuously with a balloon whisk until the mixture is smooth. Slowly bring to the boil over a low heat, whisking frequently, until the mixture thickens. Season well with cayenne pepper and sea salt to taste.
Mix the three cheeses together and stir half into the white sauce. Mix well until the cheese has melted and the sauce is smooth again. Add the macaroni and beans to the sauce and mix well to coat. Spread the mixture into a large, wide gratin dish.
Combine the remaining cheeses with the breadcrumbs and thyme leaves. Sprinkle over the top of the macaroni and bean mixture. Bake for about 15–20 minutes until the topping is golden and crisp. Serve immediately.
September 2, 2021 by General Administrator
My lovely sister in law Sue served this when we visited her this weekend, along with couscous and labneh (thickened yoghurt). It's fresh, light and vibrant with the green chermoula, a flavoursome blend of fresh coriander, cumin, smoked paprika and lemon.
The recipe makes more chermoula than you'll need for the recipe, but it's very tasty and can be used on other vegetables; try it on boiled potatoes, or roasted carrots. It would probably also be delicious on a little escalope of grilled pork.
Courgettes, Sweetcorn and Green Chermoula
Serves 2-3 as a main
Ingredients
4 courgettes, topped and tailed
salt
3 tablespoons olive oil
2 ears of sweetcorn, outer leaves and 'silk' removed
squeeze of lemon juice
for the chermoula
10g garlic
15g red fresh chiles
1 preserved lemon
200g fresh coriander, roughly chopped
150ml rapeseed oil
10g ground cumin
4g smoked paprika
about 15ml lemon juice
salt to taste
Preparation
Slice the courgettes lengthwise and sprinkle with salt. Leave them 30 minutes in a colander to draw out the moisture. This will make the final dish more crunchy and fresh tasting.
While the courgettes are salting, make the chermoula: combine together the garlic, chile and preserved lemon in a blender or other blending device. Once it's reduced to a paste add the coriander, oil and spices, and blend until smooth. Season to taste with the lemon juice and salt, and set aside.
When the courgettes have had their thirty minutes, brush off the salt and drizzle 1 tablespoon of the oil over the courgettes and sweetcorn.
Heat a griddle plan on high heat. When it's hot grill the whole ears of corn, turning them regularly, until they are slightly charred on all sides. Remove and set aside.
Place as many courgettes as will fit without crowding in the pan, and cook for about 5 minutes, or until slightly charred on the bottom. Flip over, and cook for 2 minutes on the other side, or until cooked through but retaining some bite. Remove and set aside, and cook the other courgettes, if necessary.
Shave off the kernels off the now-slightly-cooled sweetcorn: hold each cob upright and use a sharp knife to slice down its length to remove the individual kernels. Place the kernels in a mixing bowl. Chop the courgettes into 2cm chunks and add them to the bowl. Toss with the remaining 2 tablespoons of olive and a squeeze of lemon juice.
To serve, place some of the sauce on the bottom of a serving plate and top with the courgettes and grilled corn.
Recipe adapted from the Observer Food Monthly, 25 July 2021.