Find us
BY ROAD :
We are between the edge of Radford Semele village and the Fosse Way.
If using a satnav, please use our name (Canalside Community Food) with the postcode if needed (CV31 1TY). This should take you to the right drive off the Southam Road. If not, then you can follow these directions:
From Leamington/Radford Semele: look out for a carved wooden sign, with a 50 sign just next to it, on the left opposite a handful of houses.
From the Fosse Way/Southam: go past 2 drives/farm entrances on the right, then look for the back of the carved wooden sign, with a 30 sign next to it, on the right opposite a handful of houses.
When arriving by road – please go all the way down through the young woodland, into the next field and park in the parking area next to the polytunnels.
ALONG THE TOWPATH:
If you want to cycle or walk, the easiest off-road route is along the towpath (out of Leamington towards Long Itchington).
Pass Radford Bottom lock and continue under the viaduct. Do not take the Greenway which takes you up onto the old railway line.
At the next bridge (#33), turn up to your left just in front of it (a steep path that goes up onto the bridge).
From here you are following the trail of footsteps on the map (see below).
Cross the bridge. Go through the left-hand gate and continue straight up the field – keep the hedge close to your right-hand side.
If the left-hand gate can't be opened, go through the right-hand gate and go up the neighbouring field keeping the hedge close to your left-hand side.
At the top of that field, continue up the track, past the caravans on your left.
At the corner of the fruit field, follow the track round to the right following the edge of the fruit field – keep all the houses on your left. Continue through another couple of fields until you see the large barn and polytunnels ahead of you. Be prepared for a muddy walk after leaving the towpath if the weather has been wet!
Please leave any gates as you find them.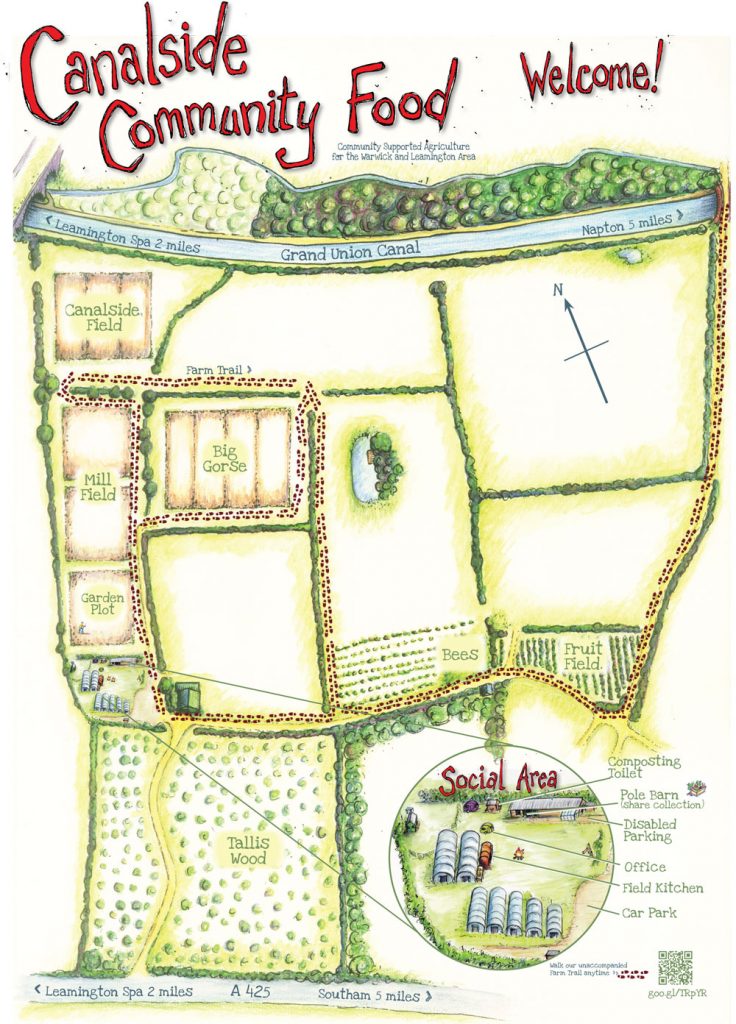 Updated on 5th Sept 2017